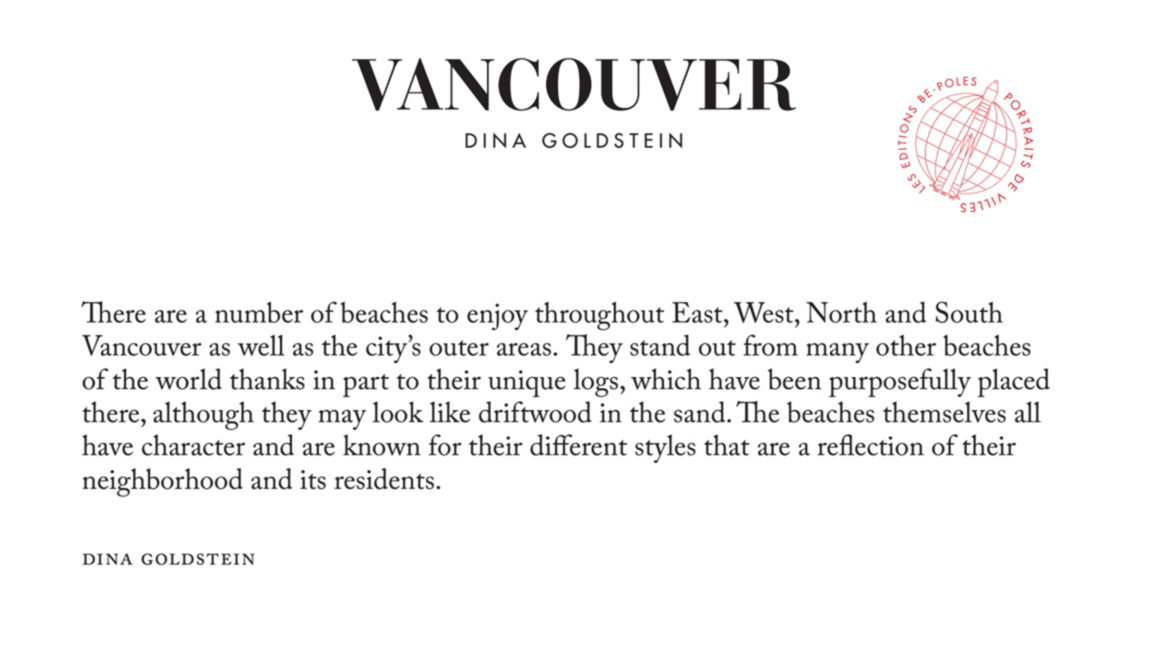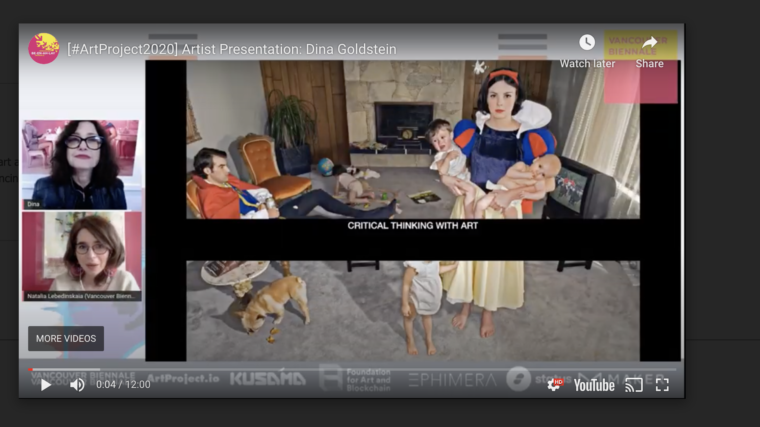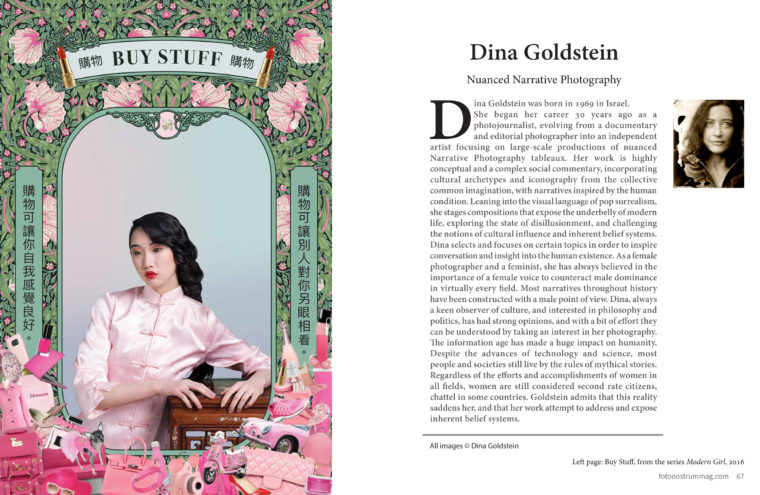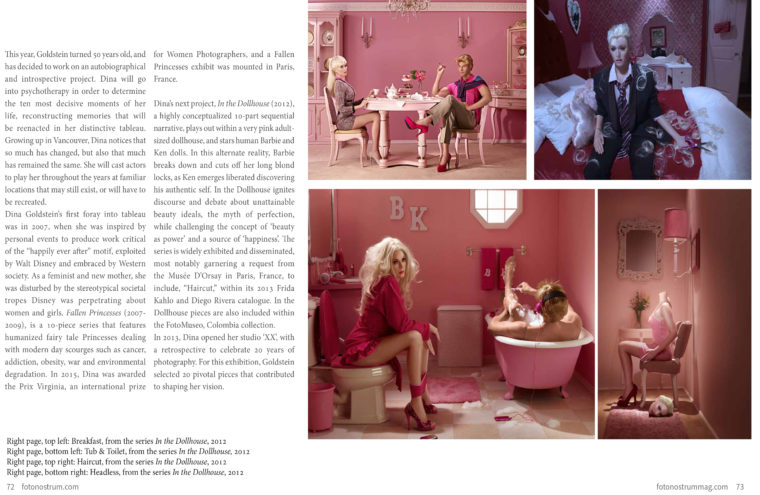 RECENT PODCASTS
TALK WITH PHOTOGRAPHER DASHA PEARS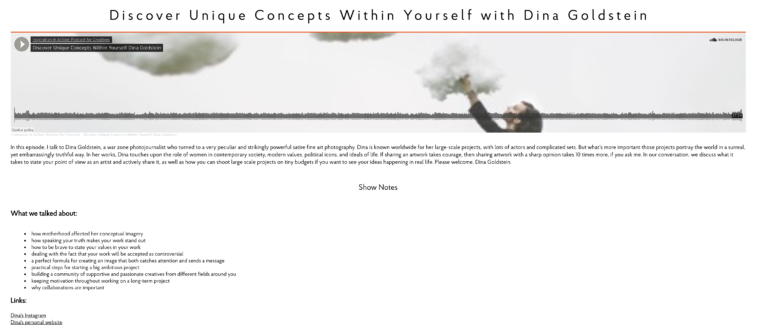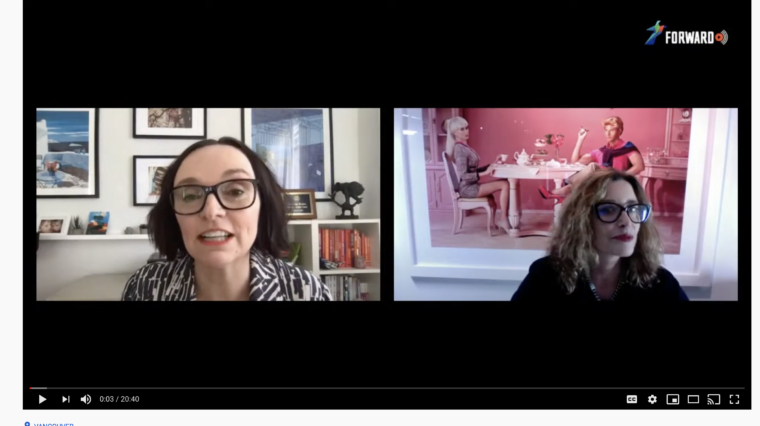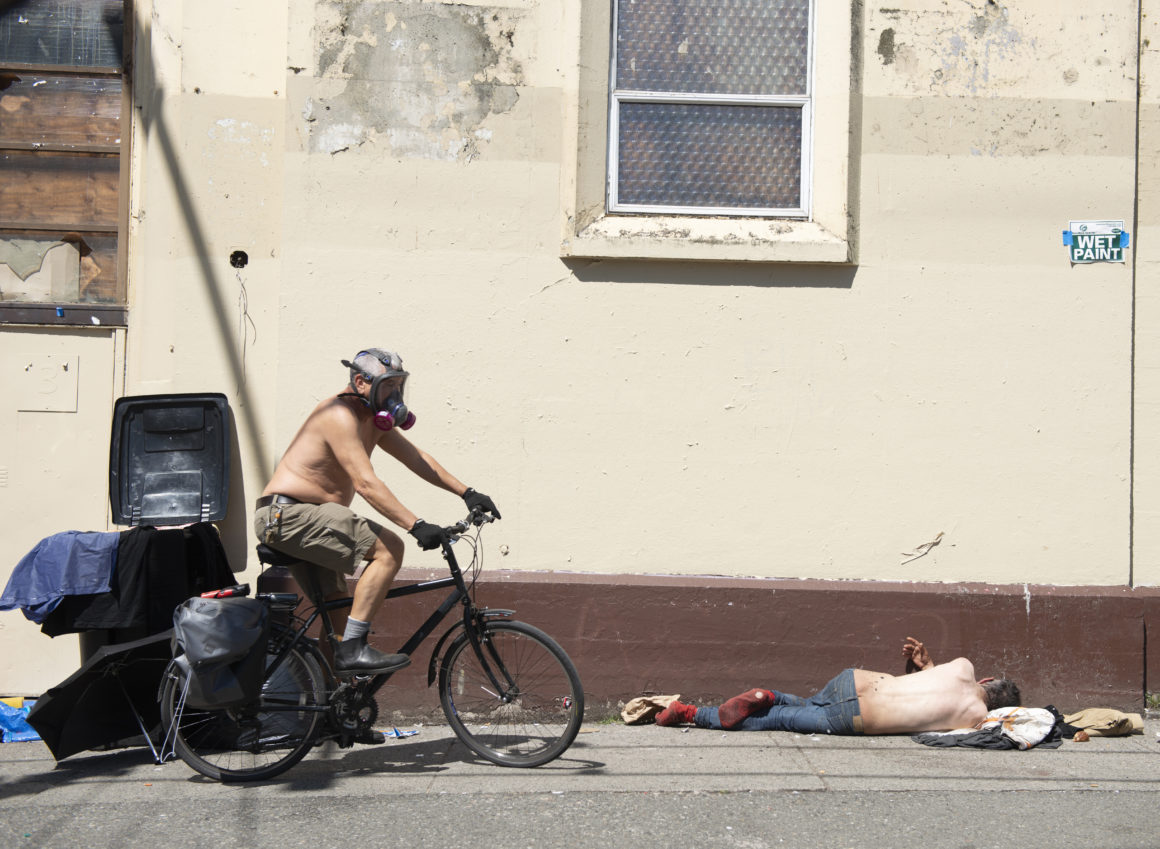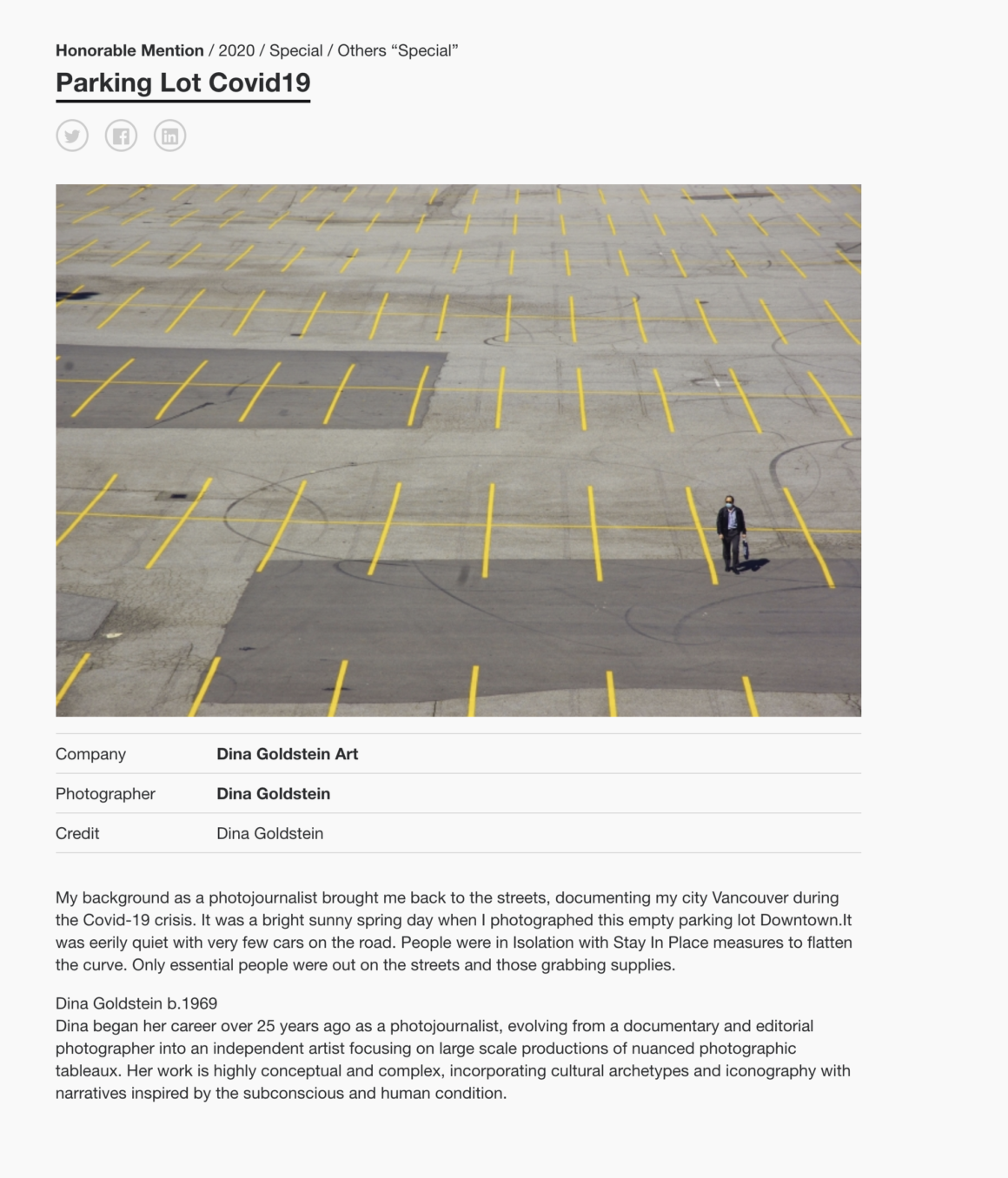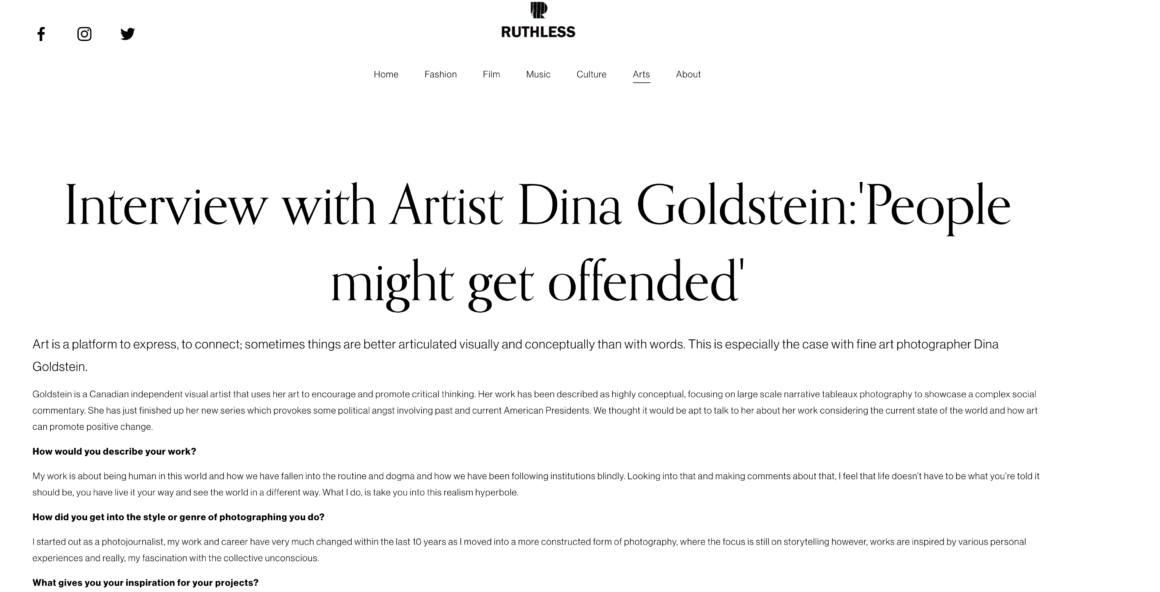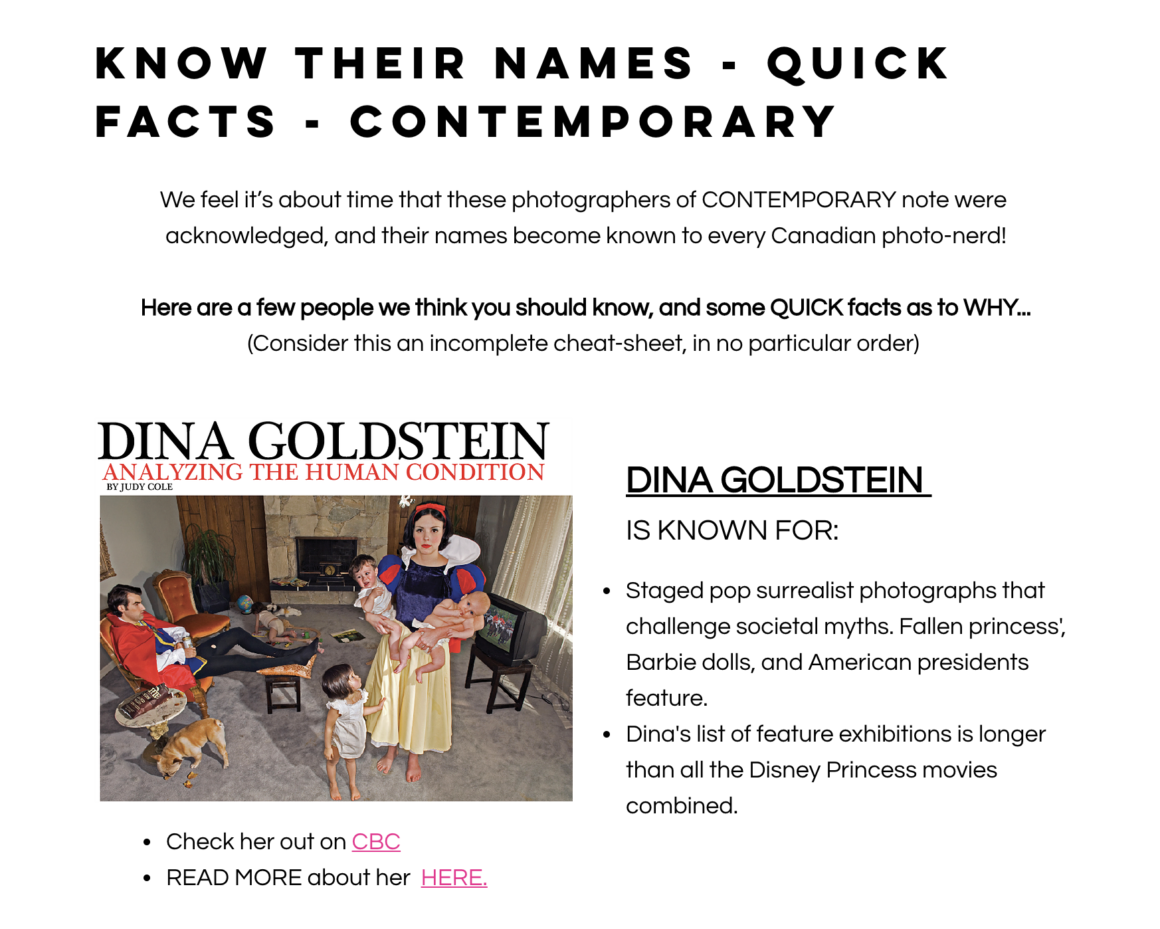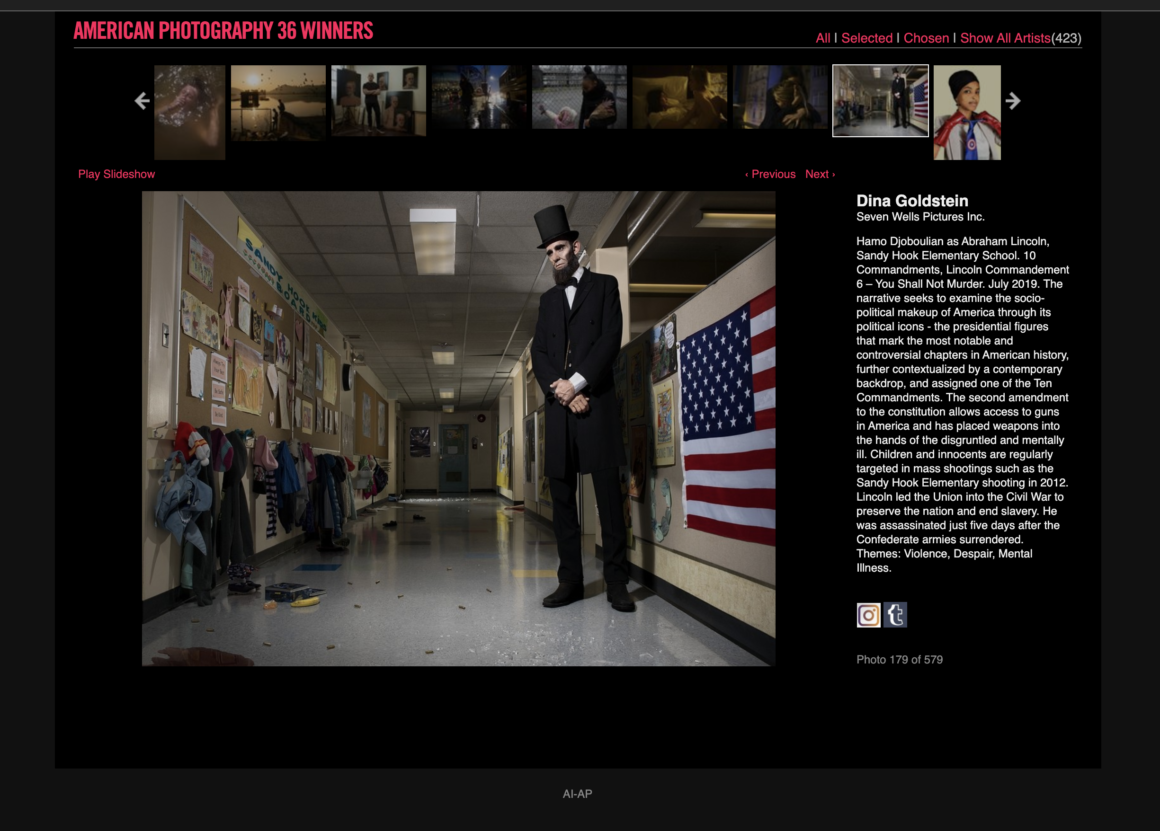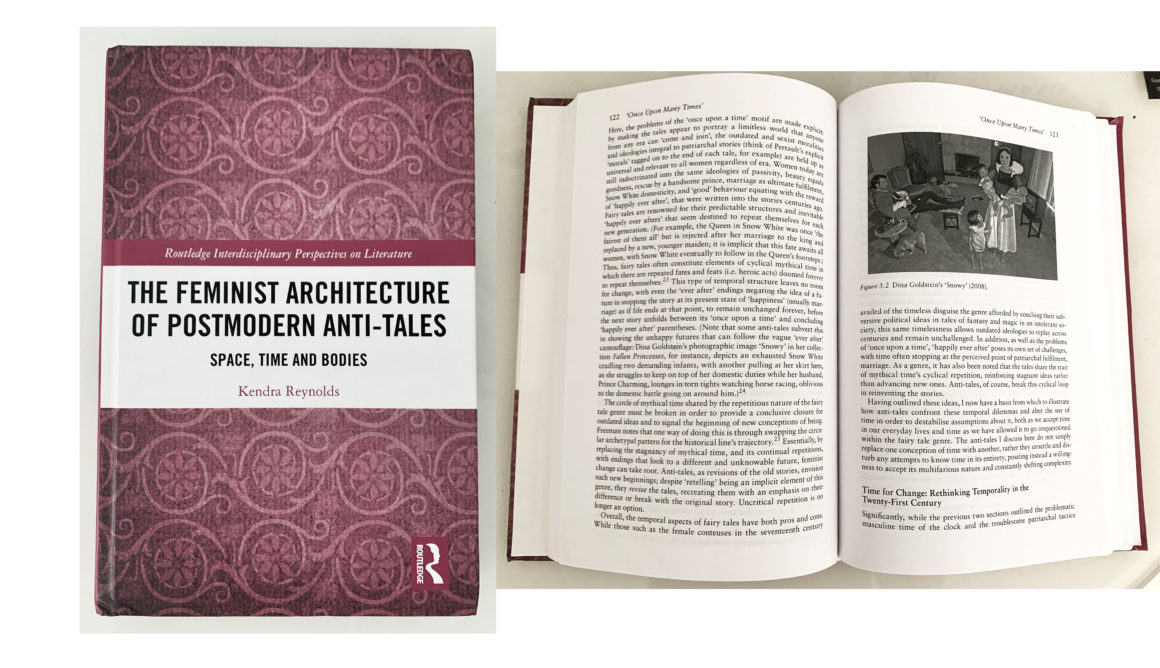 MASTERPIECE GALLERY , LONDON , VIRTUAL OPENING, MARCH 2020



GODS OF SUBURBIA, ART MUR, MONTREAL OPEN FEBRUARY 2020
Closed for Covid-19 
Virtual exhibition coming…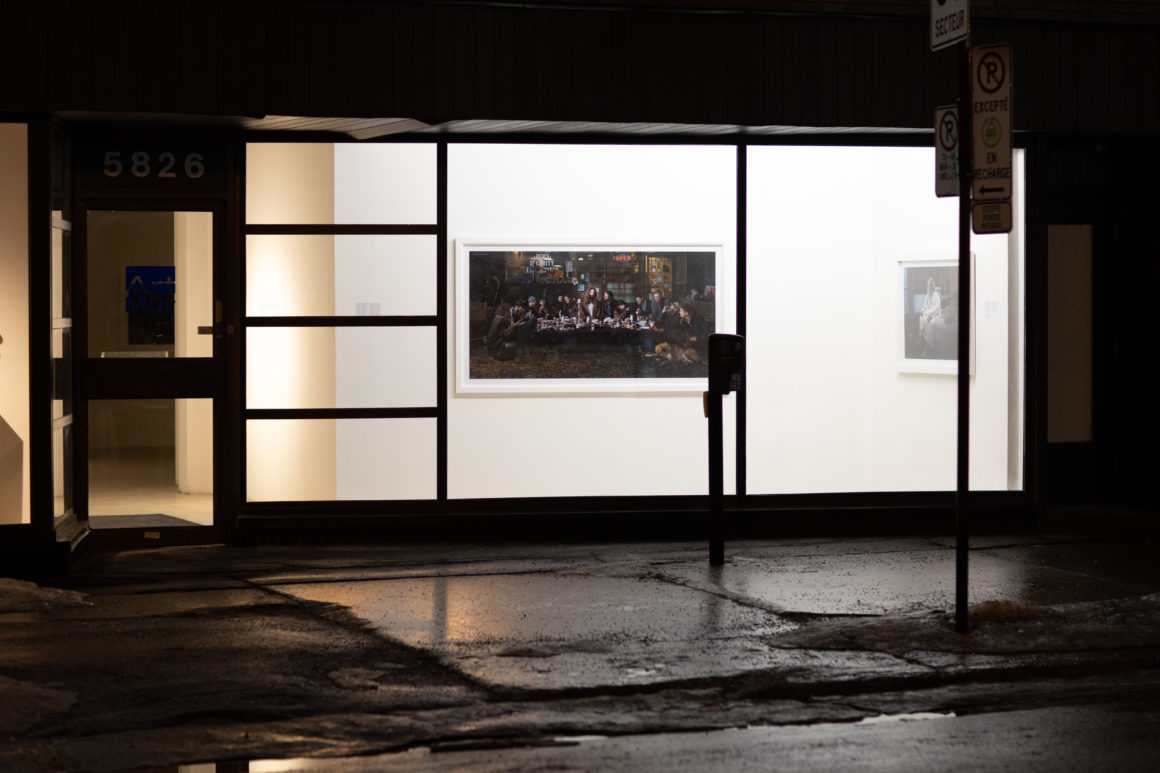 Opening postponed, virtual opening coming soon.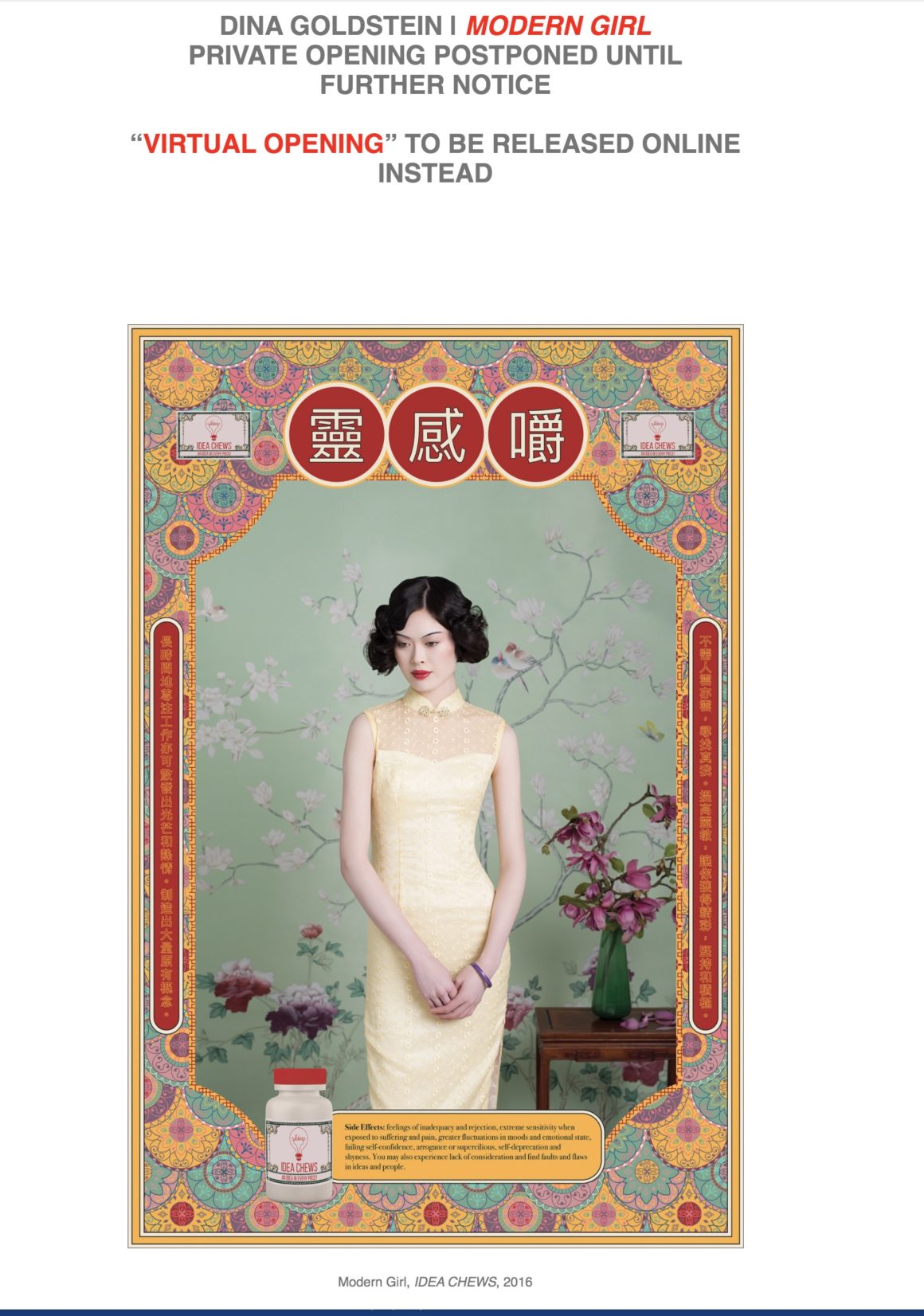 IN THE DOLLHOUSE, CHAUVET ARTS , NASHVILLE, TENNESSEE, USA, MARCH 2020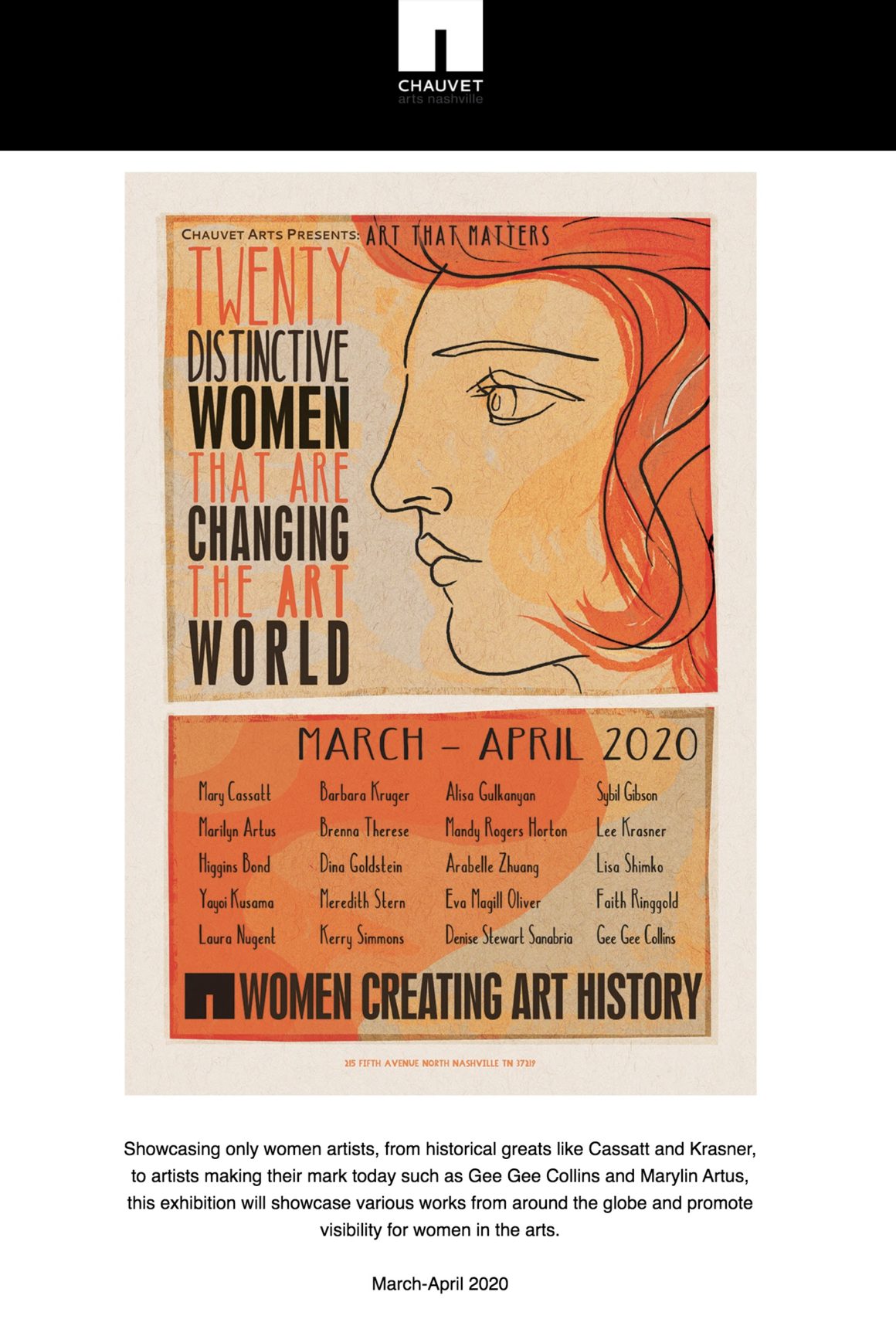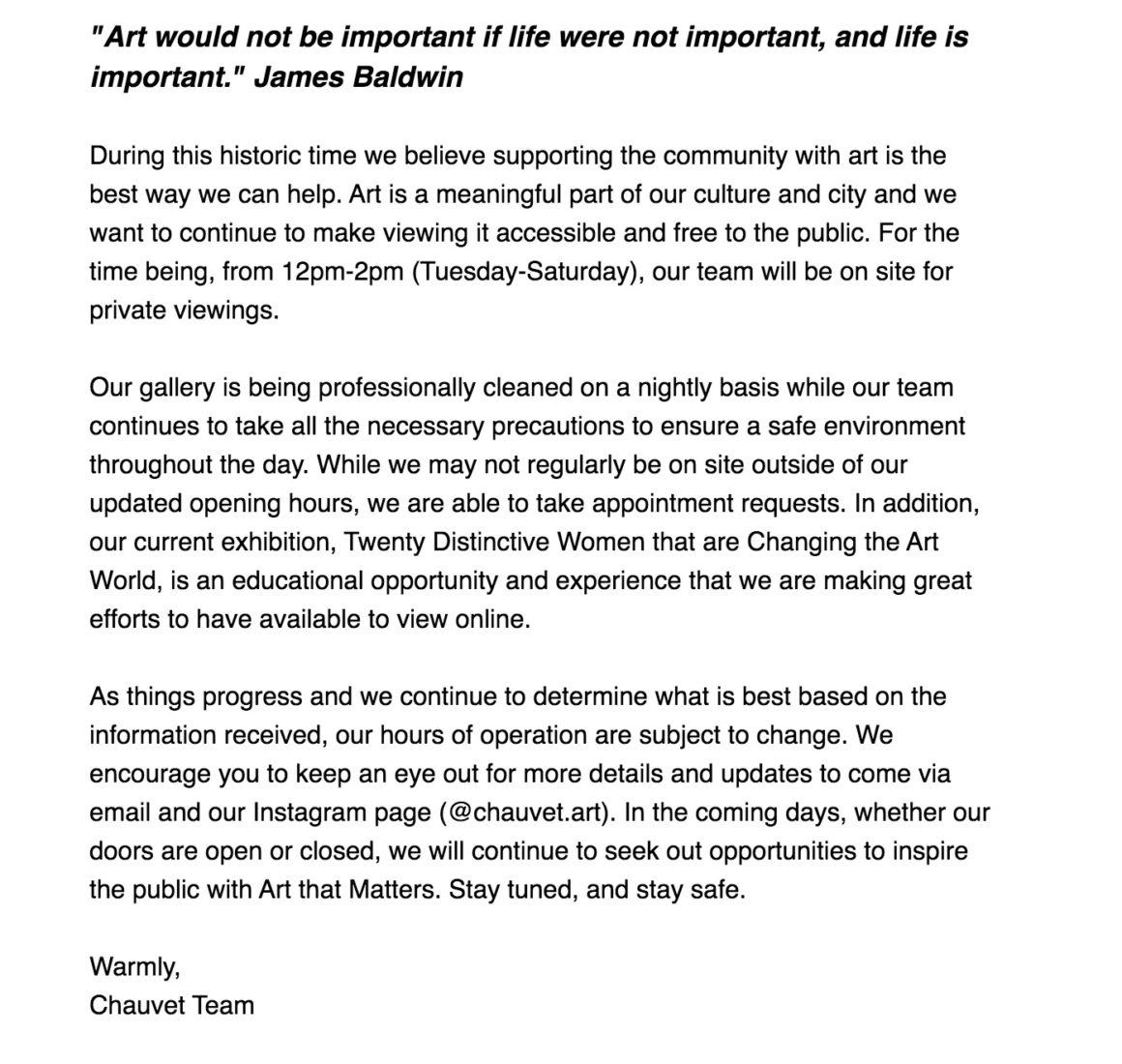 Postponed until further notice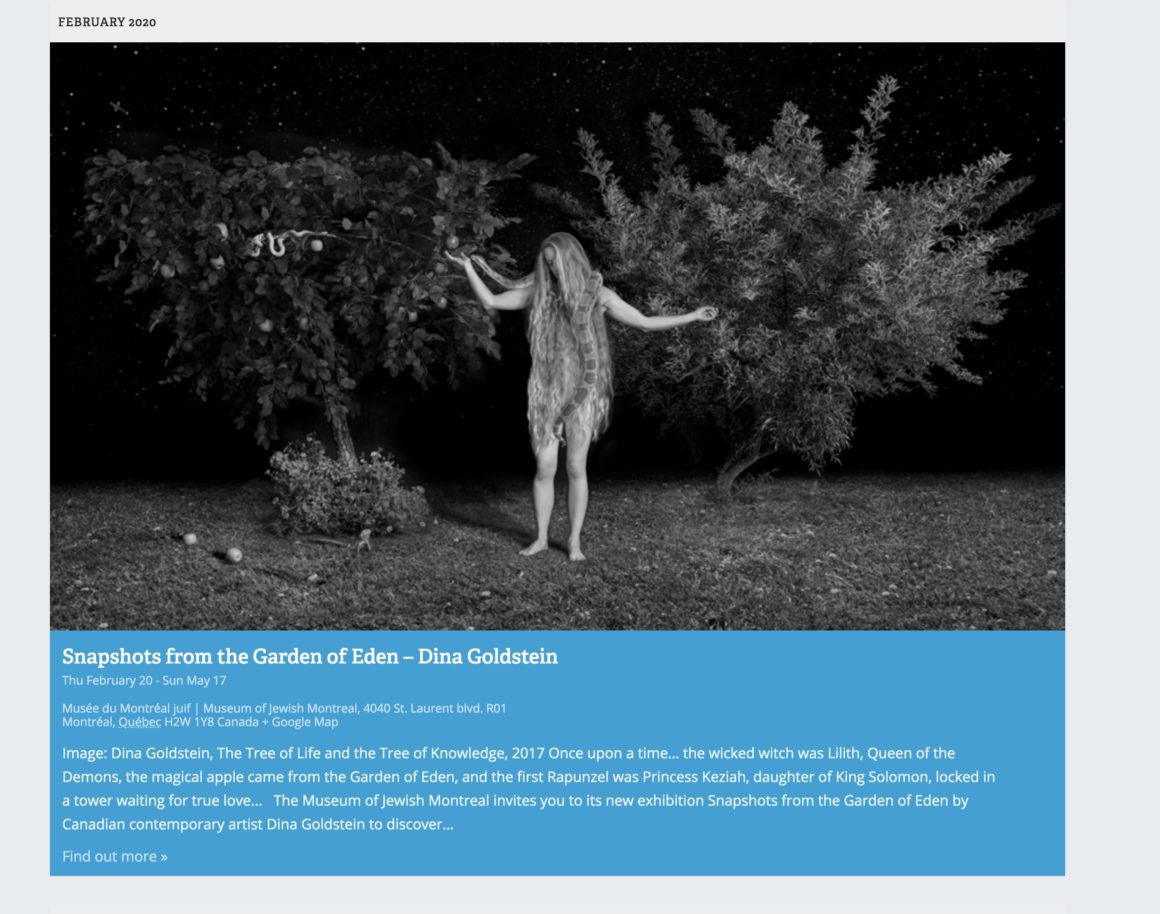 SNAPSHOTS FROM THE GARDEN OF EDEN
MONTREAL JEWISH MUSEUM
FEBRUARY 2020 – MAY 19, 2020
GODS OF SUBURBIA
ART MUR, MONTREAL
MARCH 2020 OPENING
ART MUR INVITATION SPRING 2020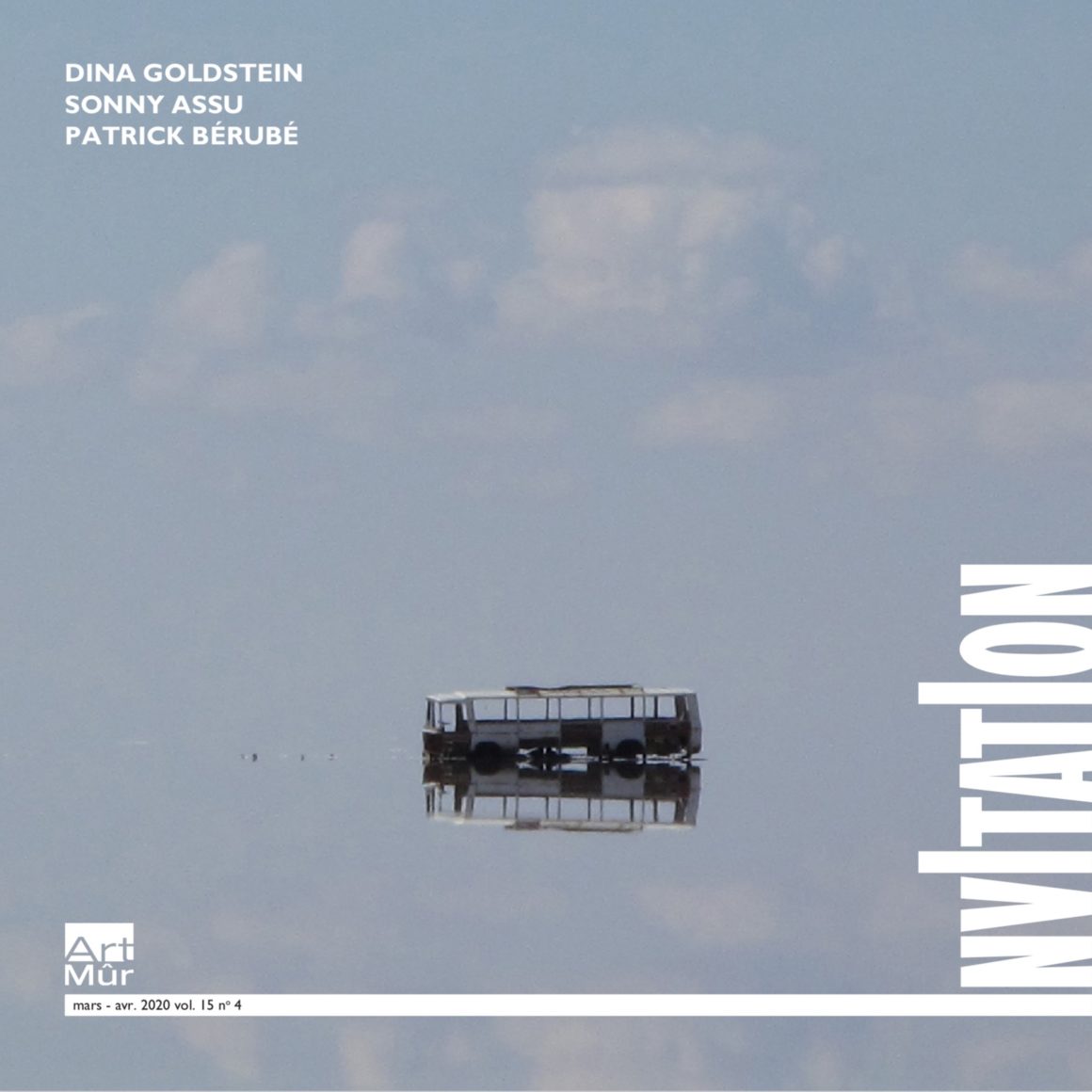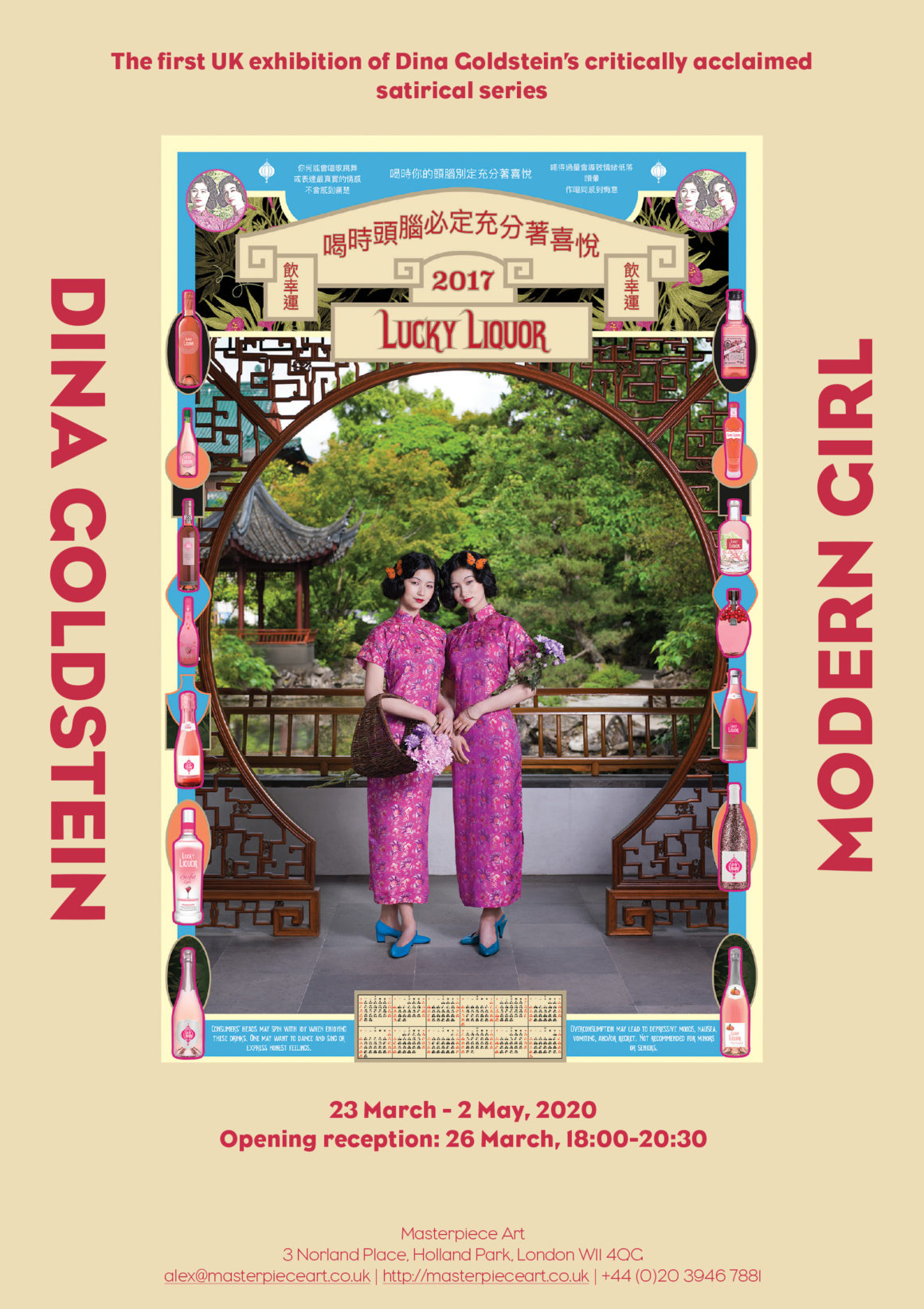 EXHIBITION FEBRUARY 20 – MAY 17, 2020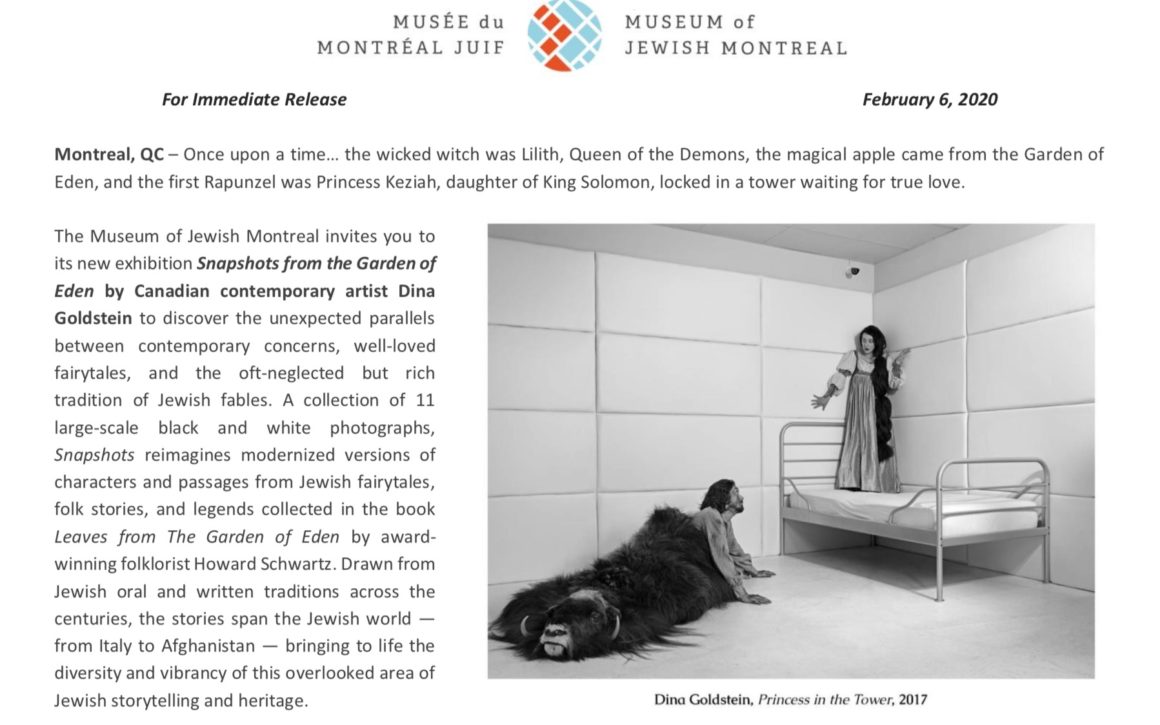 BILLBOARD CREATIVE LOS ANGELES FEB. 6 / 2020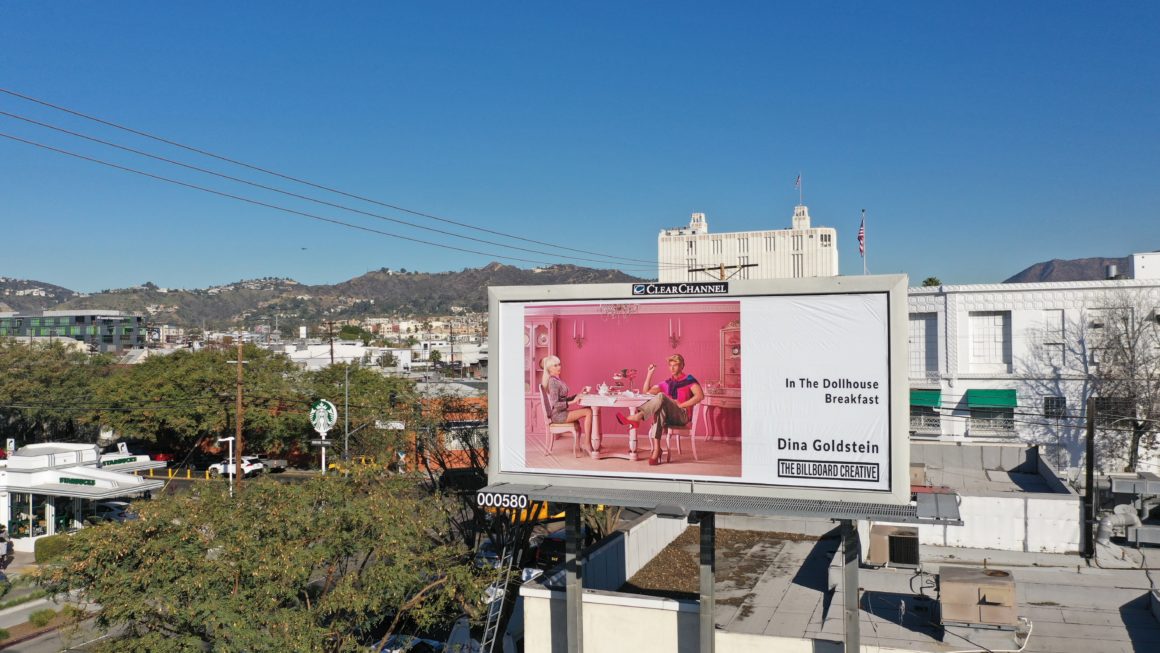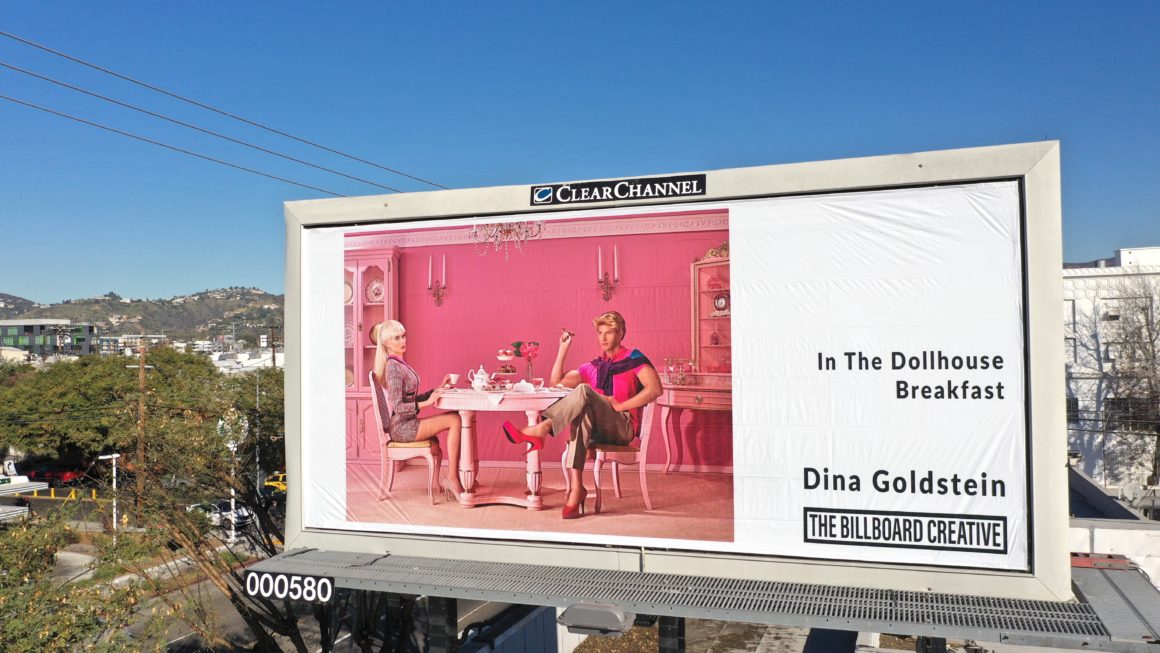 DOHO MAGAZINE Features THE 10 COMMANDMENTS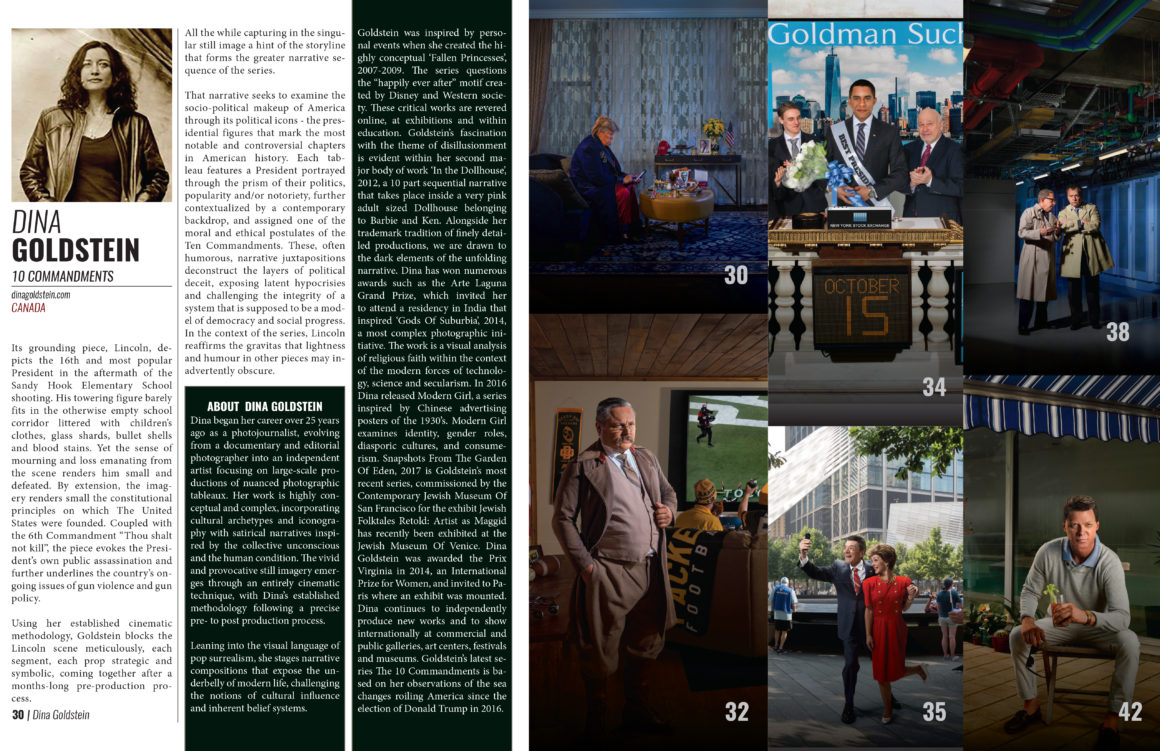 CBC INTERVIEW WITH GLORIA MACARENKO, JANUARY 23, 2020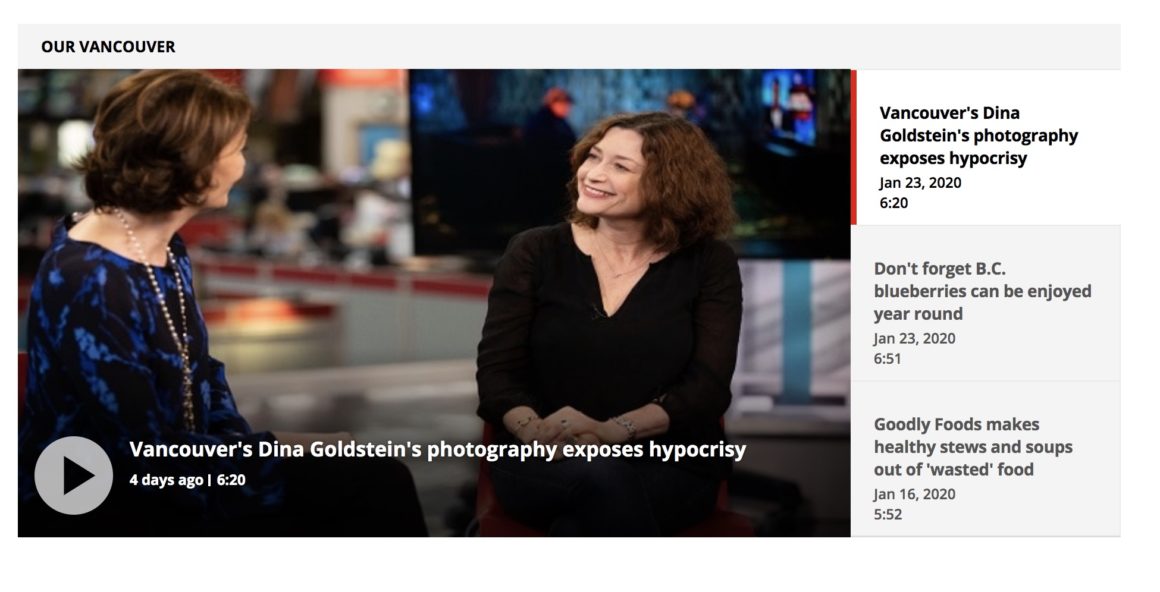 Globe and Mail January 3, 2020

THE 10 COMMANDMENTS FALL RELEASE
  BTS CLIP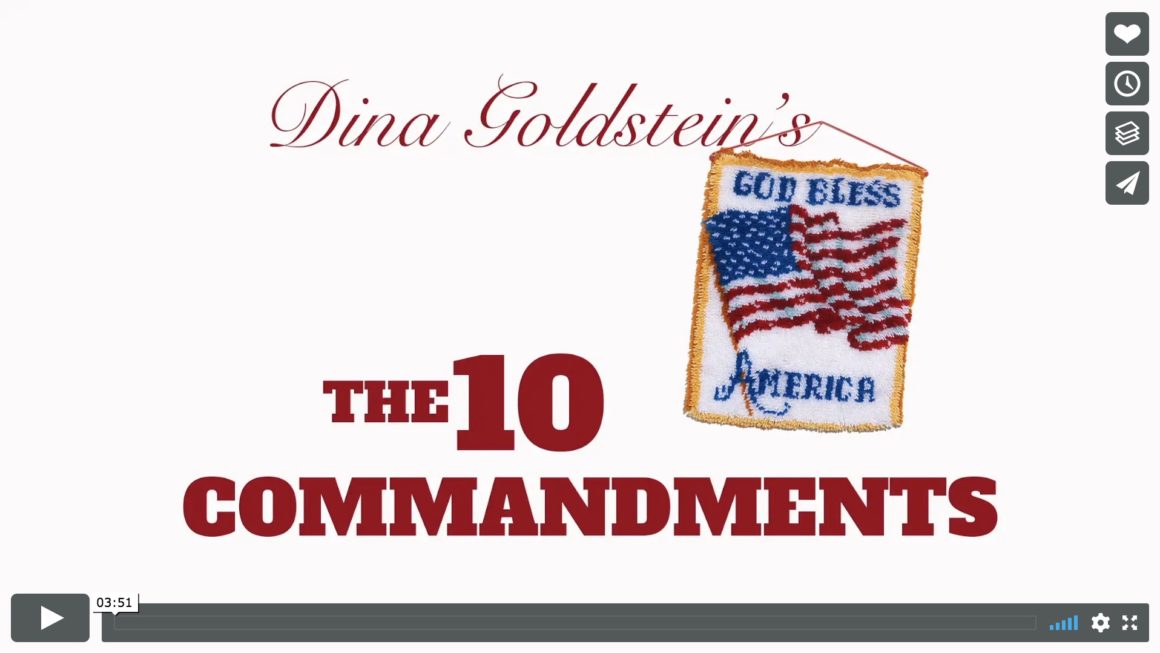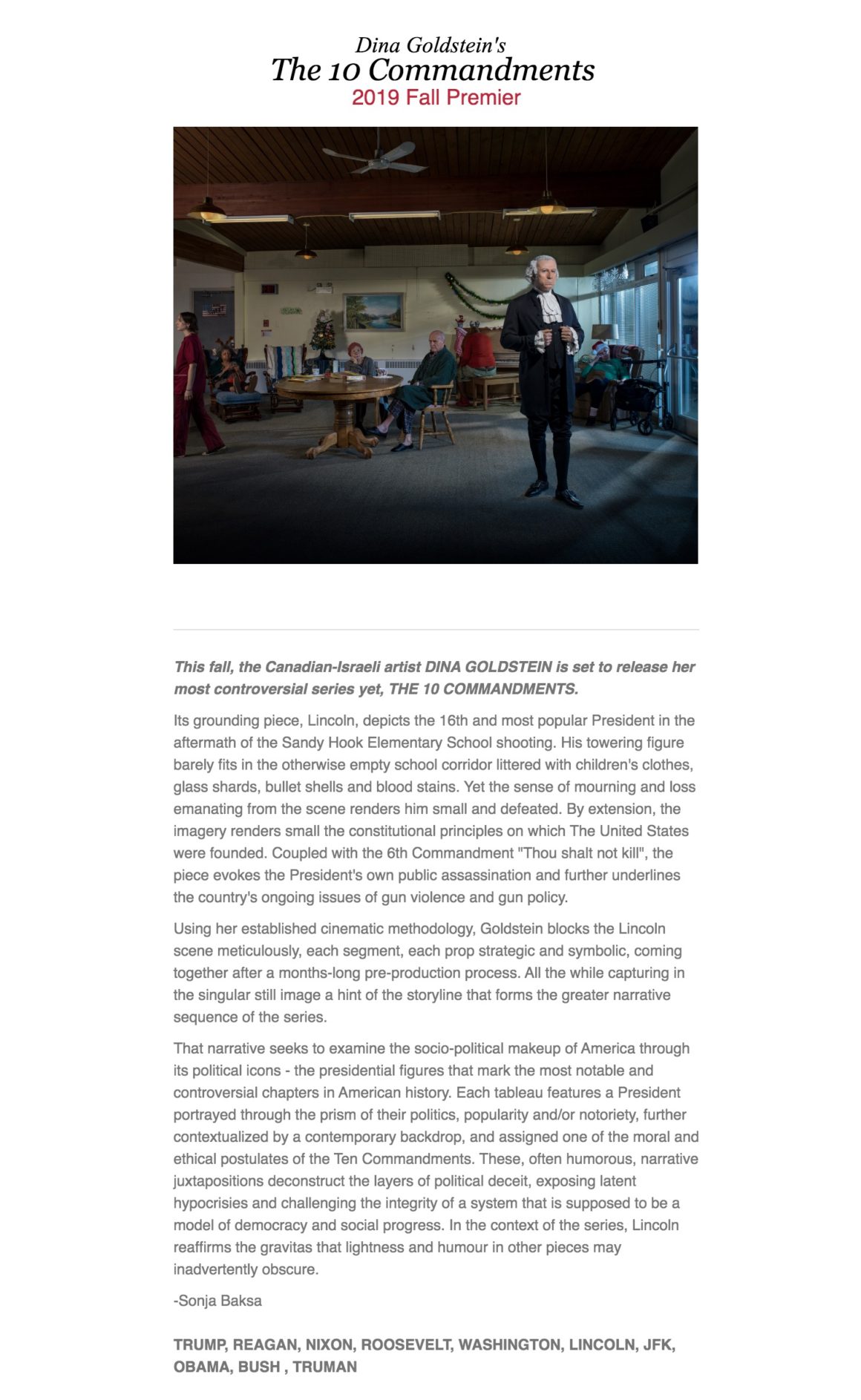 Lucie IPA awards 2019 Honorable Mention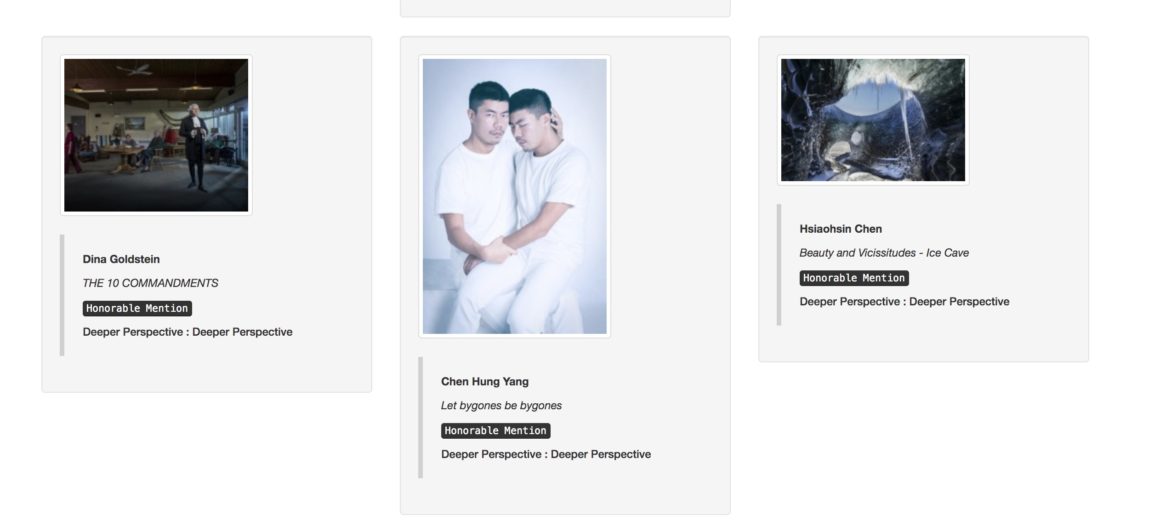 PRO PHOTO REVIEW HEAD ON FESTIVAL By Alison Stieven-Taylor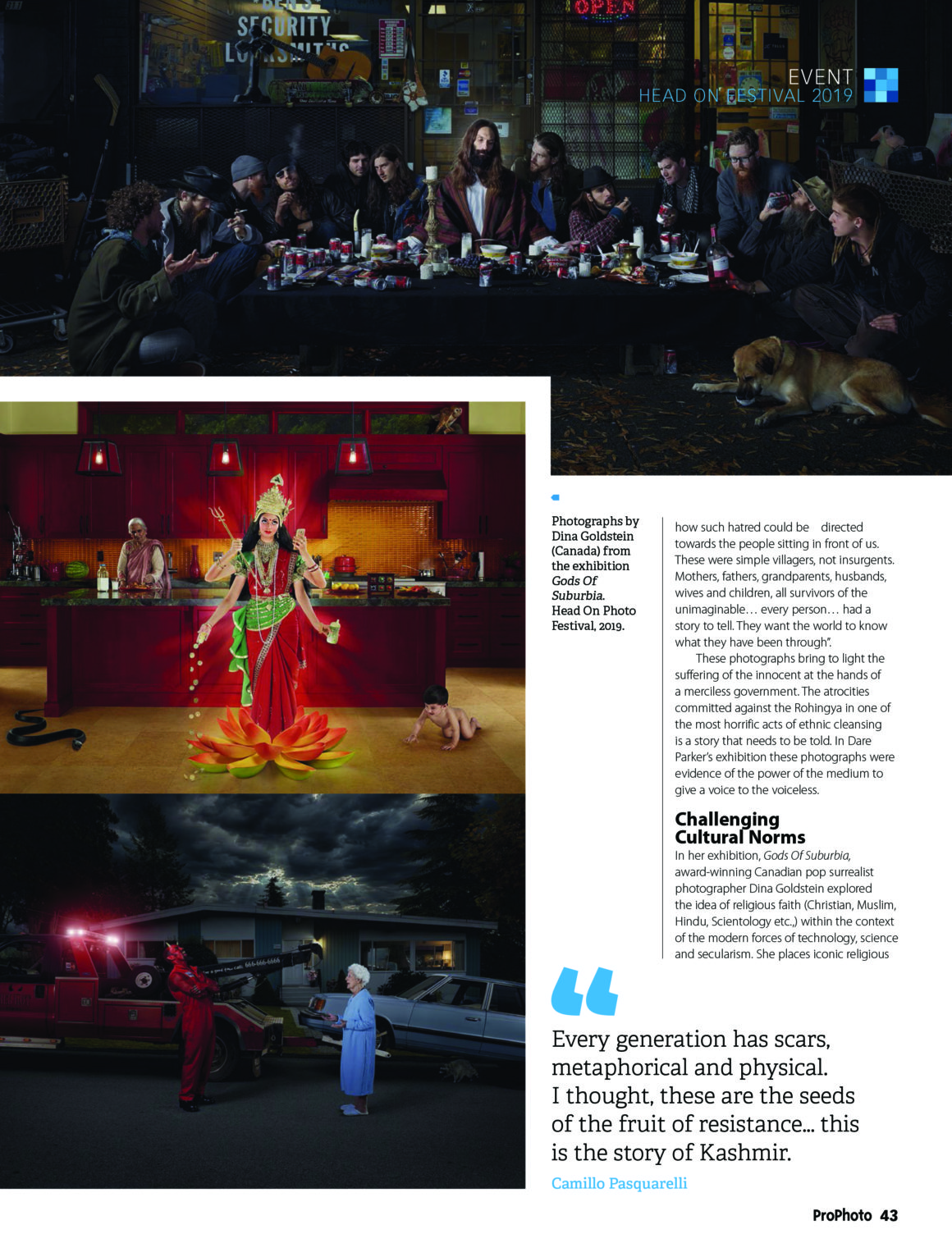 JUMING MUSEUM, TAIWAN 07/06/19 – 01/05/2020
chance & coincidence curated by hungchih wang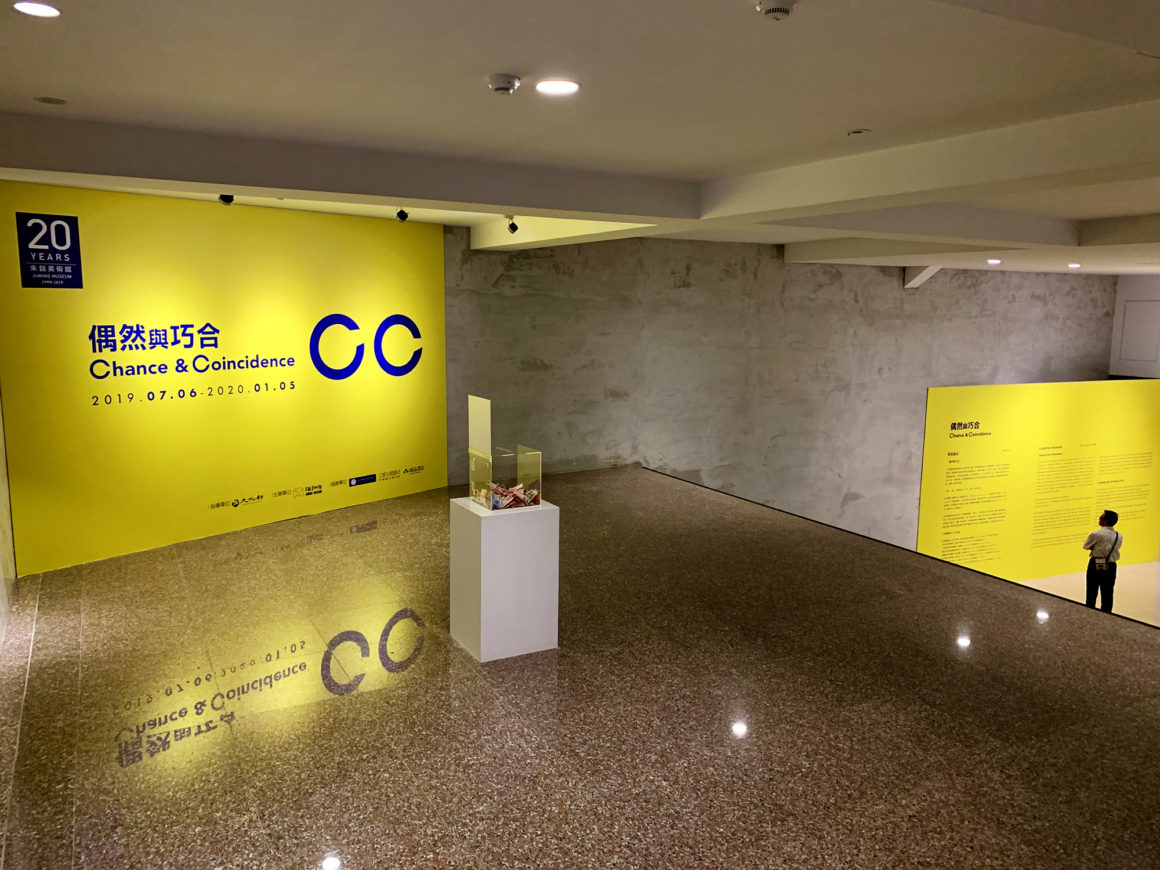 INTERVIEW IN FRENCH AND ENGLISH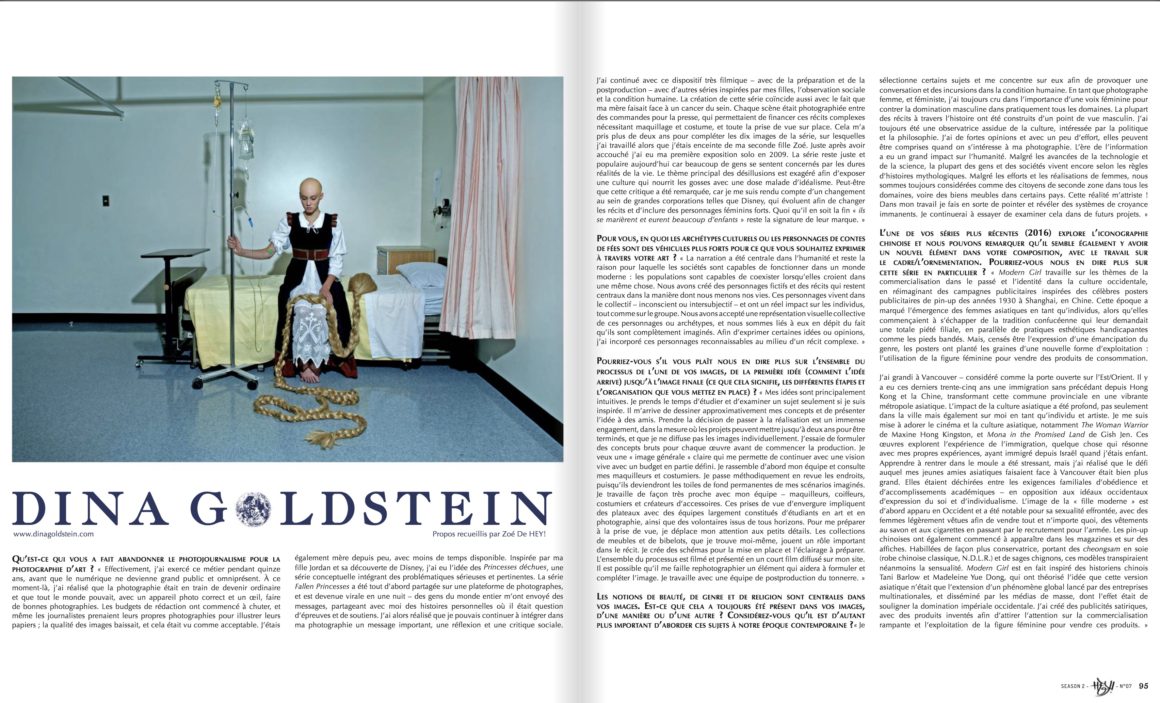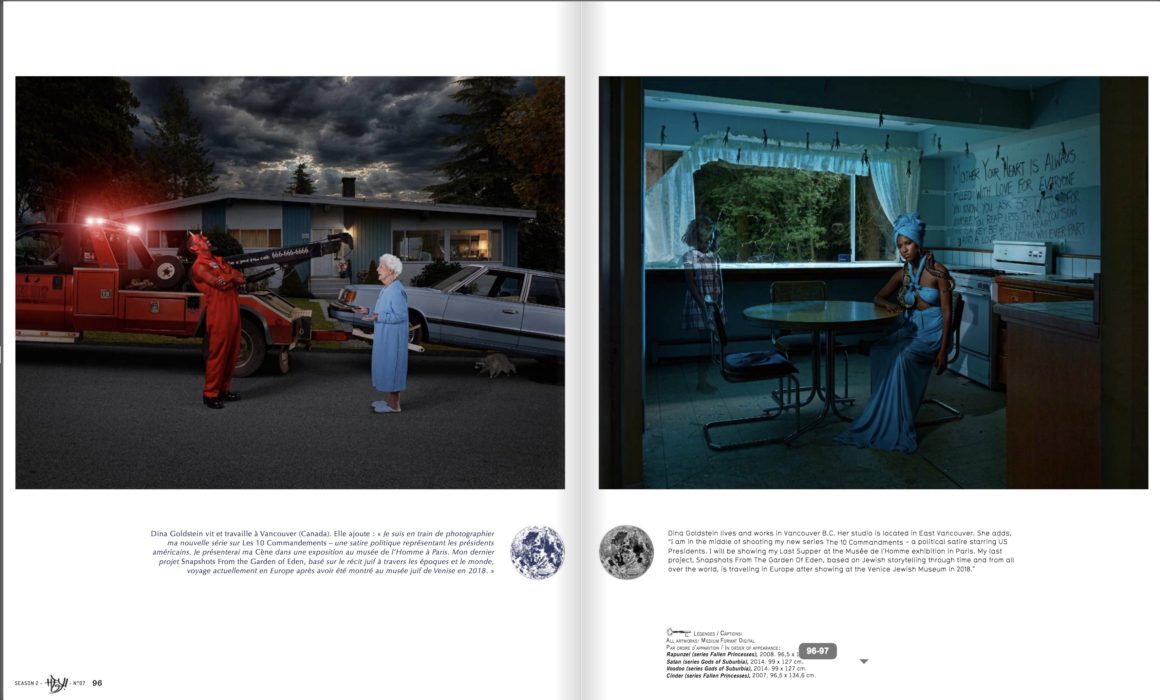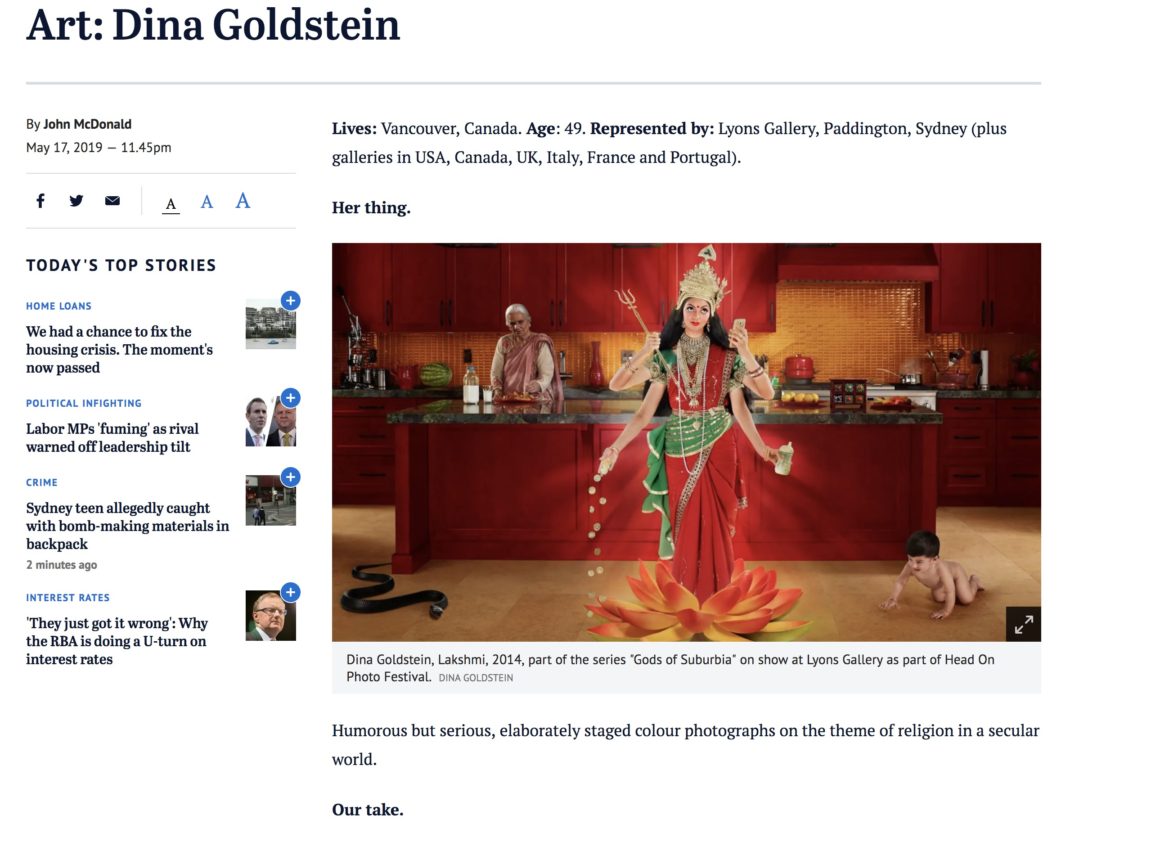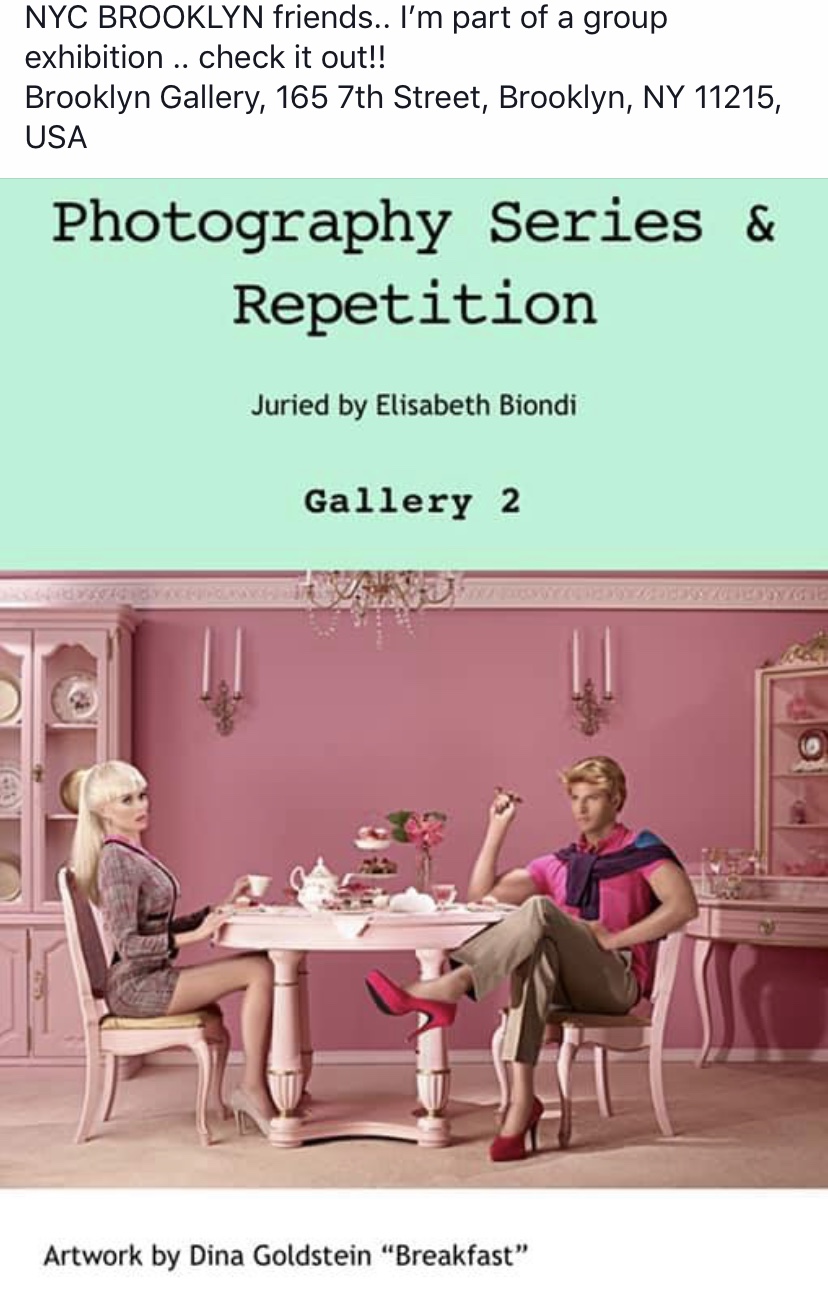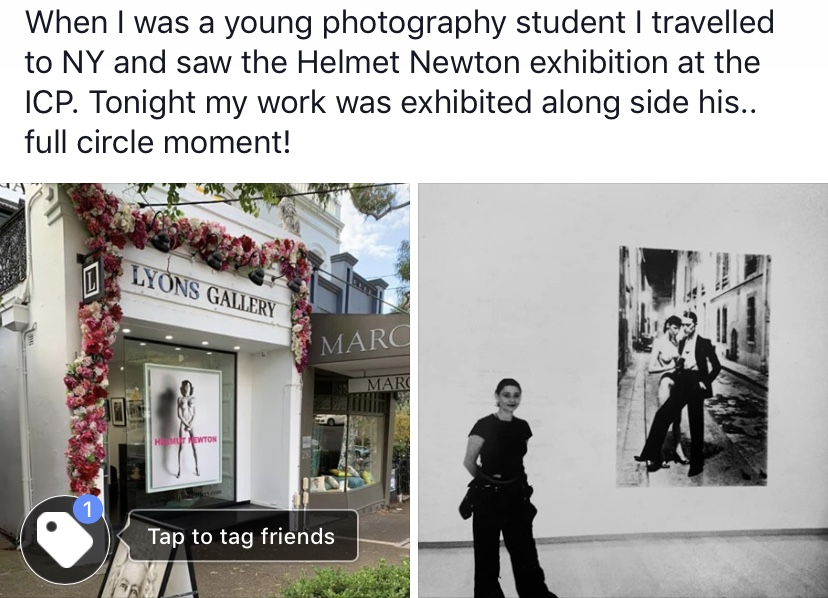 So honoured to be one of the female artists chosen with an honourable mention by the Julia Cameron awards for photography with Snapshots From The Garden Of Eden. https://www.thegalaawards.com/13-julia-margaret-cameron-award The winner of the competition is also a Canadian Patty Maher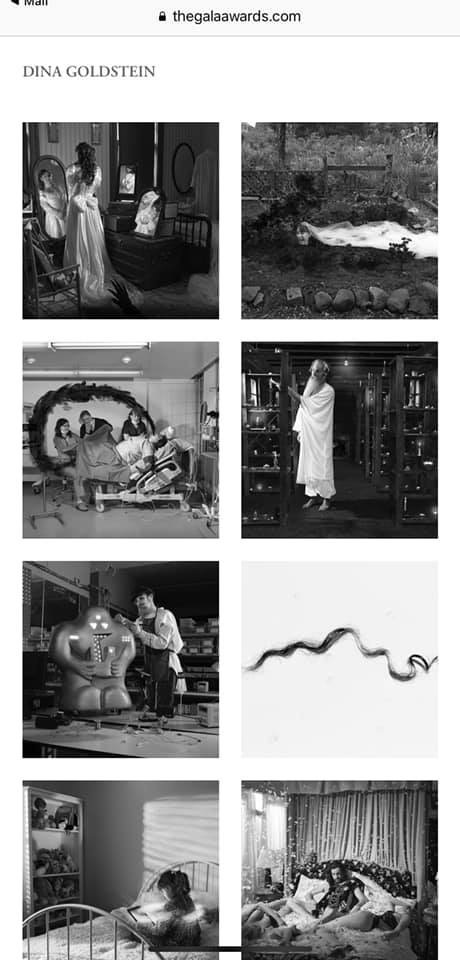 ---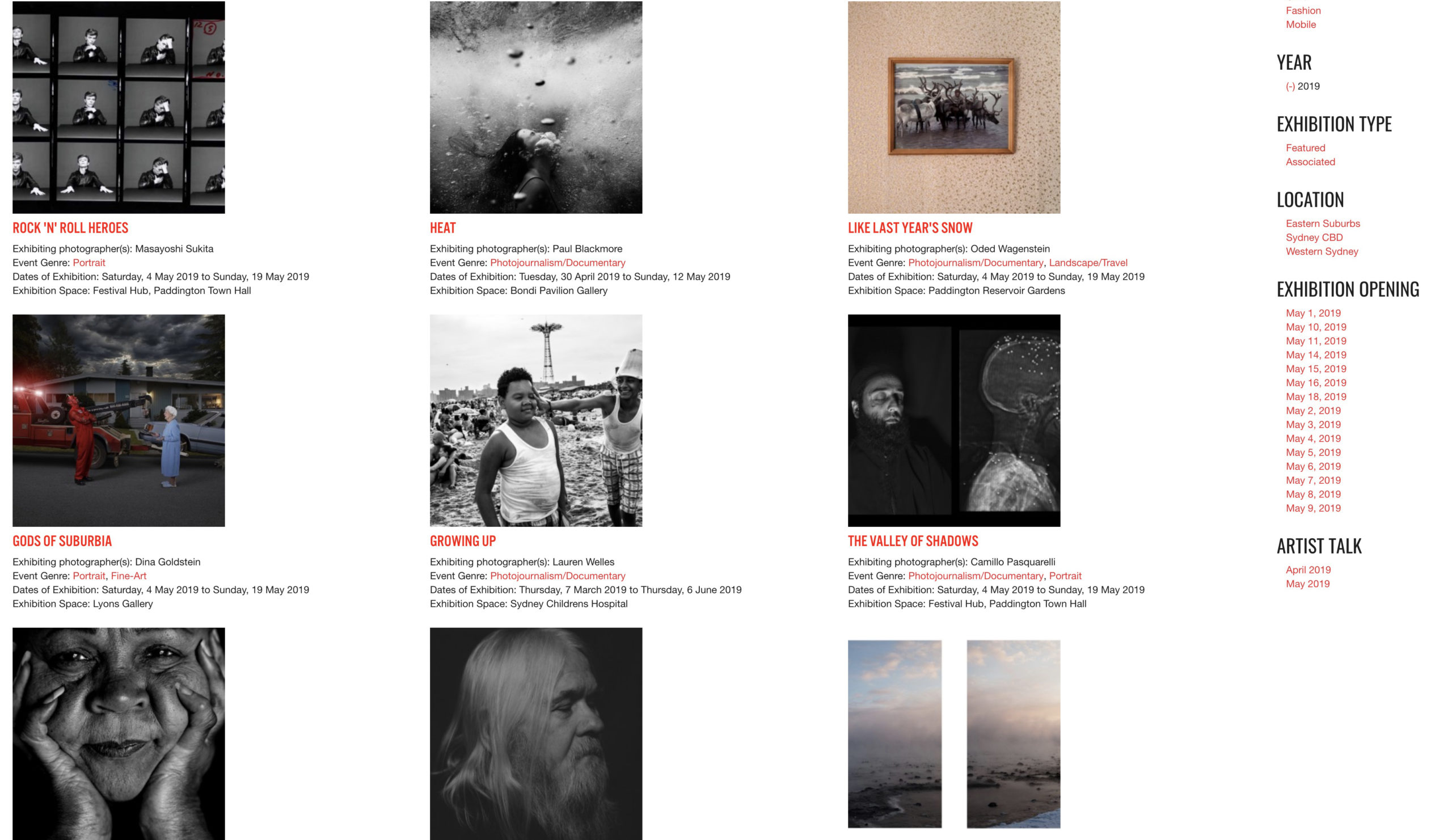 ---


ITALY EXHIBITION SCHEDULE 2018/19


 Snowy 10 YEARS
April 20, 2018 marks the 10 year anniversary of Dina Goldstein's Snowy from the Fallen Princesses series #fallenprincesses #snowy #snowwhite
The Fallen Princesses series first appeared on the Internet in the summer of 2009 proto #MeToo , and received global attention as artworks that comments critically on the Disney world narrative. Goldstein's work raises many questions about the lives women are expected to lead and the reality of what their lives are really like. Dina's photos feature subtle, comic, and grotesque images that undo classical fairy-tale narratives and expose some of the negative results that are rarely discussed in public.
Snowy has since circled the world with exhibitions in Canada, The UK, Italy, France, USA, Mexico, Colombia, Brazil, Portugal, New Zealand, Australia, Korea and China. #appropriationart #photography #photographer #canadianphotographer #tableaux #narrativeart #iconicimage #disney #fairytales #domestichell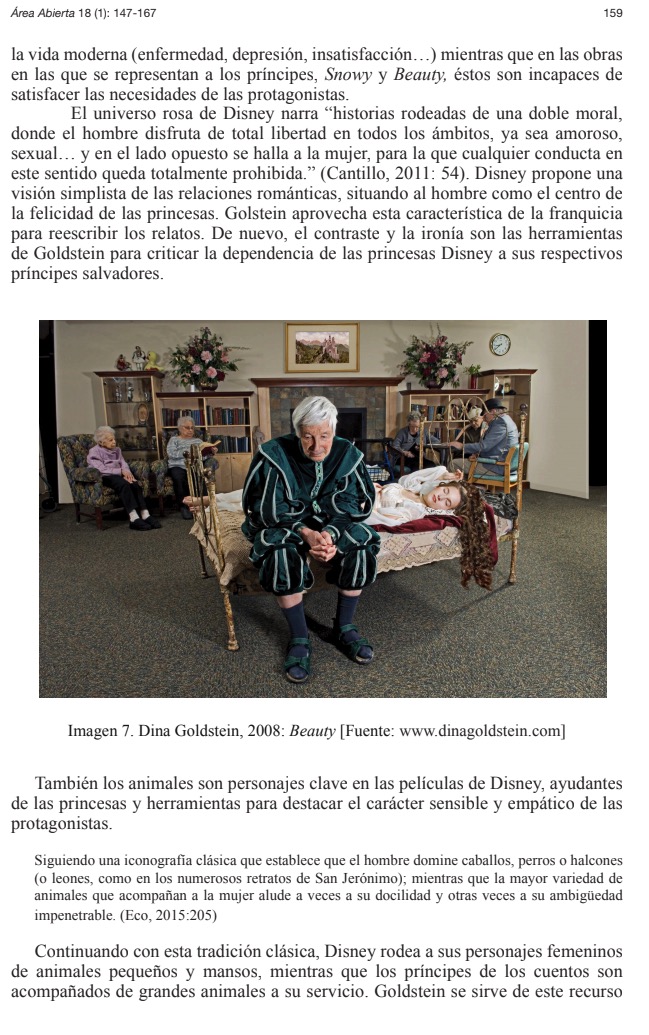 BASILICA OF SANT'AMBROGIO, MILAN, ITALY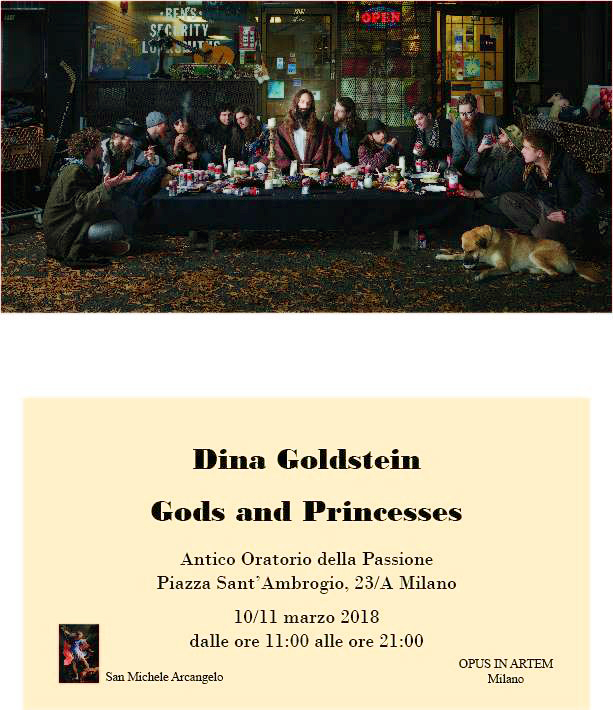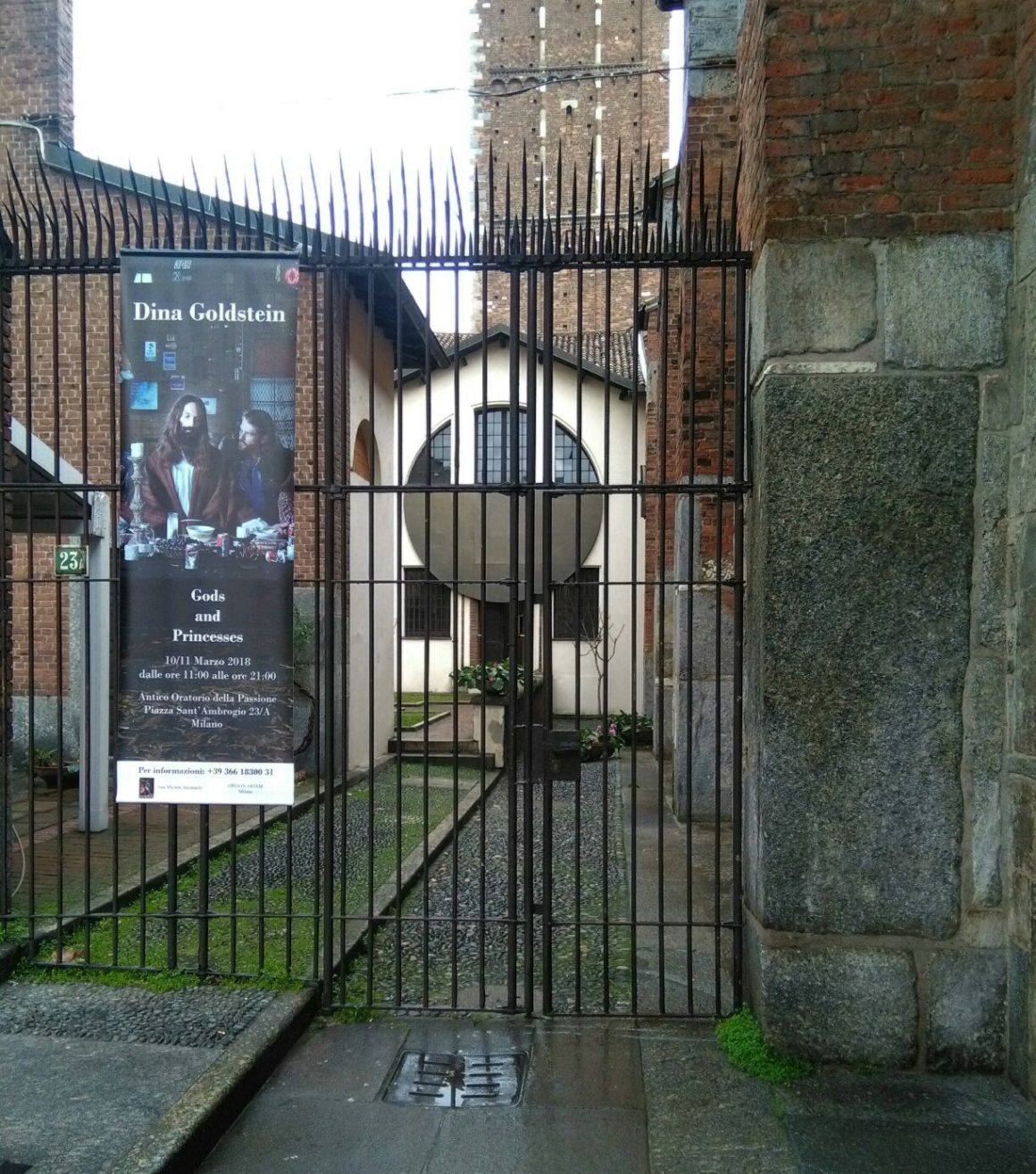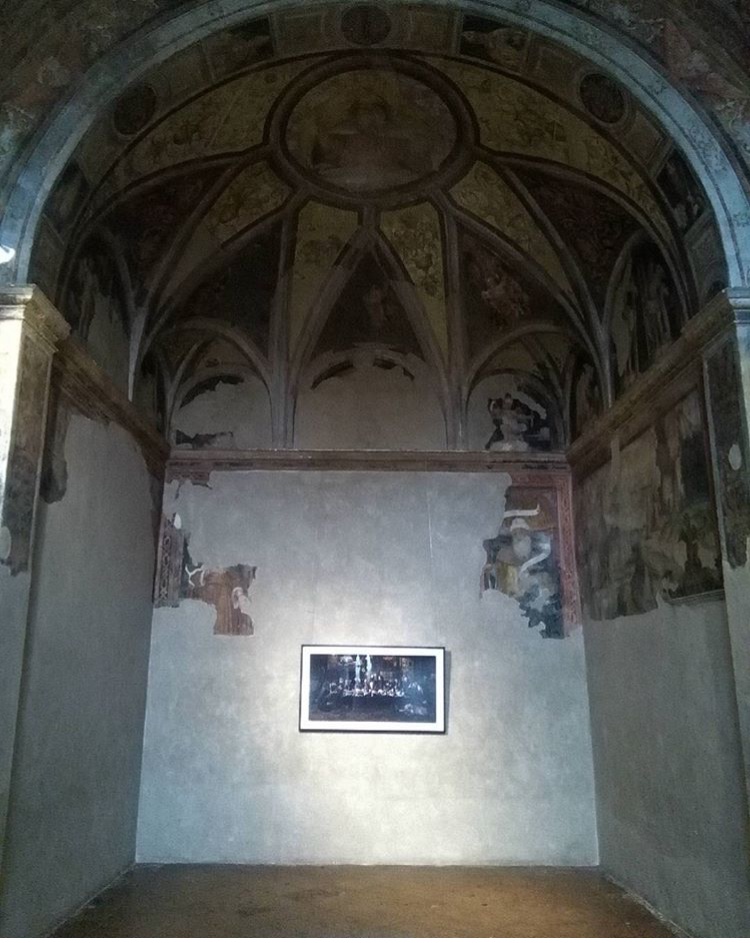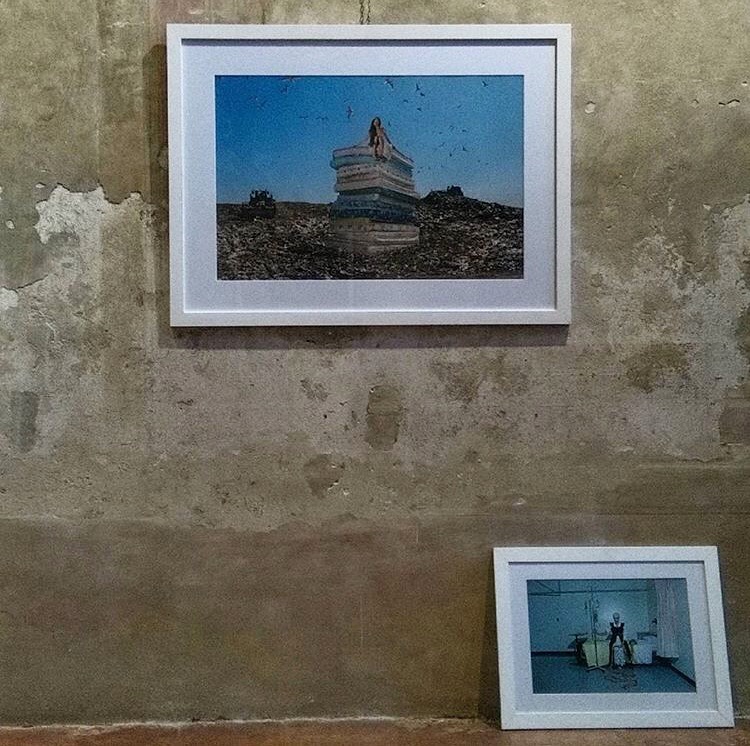 POTTER MUSEUM MELBOURNE, AUSTRALIA REVIEW
SNAPSHOTS FROM THE GARDEN OF EDEN ZACK GALLERY, JCC VANCOUVER December 14, 2017 – January 20, 2018






NEW WORK
EXHIBITION OPENS SEPTEMBER 28, 2017
ARTIST TALK CJM September 29 from 12:30 – 1pm.
Click image below to see the complete SERIES OF 11 PHOTOGRAPHS and the MAKING OF clip

CBC ARTS ARTFOLIO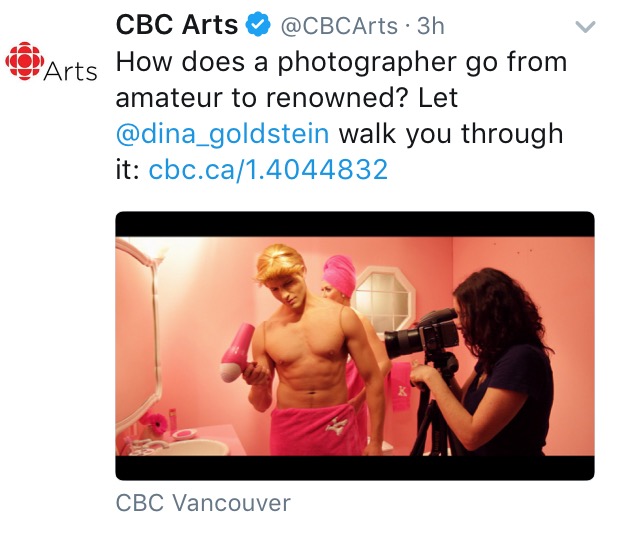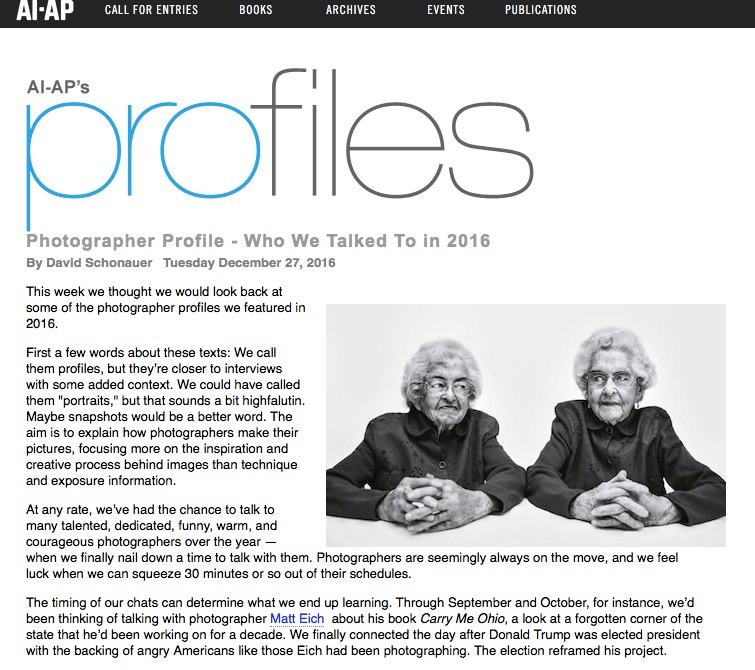 PHOTOLIFE COMPLETE INTERVIEW NOW AVAILABLE CLICK HERE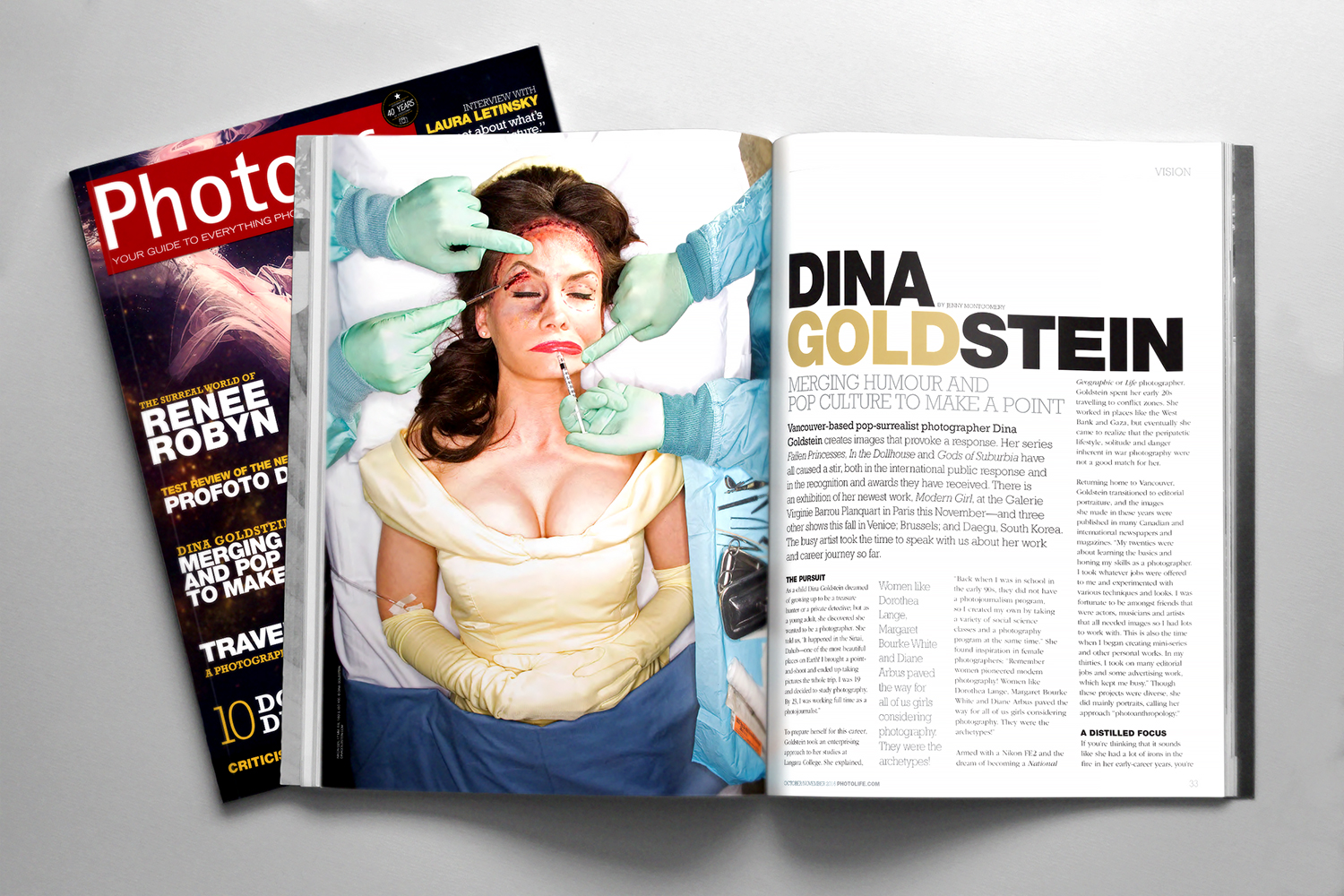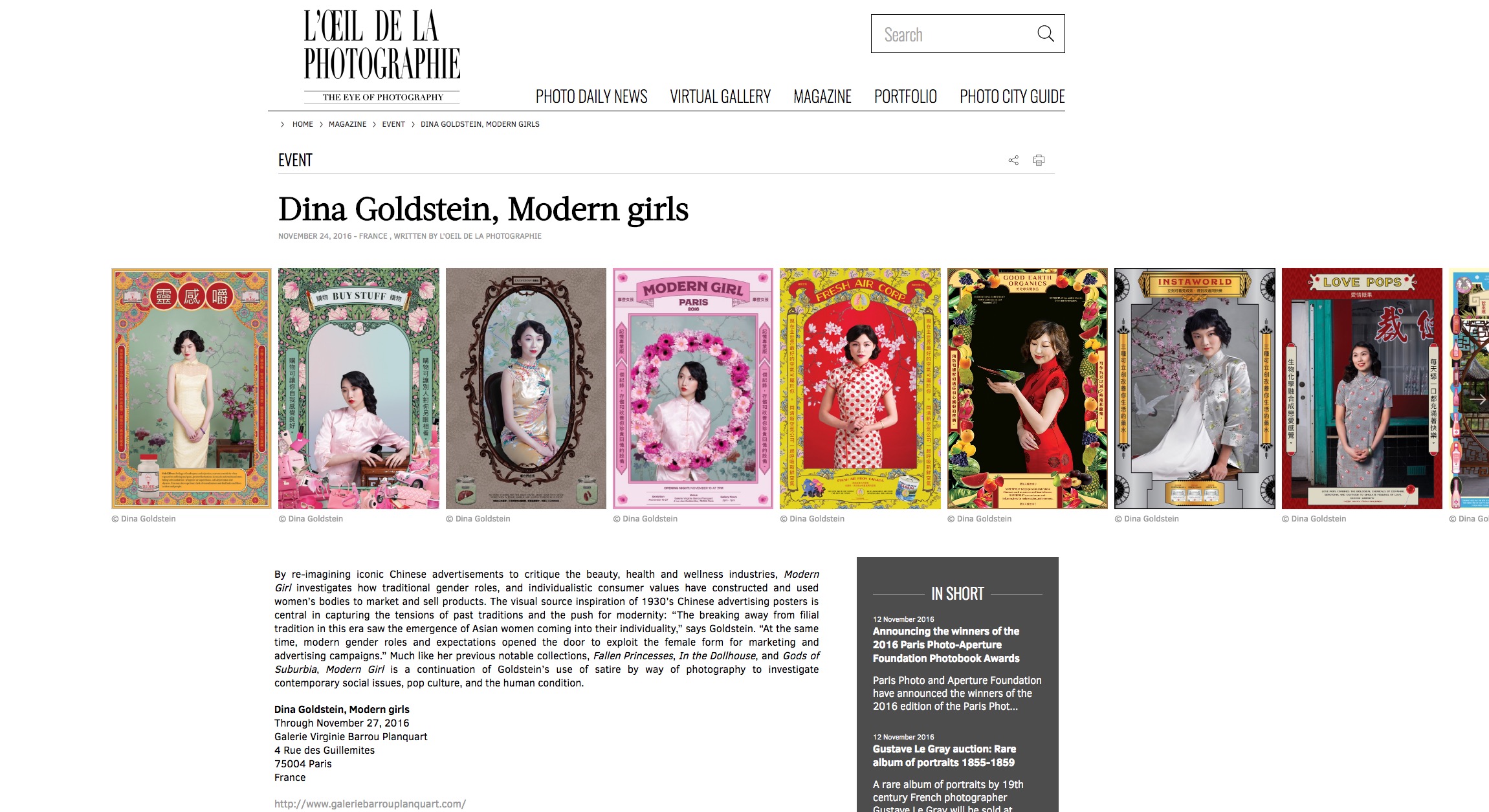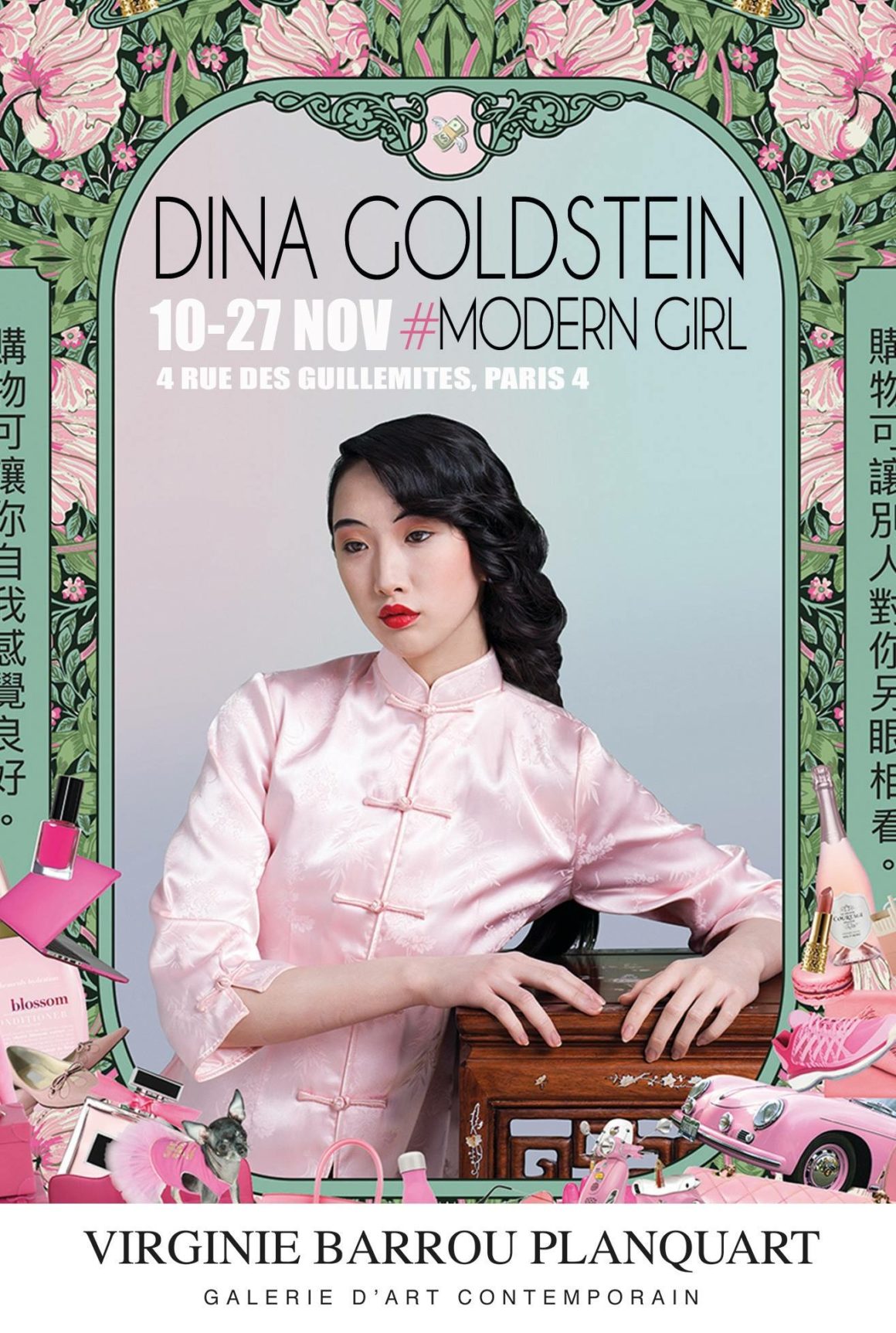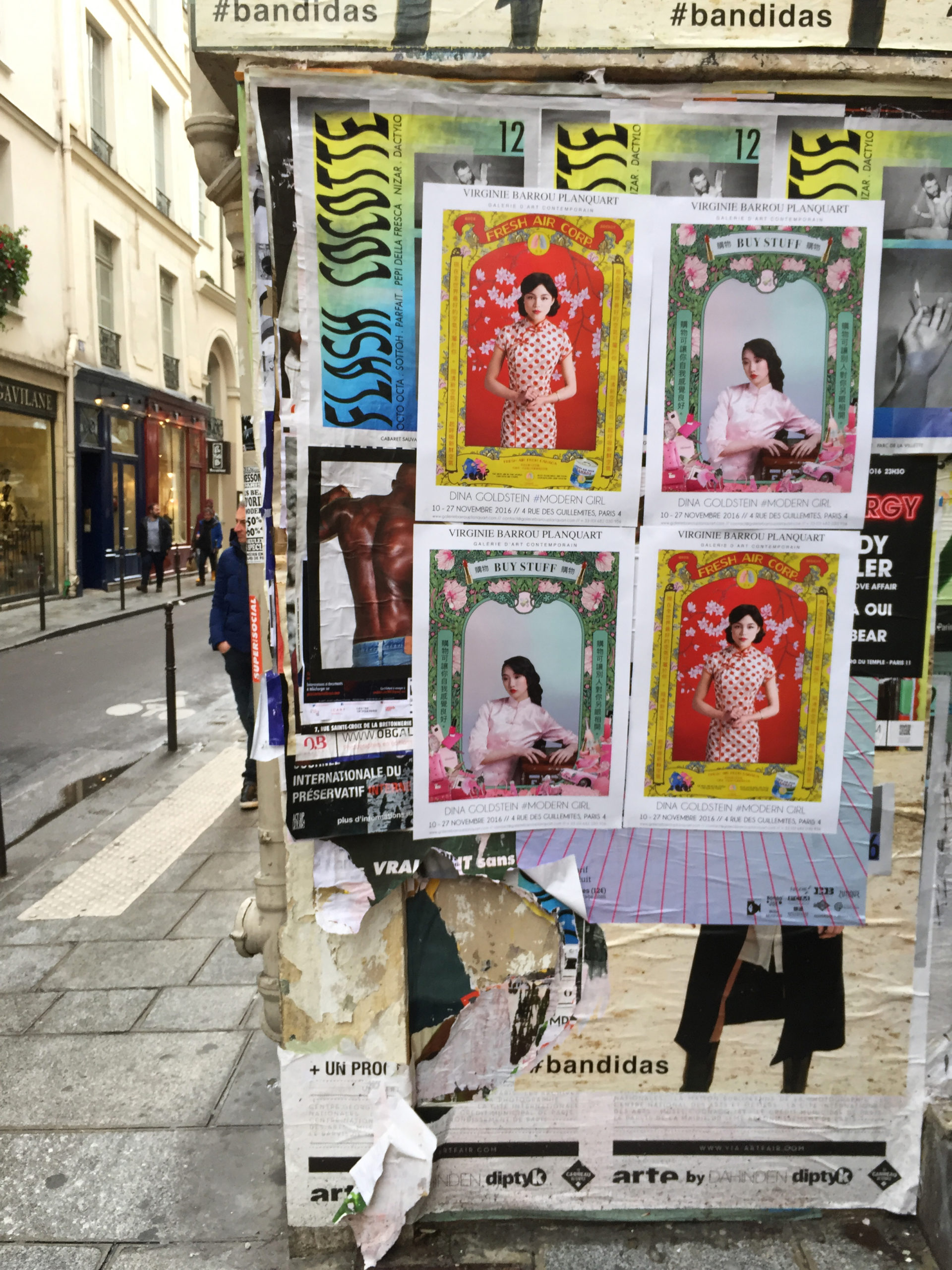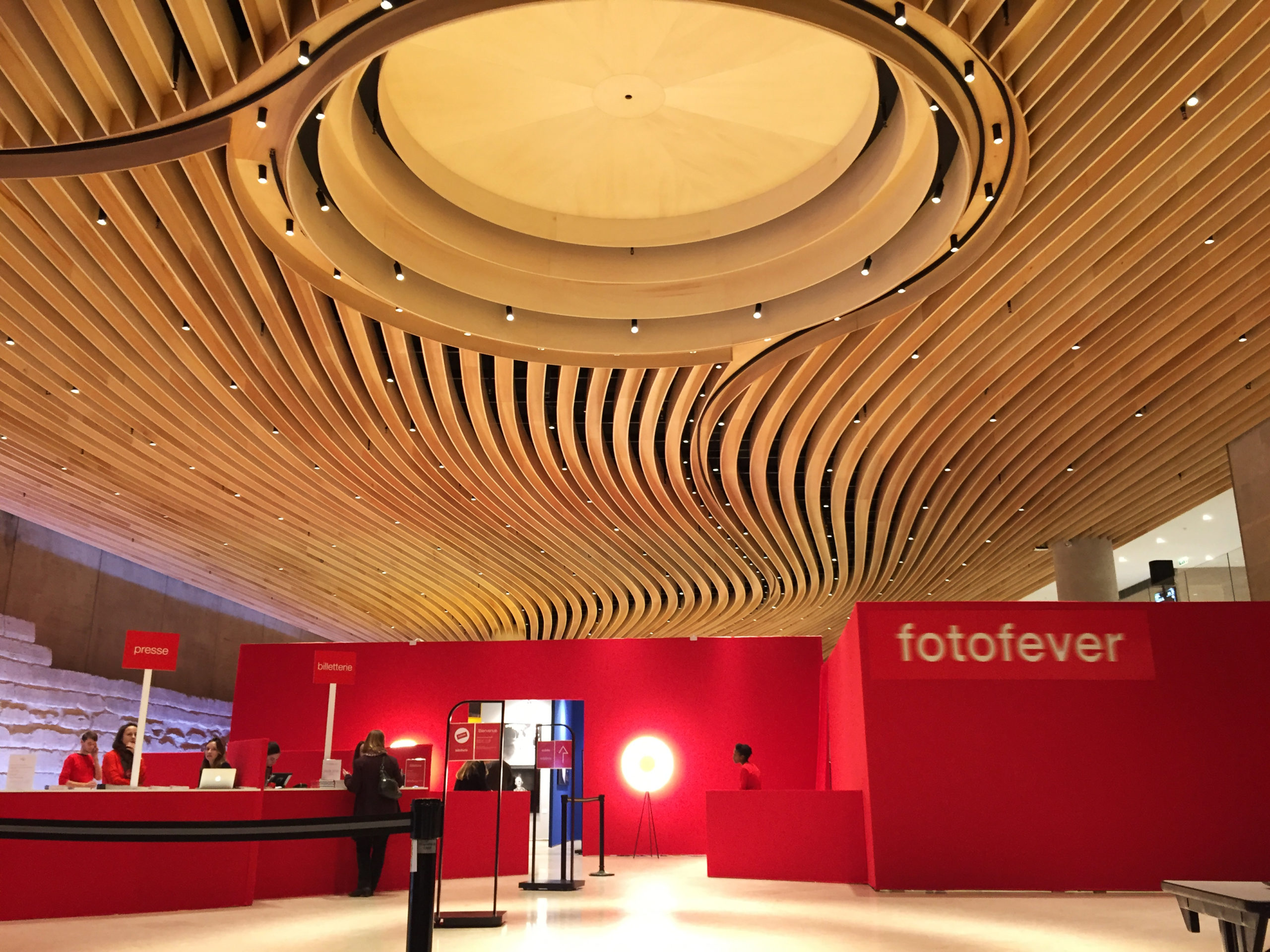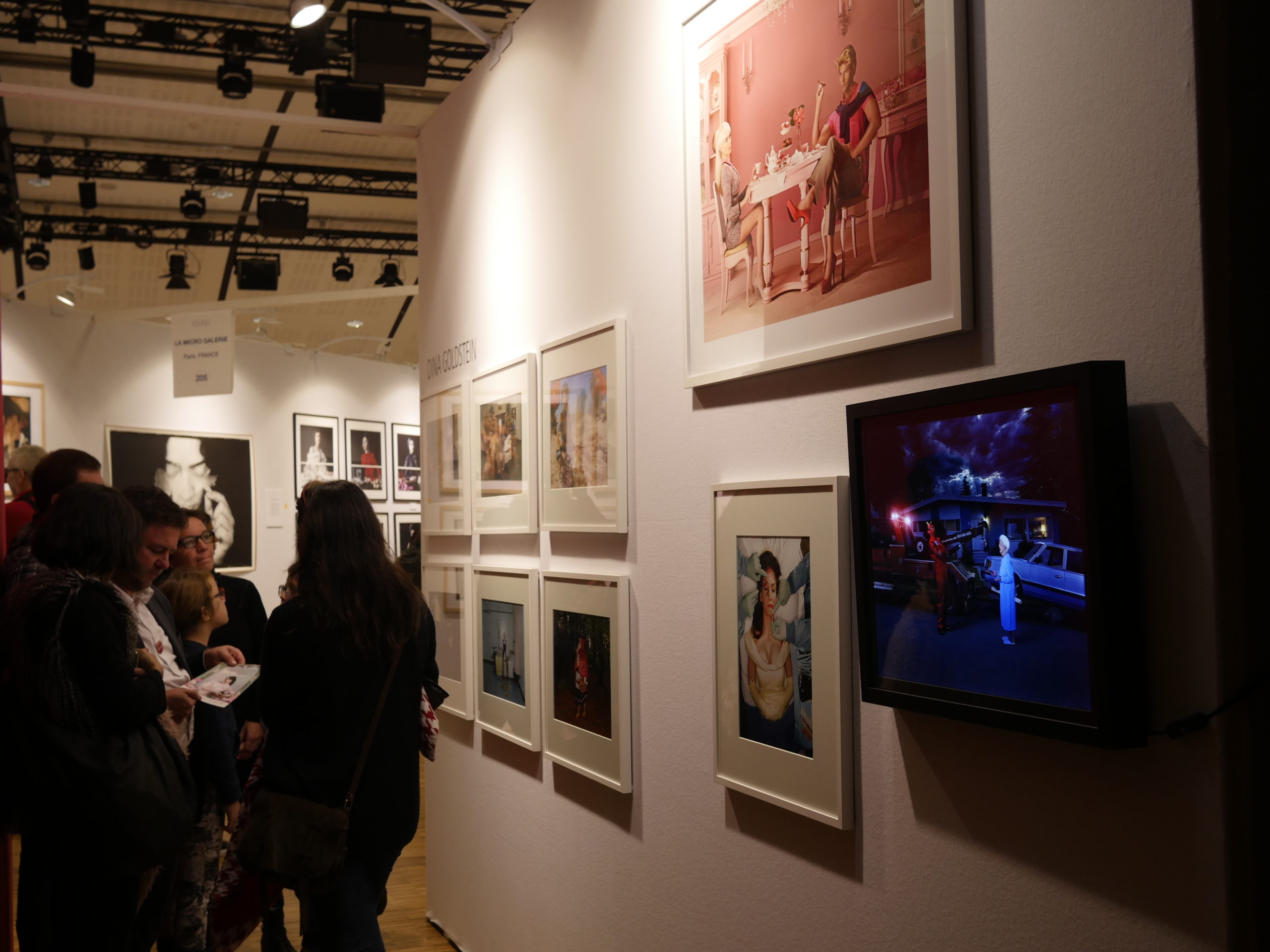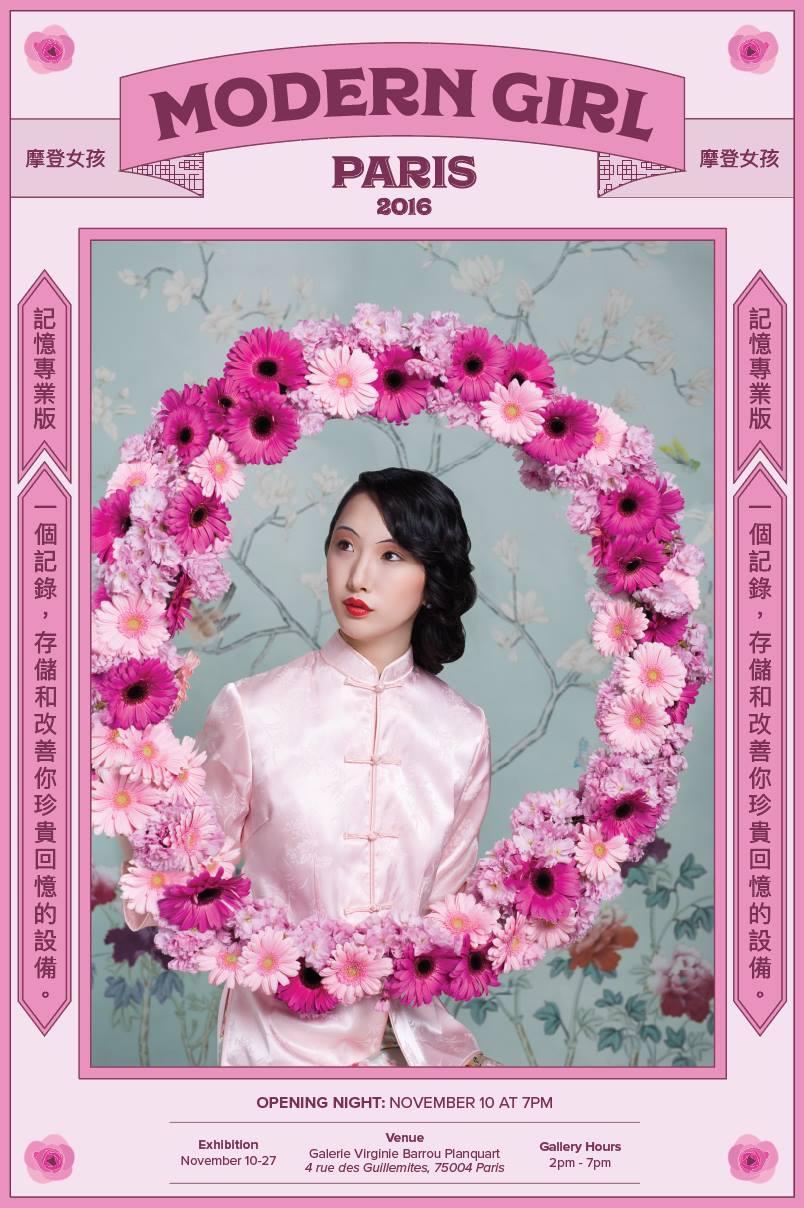 MCA MUSEUM OPENING SEPTEMBER 09, 2016 MESA, ARIZONA


FALLEN PRINCESSES in the Antwerp Gazet!

FALLEN PRINCESSES featured in QUEST MAGAZINE / NETHERLANDS – See full spread in PRESS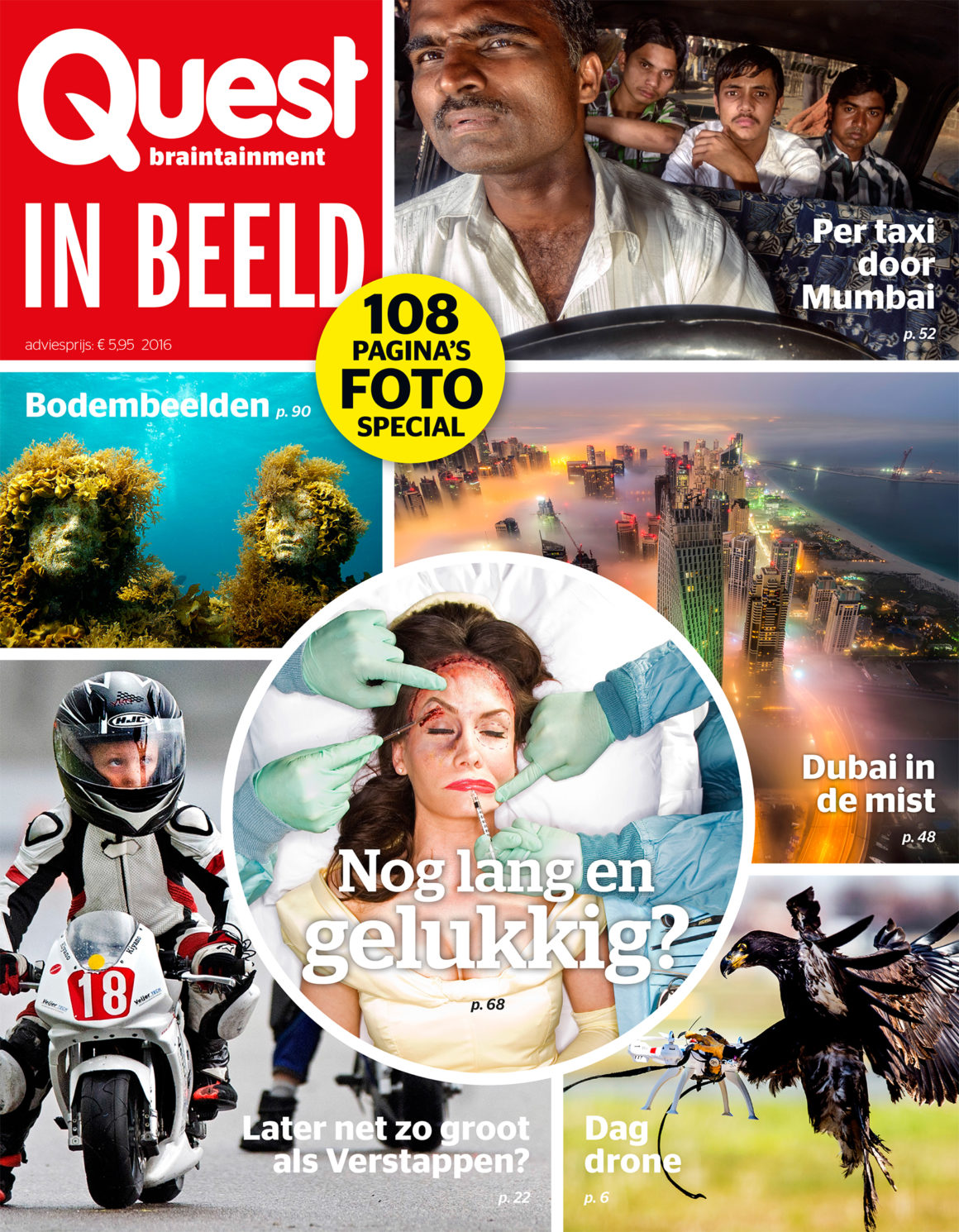 SATAN TAKES FIRST PLACE IN MONTREAL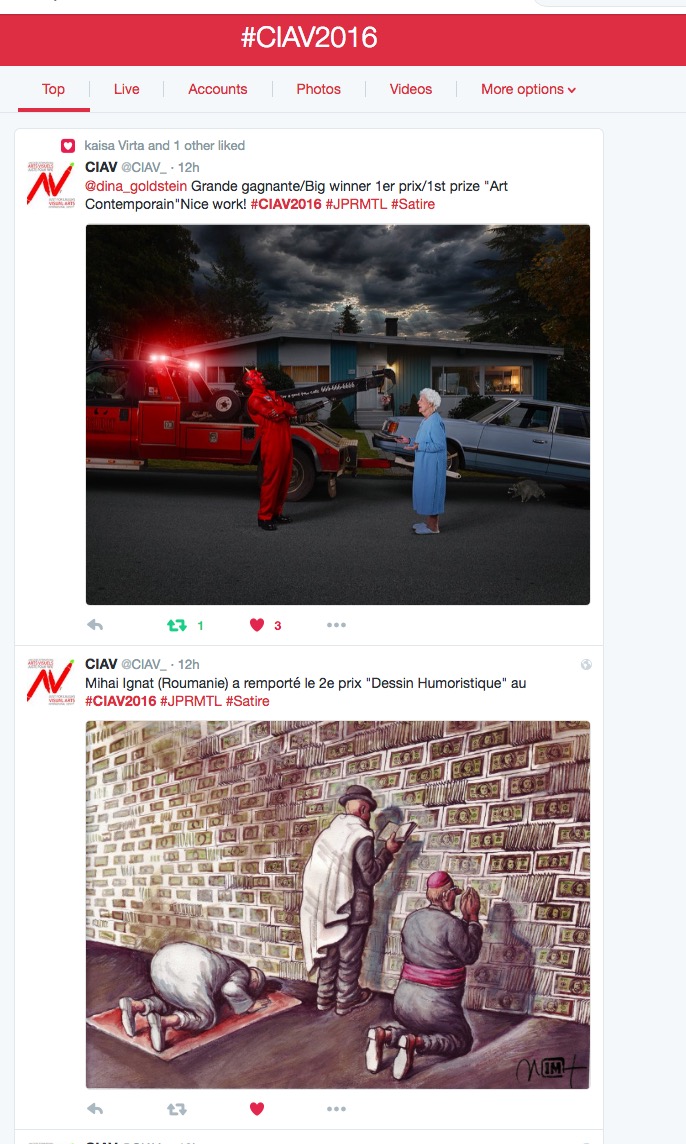 FALLEN PRINCESSES EXHIBITION 'ONCE UPON A FAIRYTALE' AT MART PHOTOGRAPHY CENTRE RUSSIA JUNE 2016

AP EDITION IN THE DOLLHOUSE, BREAKFAST, TRANSPARENCY WITH LED PANEL ELECTRIC ART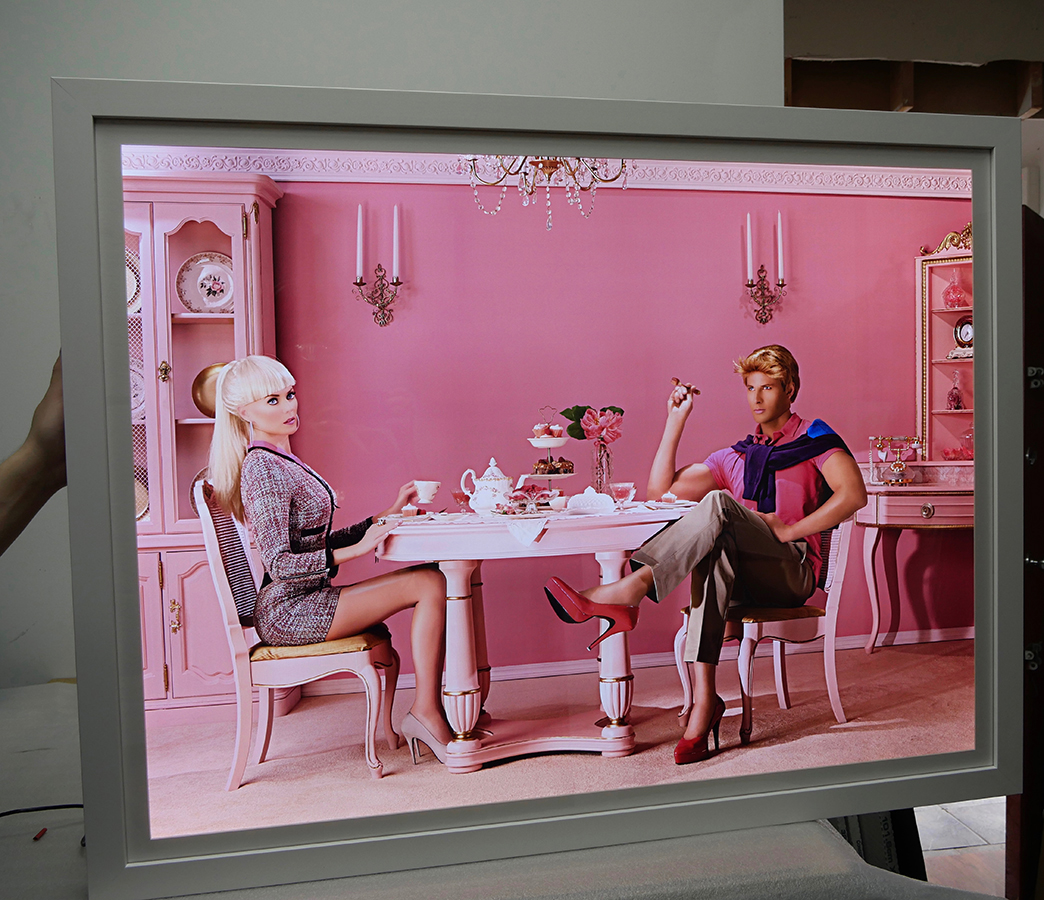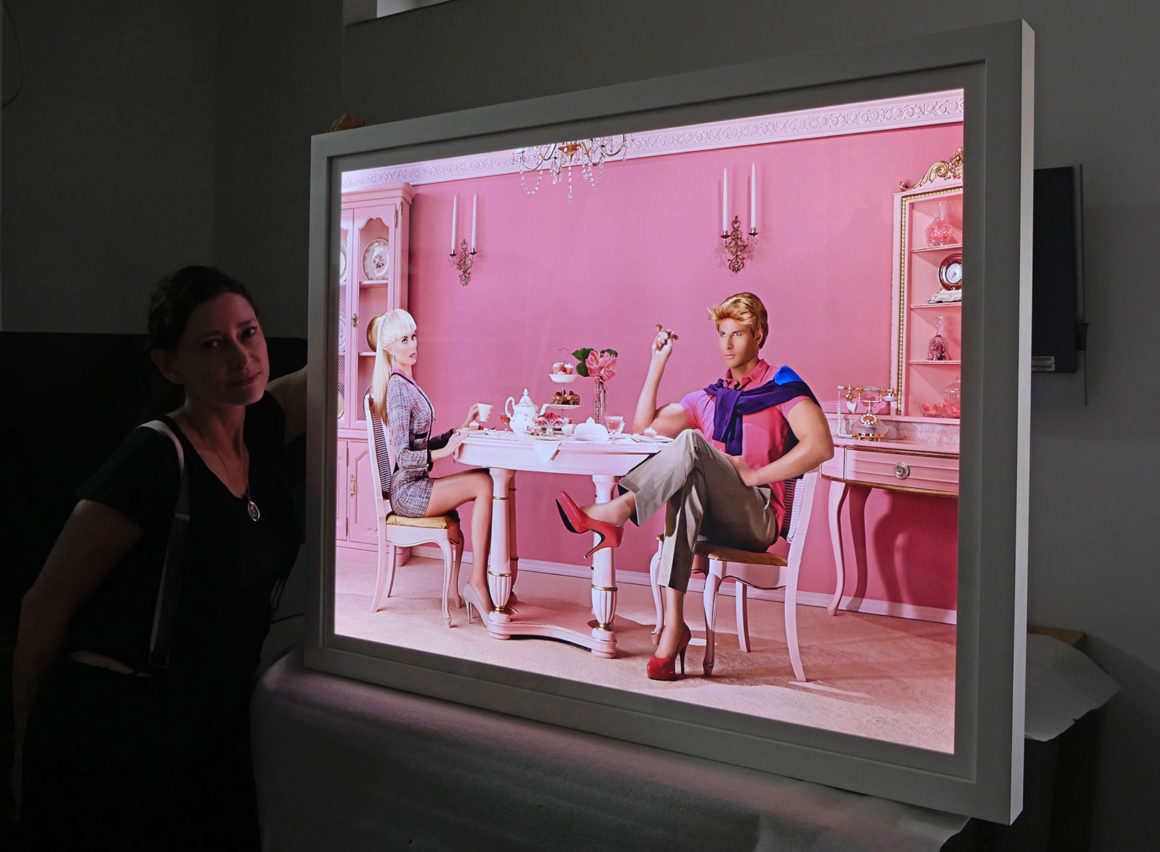 BREAKFAST Led Panel gets 24K at auction for FACE THE WORLD

CBC mini clip TO SEE FULL PROFILE CLICK 
GODS OF SUBURBIA FOR THE CAPTURE FESTIVAL IN VANCOUVER COMES TO A CLOSE APRIL 30, 2016
I am so pleased to announce that I will now be represented by Virginie Barrou Planquart in Paris. Please take a look at her beautiful gallery in the Marais district in Paris. I am looking forward to returning to Paris for an exhibition in October. Galerie Virginie Barrou Planquart www.galeriebarrouplanquart.com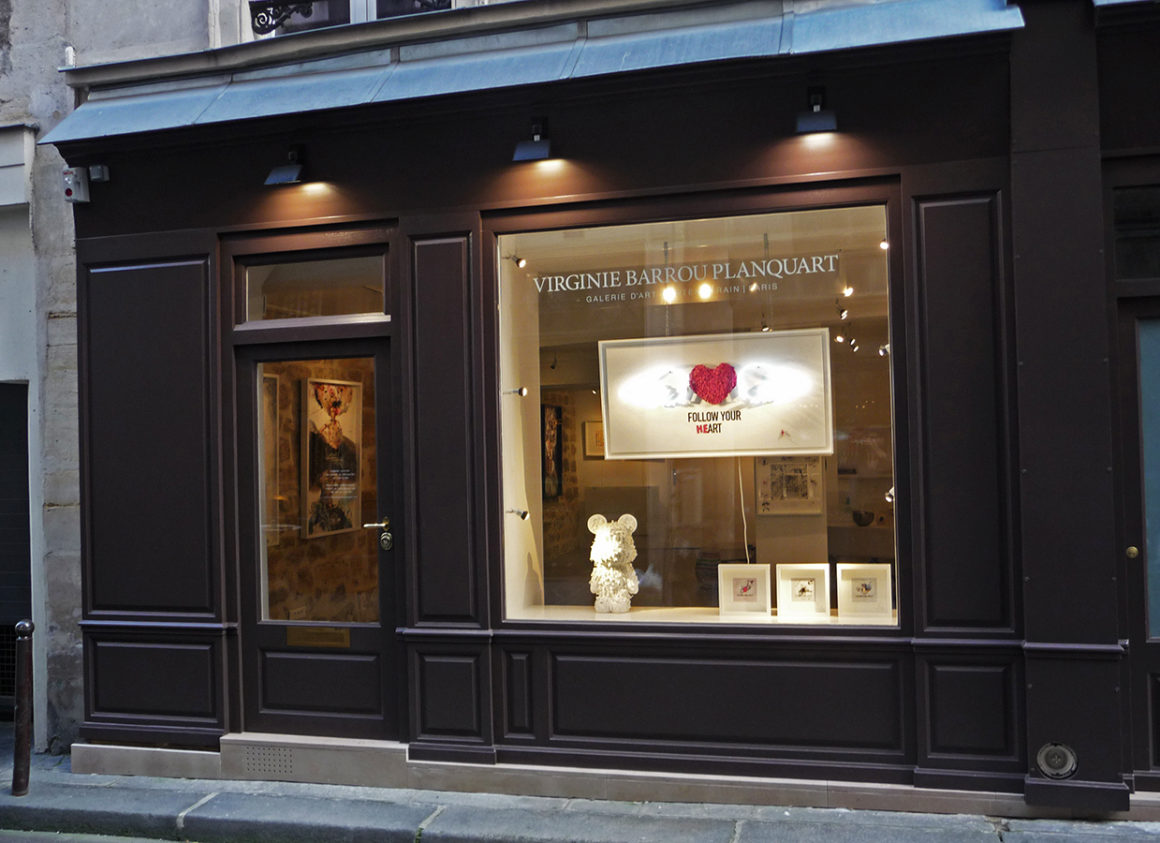 Last Supper is included!! VENICE ARSENALE Just 3 days to the opening of the finalists' exhibition of the 10th Arte Laguna Prize. On Saturday March 19th we invite you to Nappe of the Arsenale in Venice from 6 pm. The evening will feature the awarding ceremony of the artists and cocktails will follow by La Tordera, Bevande Futuriste, I Bibanesi. The entrance is free, share the event with your friends!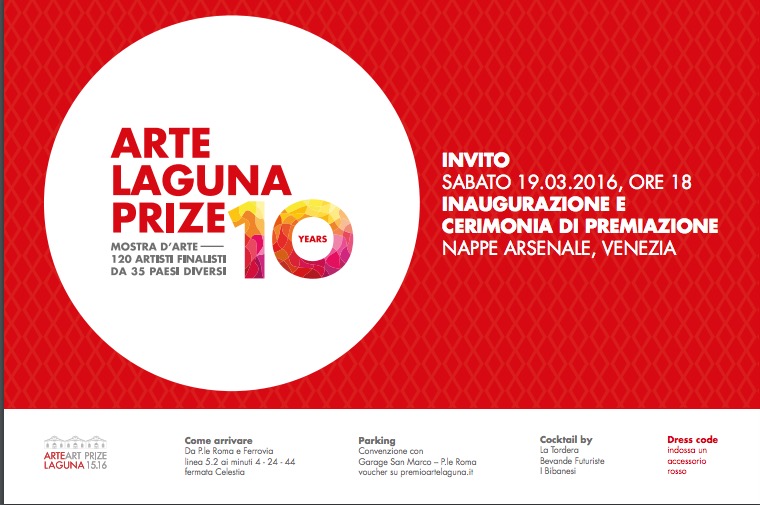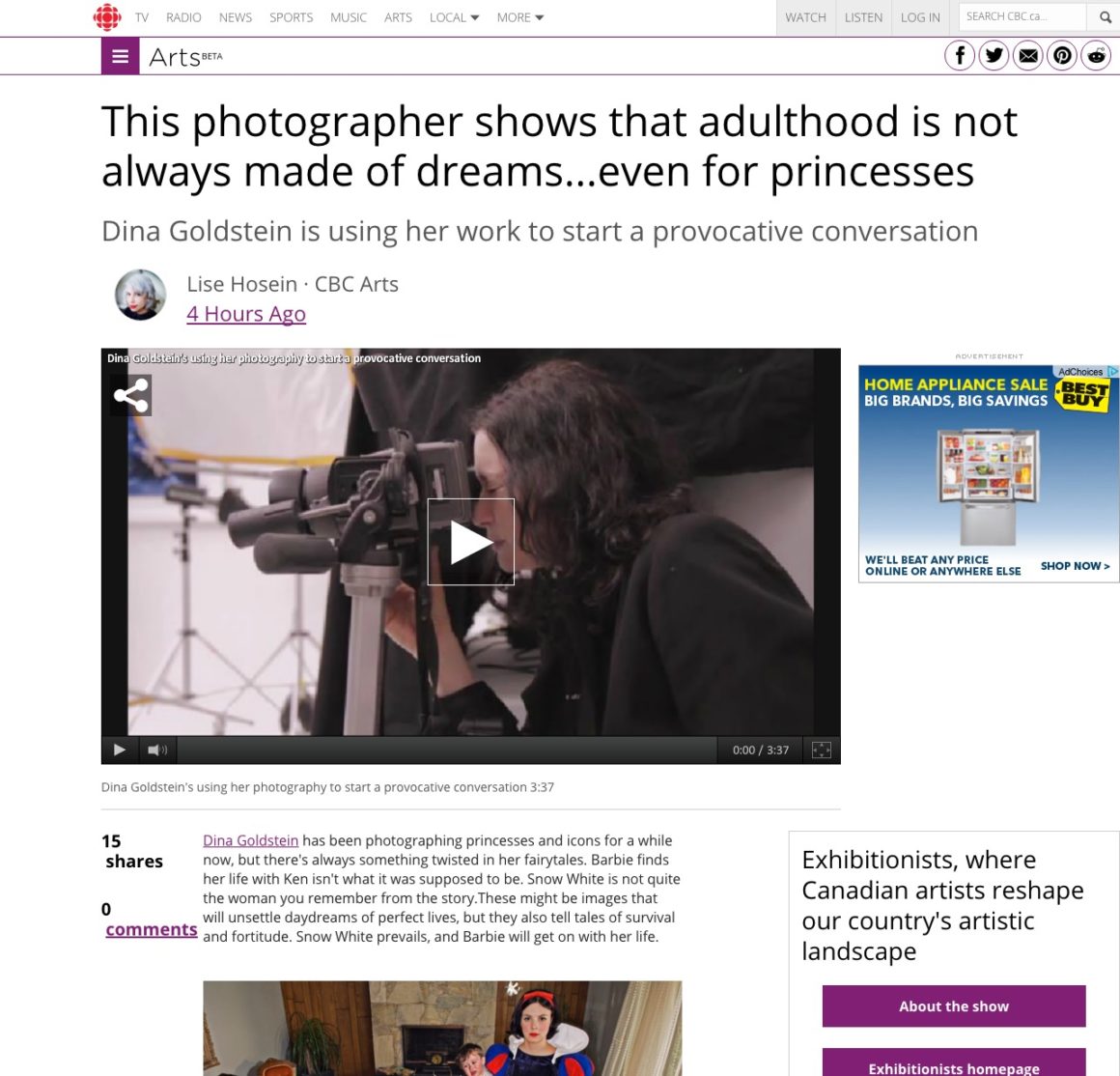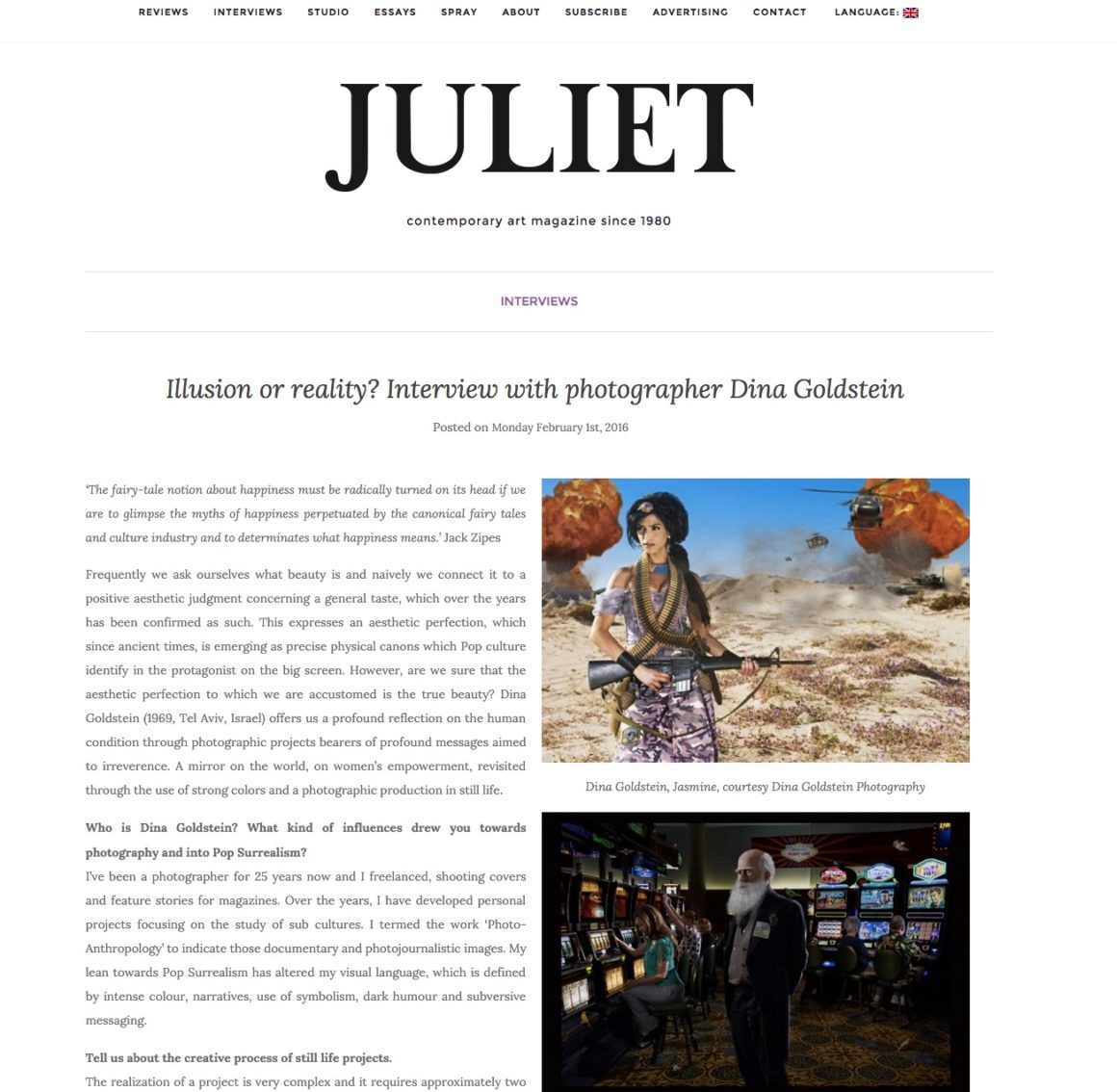 PORTRAITS DE VILLES COLLECTION – VANCOUVER
Happy to represent #Vancouver in the PORTRAITS DE VILLES COLLECTION, November 5th, 2015  PARIS
My project of Vancouver Beaches photographed Summer 2015 will be published in full within the booklet debuting November 5th in Paris.
#vancouverbeaches #kitsilano #westvan #englishbay #wreckbeach
There are several beaches that can be enjoyed throughout East, West, North, South Vancouver and its outer areas.  They don
'
t look like any other beaches in the world mainly because of large logs, which have been purposefully positioned, although look shipwrecked amongst the sand.  The beaches themselves take on the character of their neighborhood and gain a reputation that is a reflection of their inhabitants.
IN THE DOLLHOUSE AMSTERDAM OCTOBER 11, 2015
FALLEN PRINCESSES LED LIGHT BOXES NOW AVAILABLE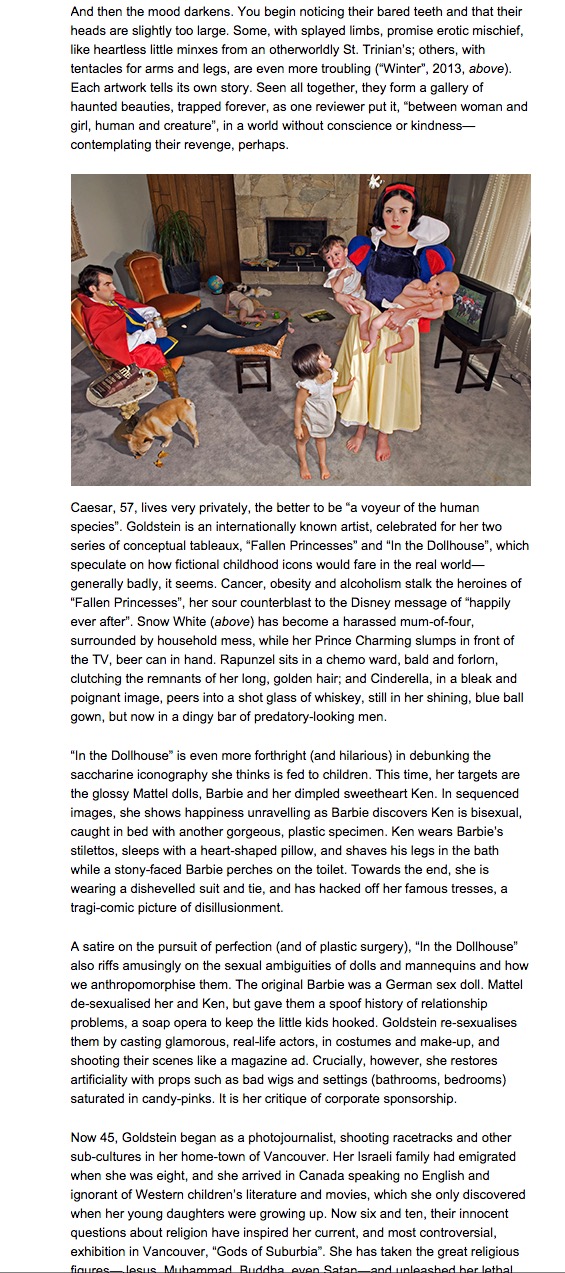 GODS OF SUBURBIA ON EXHIBIT AT THE DIAMOND FOUNDATION PRIVATE GALLERY, VANCOUVER, B.C.  MAY 20, 2015- AUGUST 20, 2015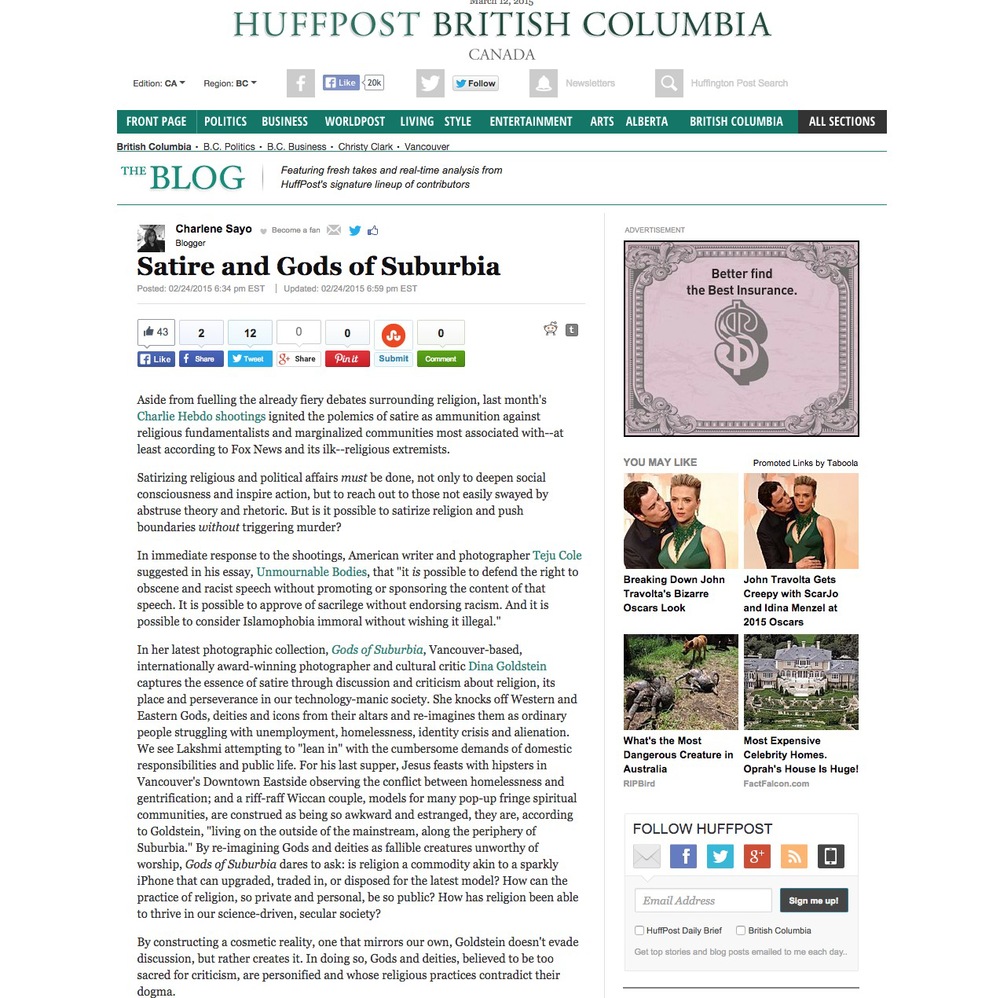 ---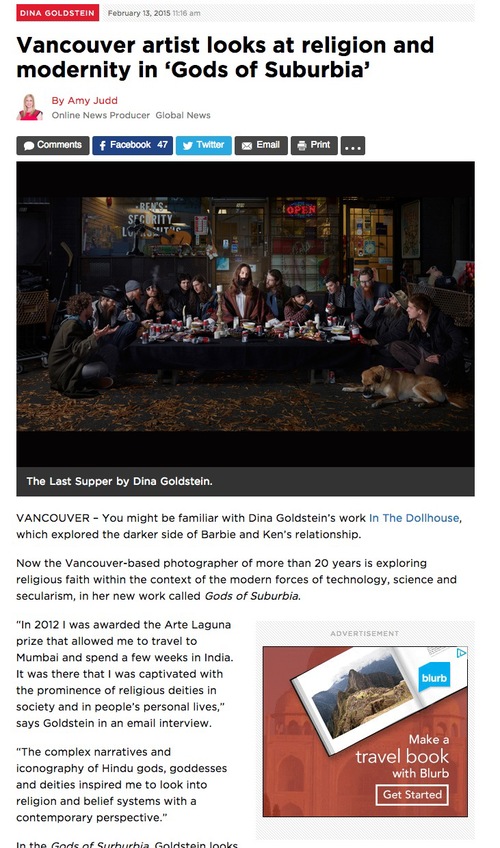 Global News, February 13, 2015
GODS OF SUBURBIA ARCHIVAL TRANSPARENCY ON PLEXI WITH EDGE LIT LED PANELS, FRAMED BLACK ON BLACK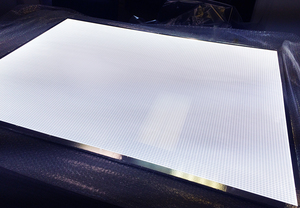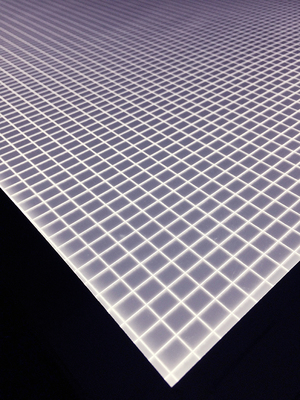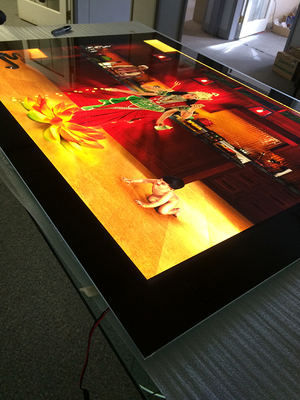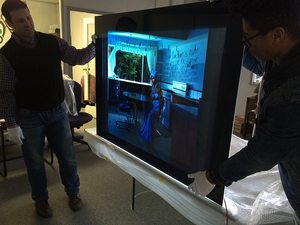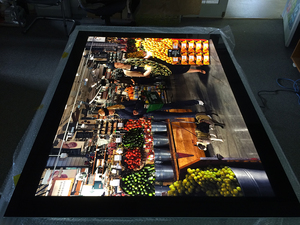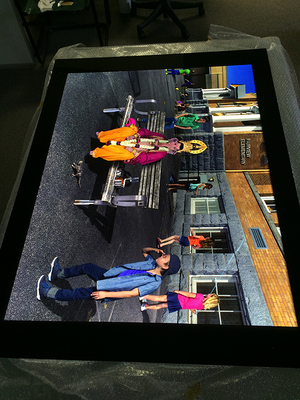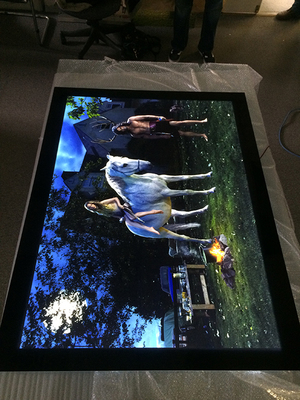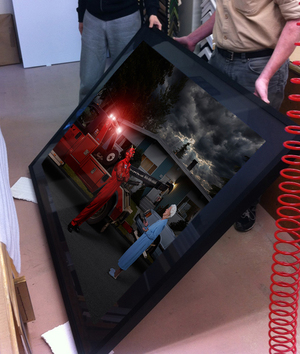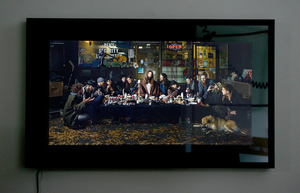 Fotográfica Bogota, Colombia MAY 2015
---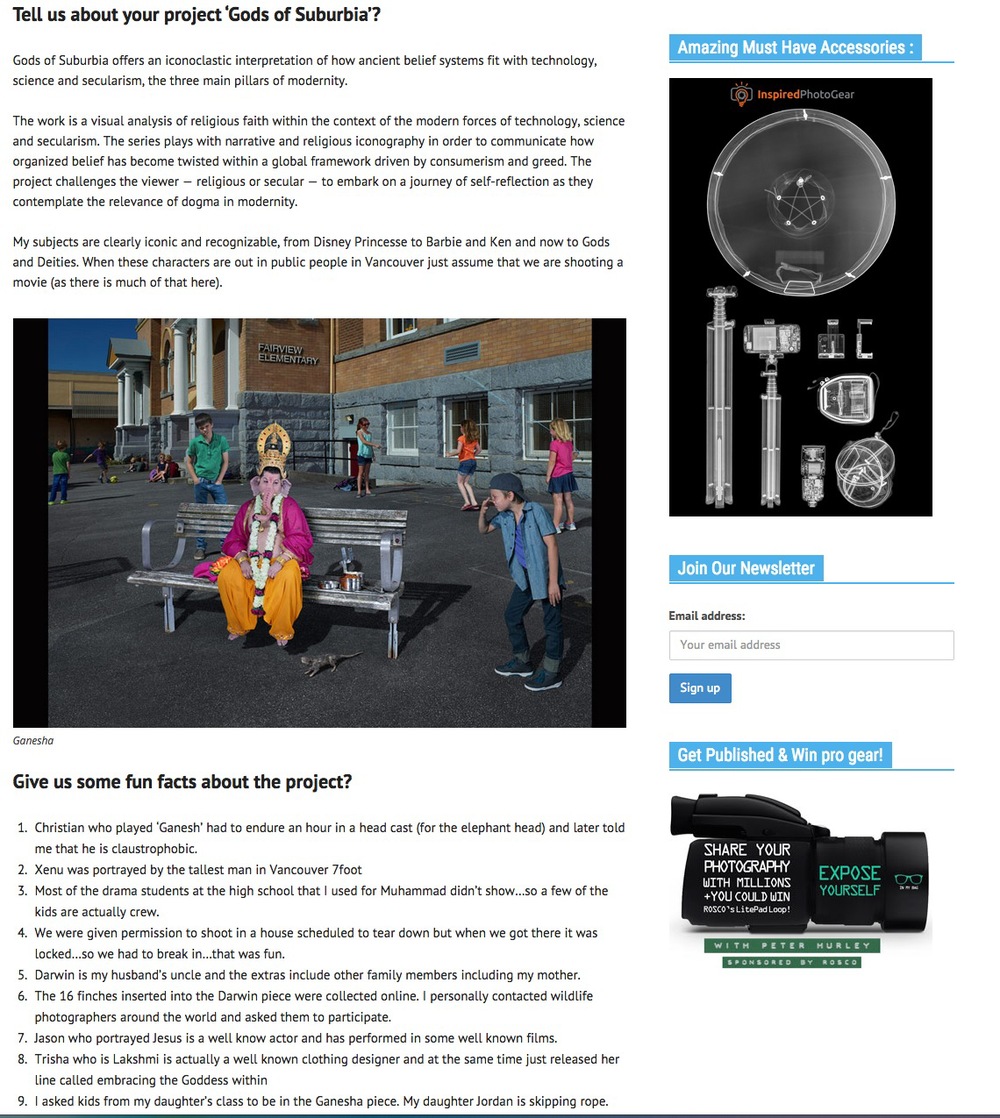 ---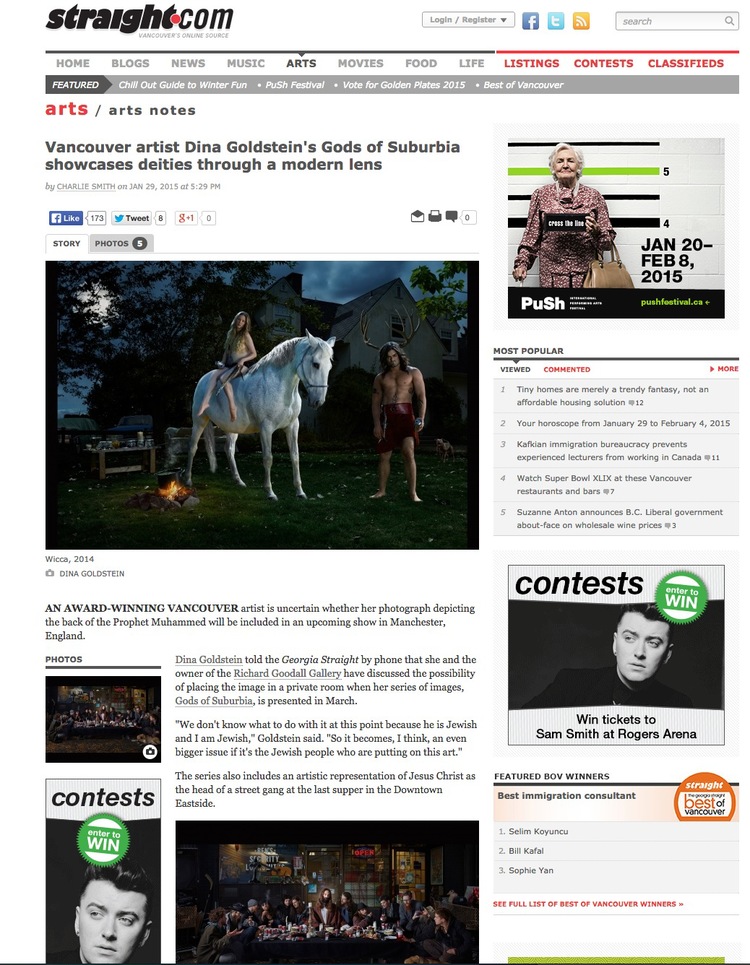 Charlie Smith – Georgia Straight January 30, 2015
---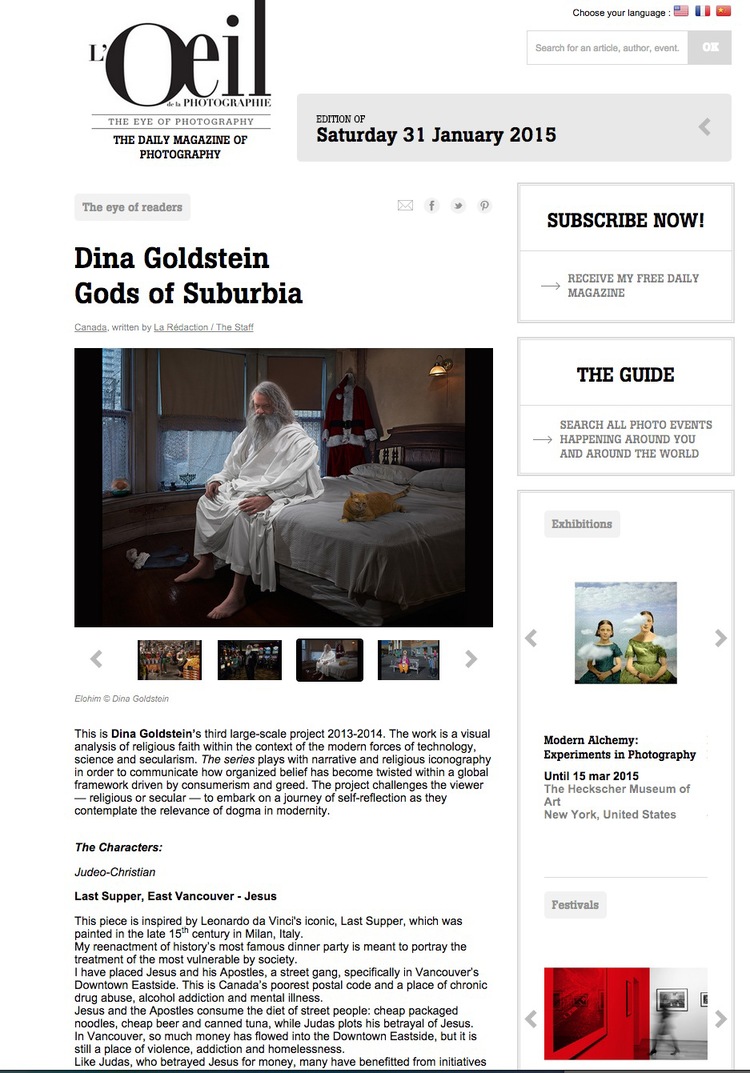 L'Oeil de l Photography – January 31, 2015
---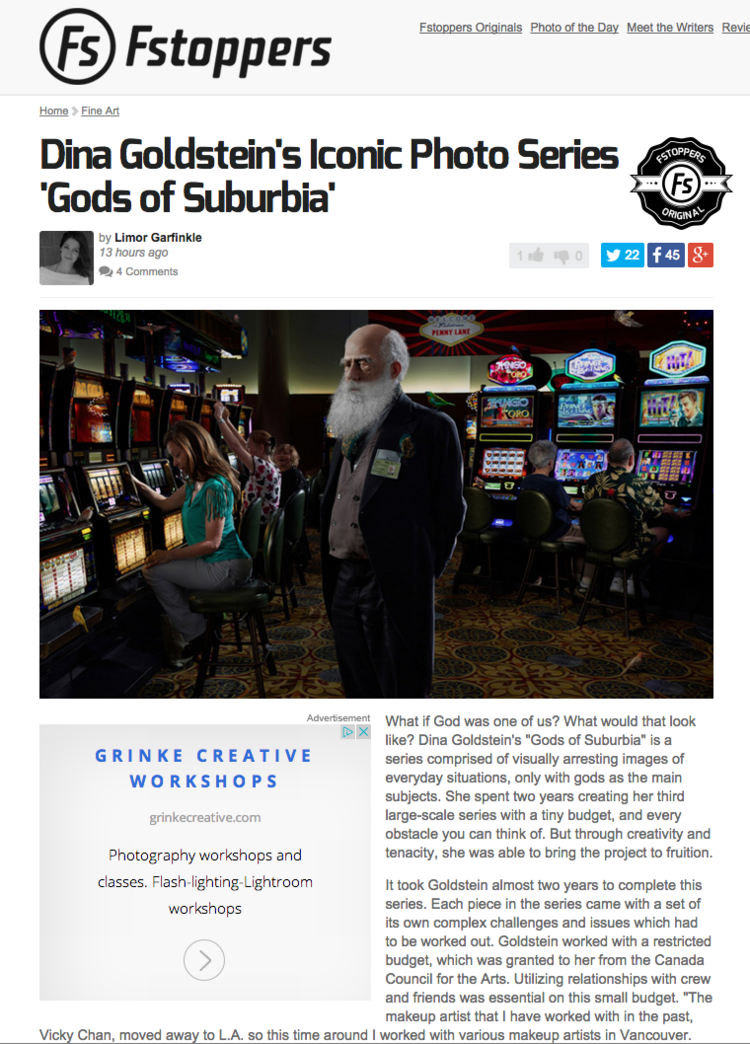 FSTOPPERS PROFILE JANUARY 09, 2015
---
DINA JOINS THE MADISON GALLERY IN LA JOLLA
---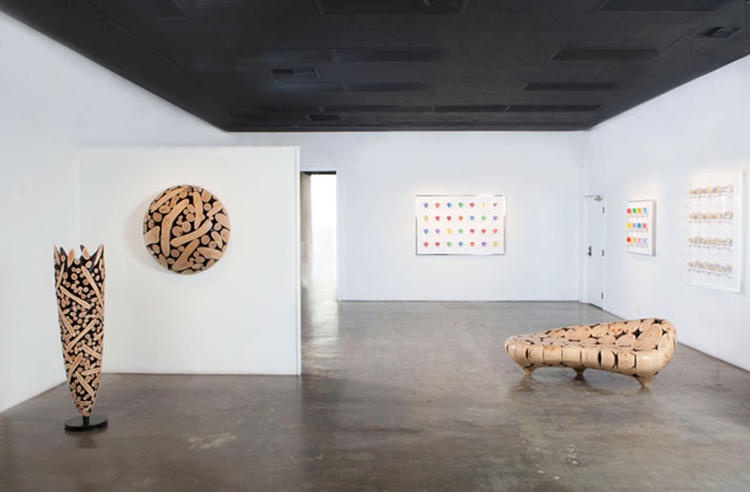 ---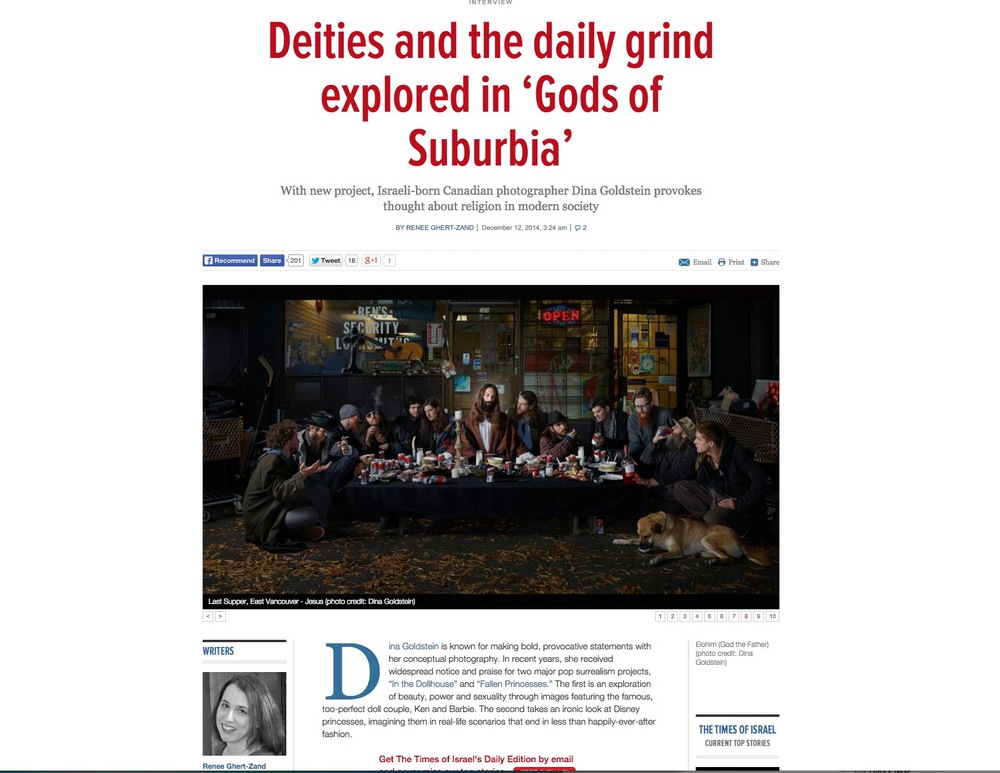 ---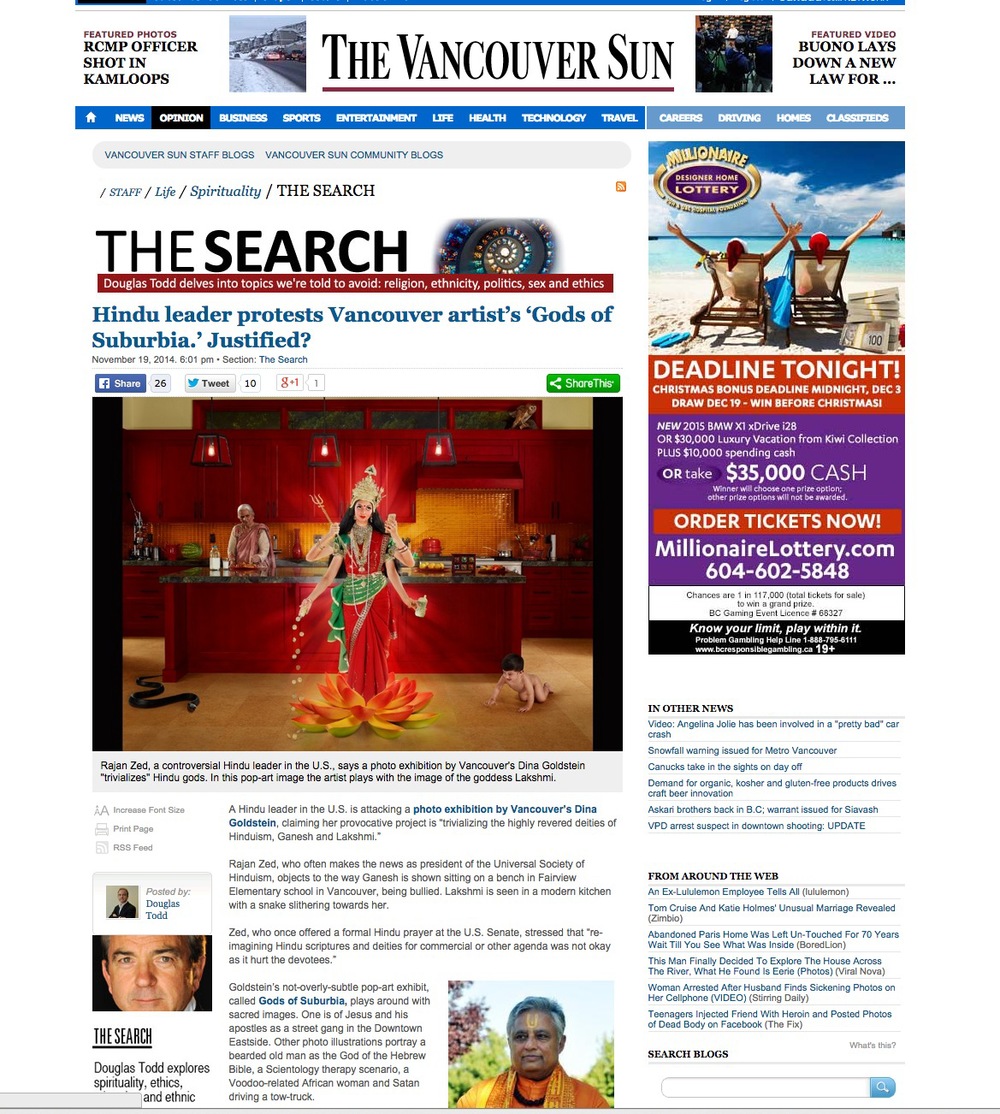 ---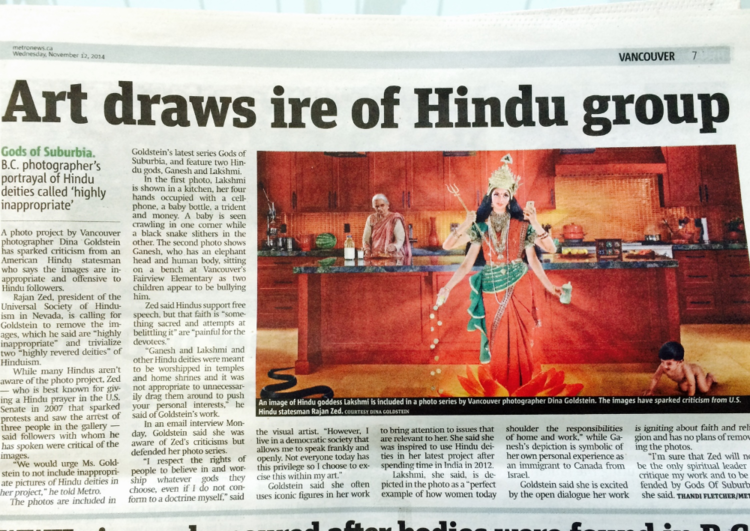 ---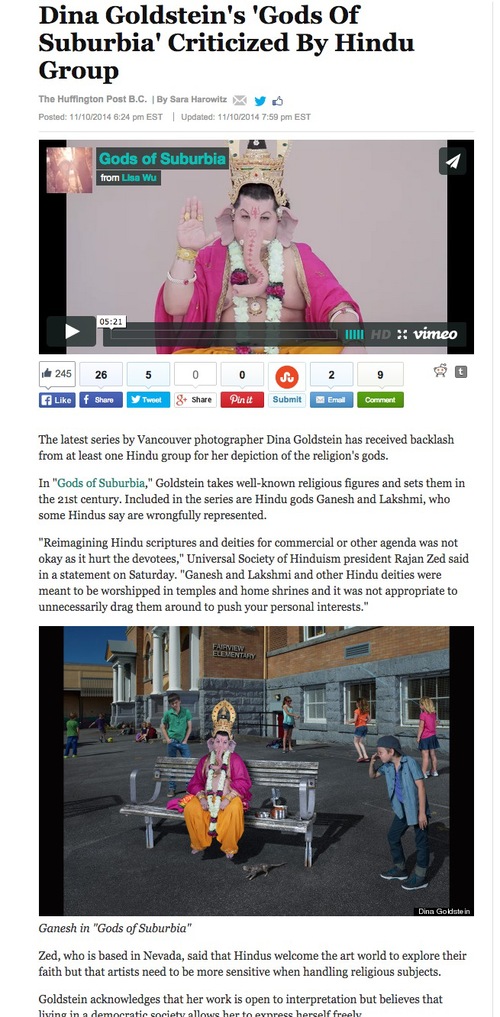 ---
GODS Of Suburbia PREMIER see the complete series HERE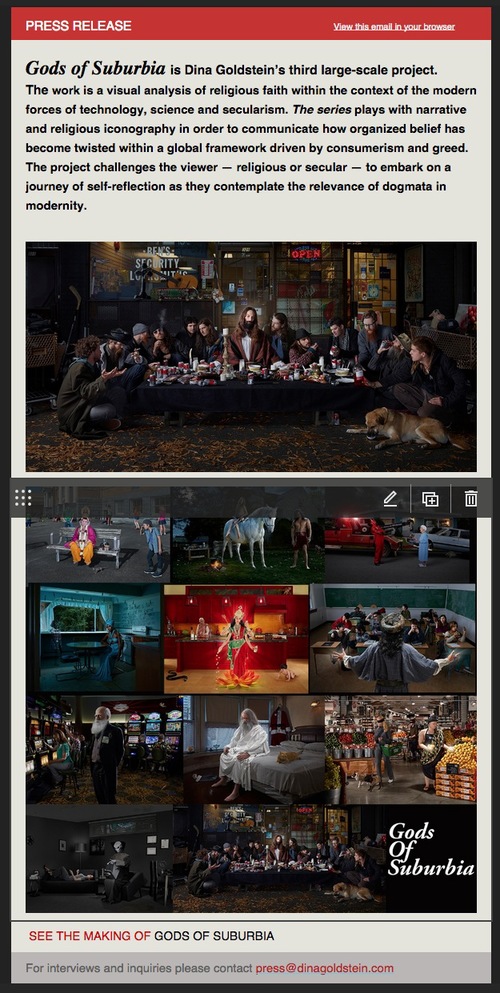 TO SEE MAKING OF GODS OF SUBURBIA CLICK HERE
Gods of Suburbia from Lisa Wu on Vimeo.
---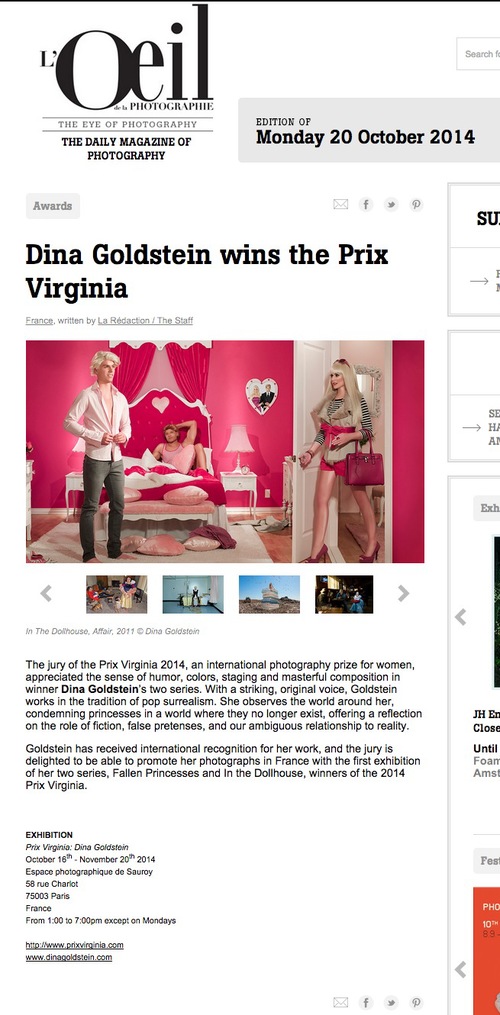 Confirmed participation : The National Museum of Photography in Colombia, the International Biennial of Photography, FOTOGRAFICA BOGOTA  May 2015
---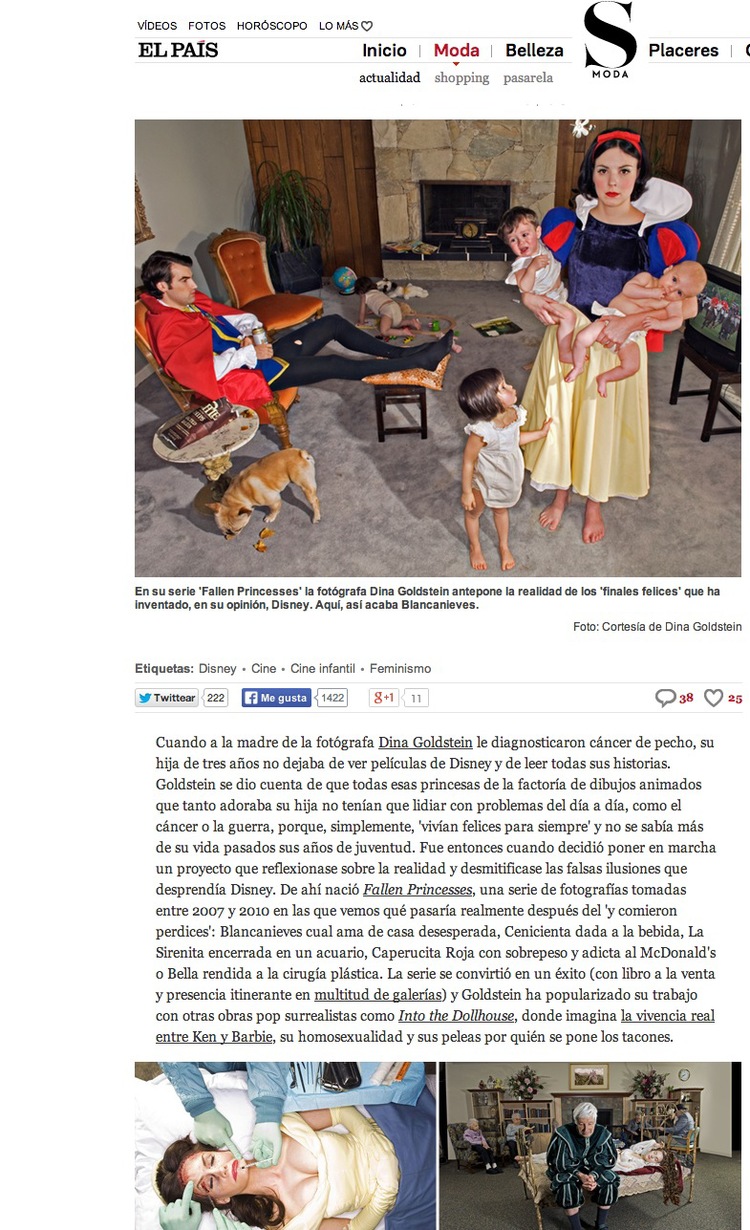 ---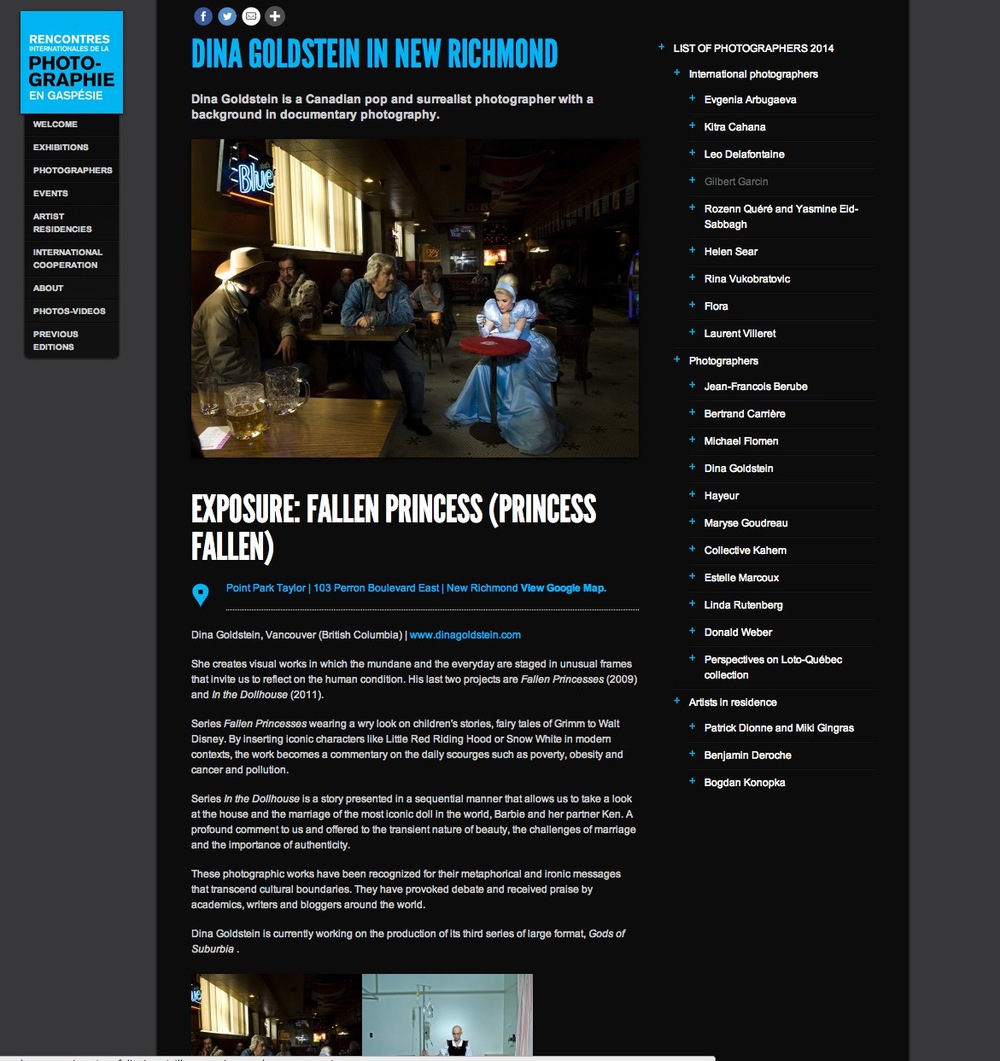 http://www.photogaspesie.ca/portfolio-item/dina-goldstein-a-new-richmond/
---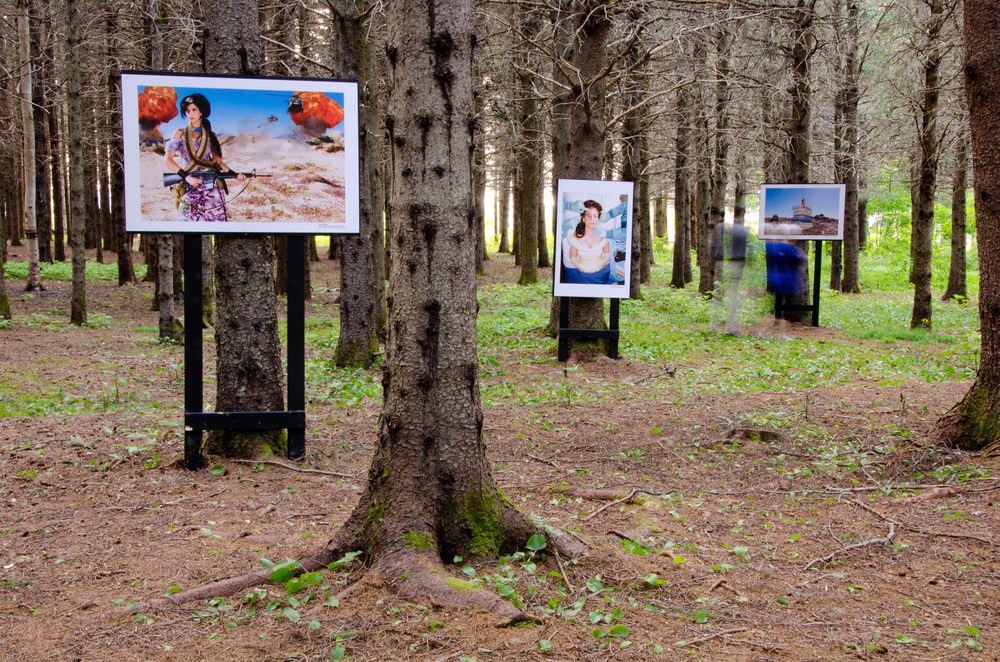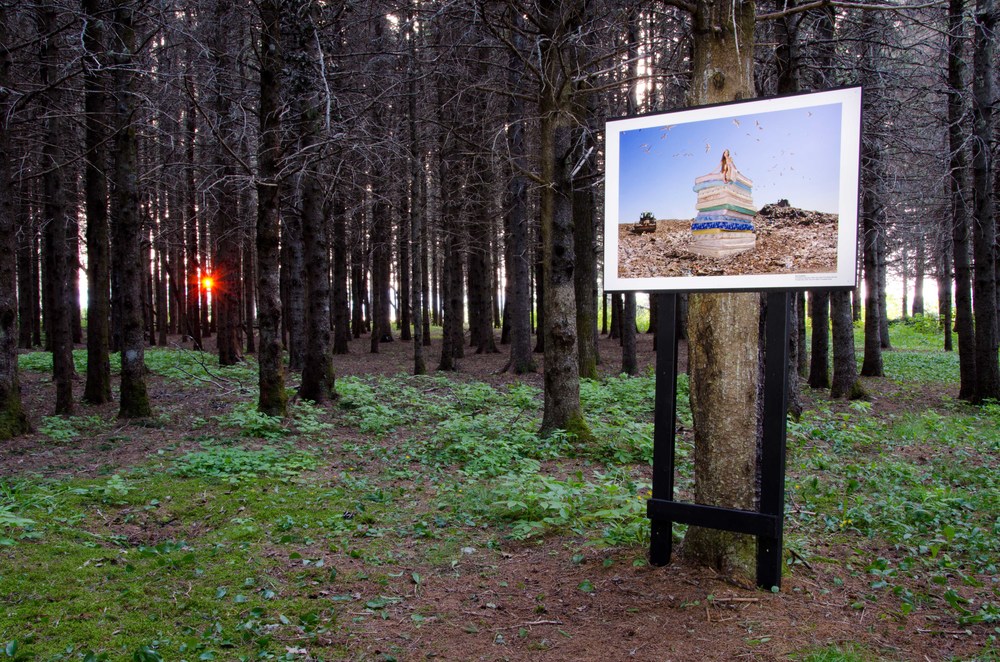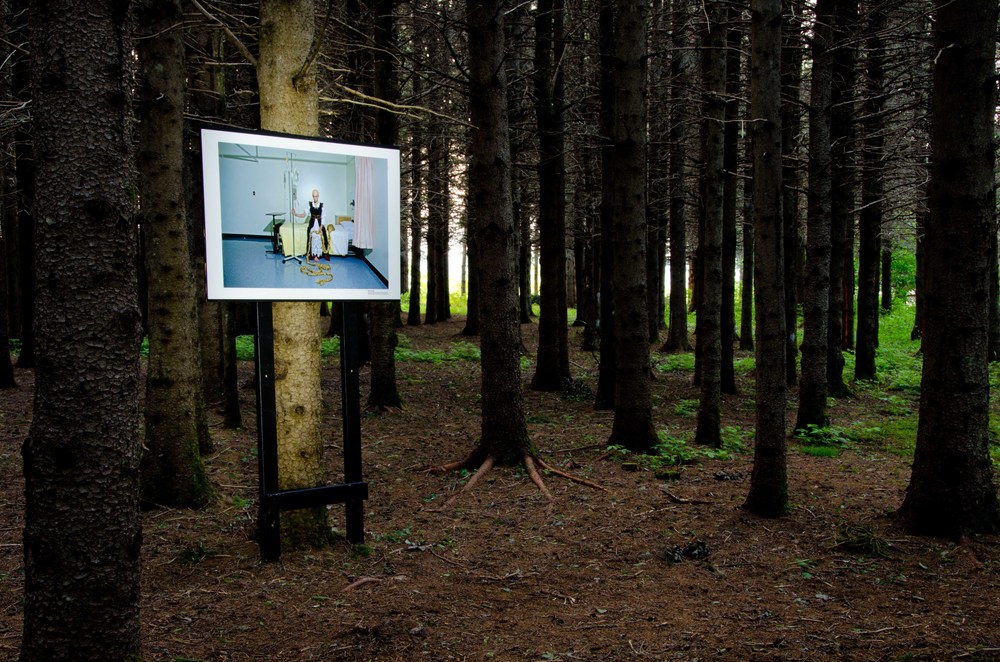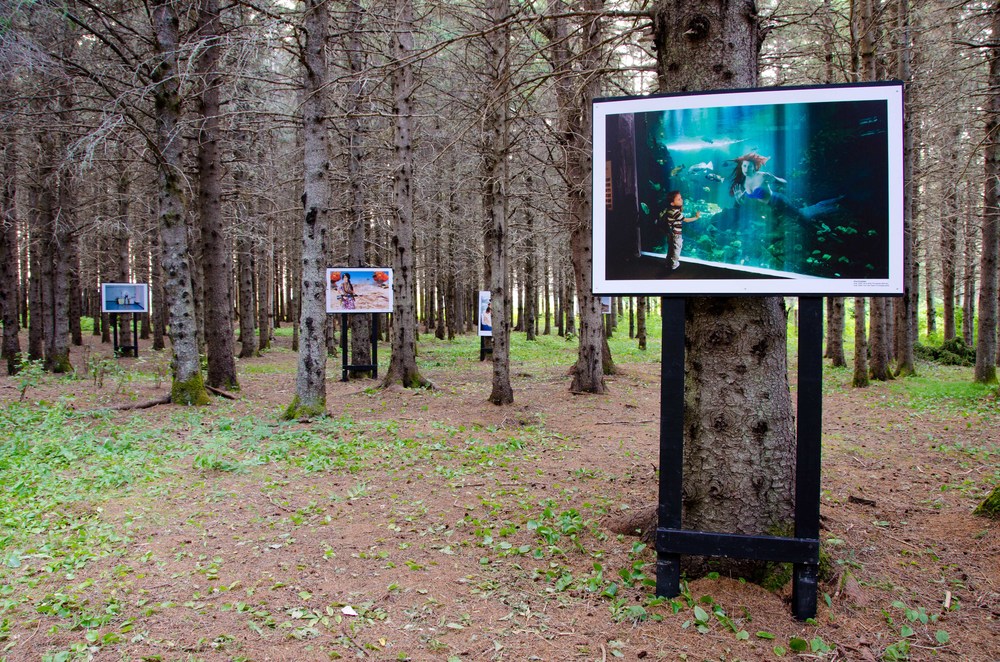 ---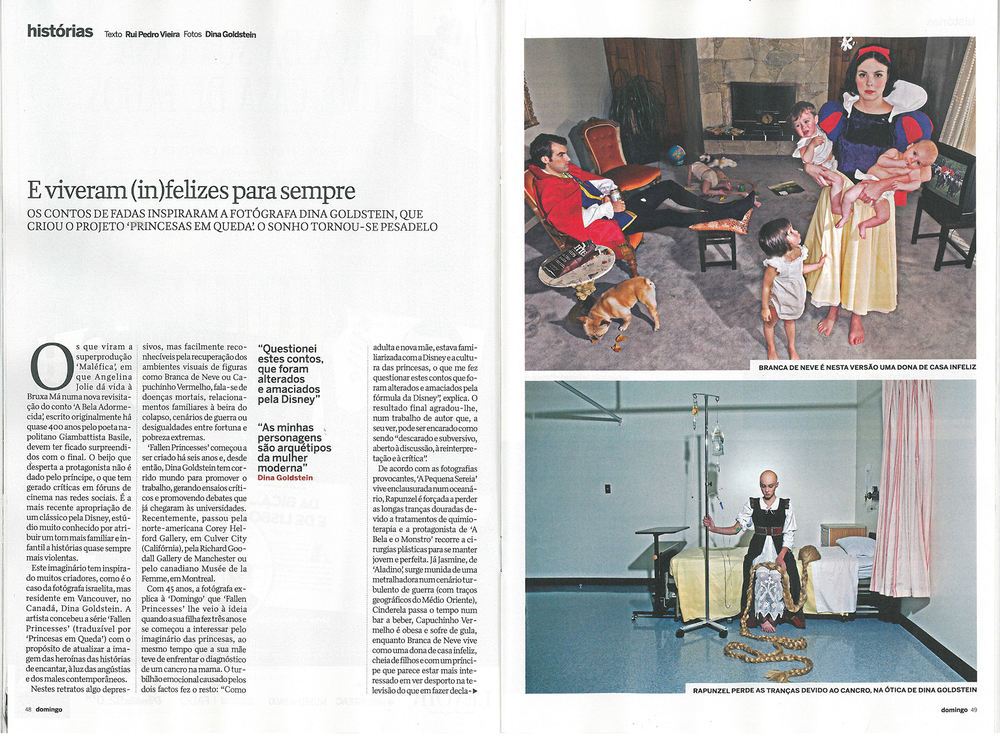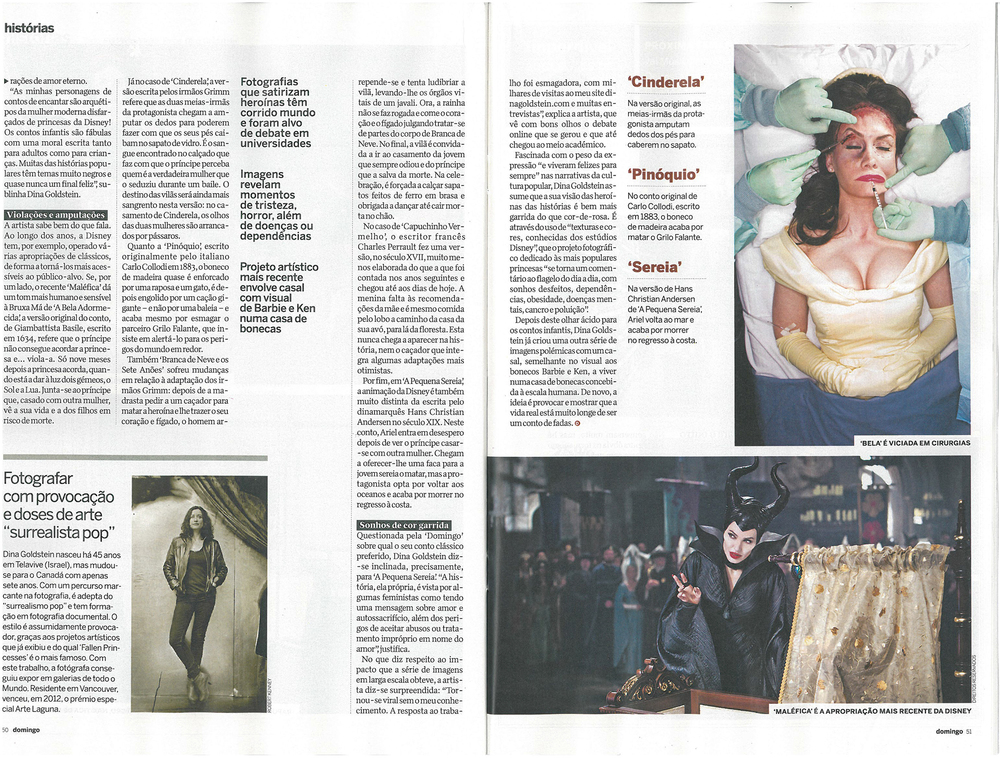 Domingo Newspaper, Portugal, July 2014
---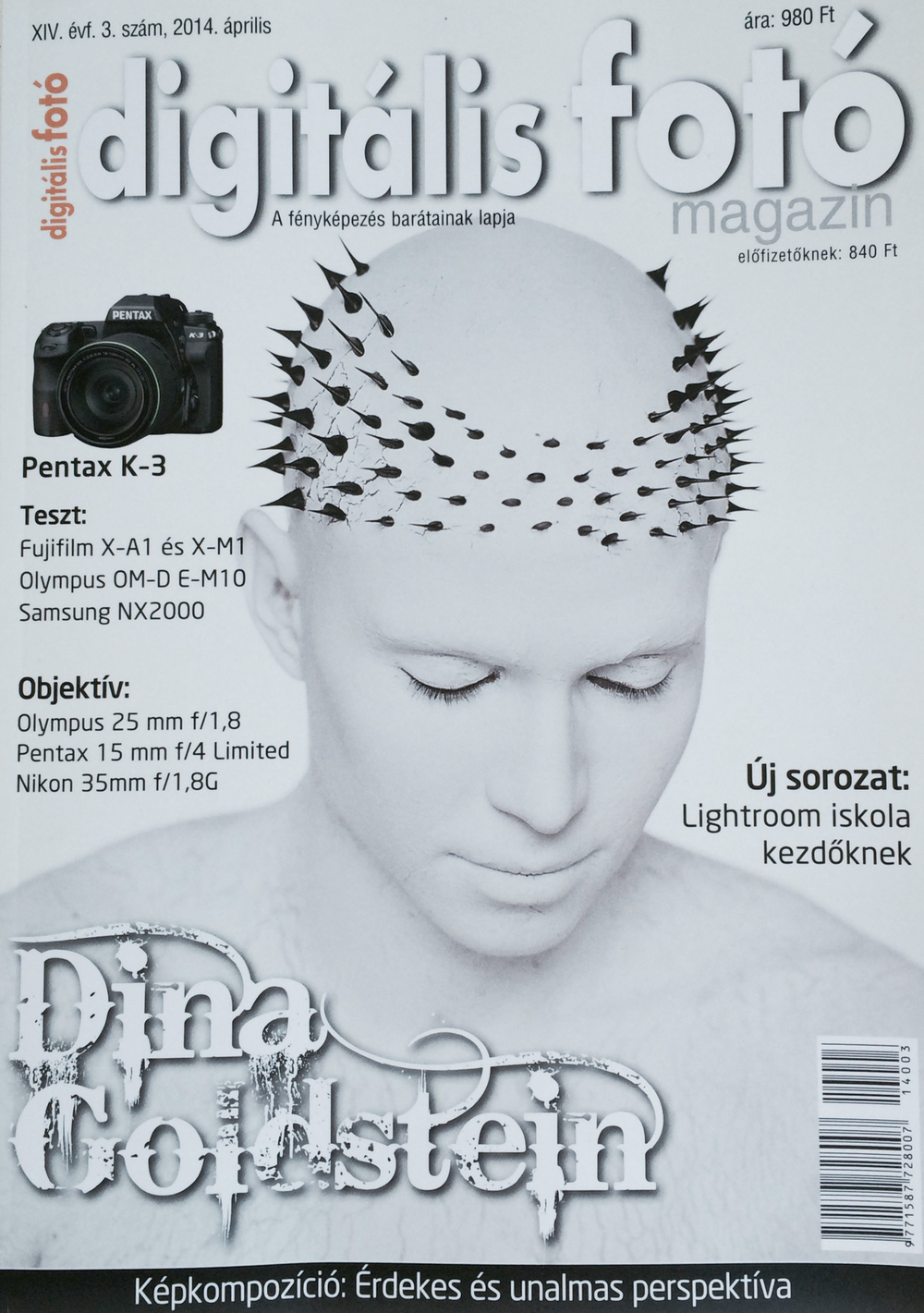 digitalis foto magazine, Hungary
---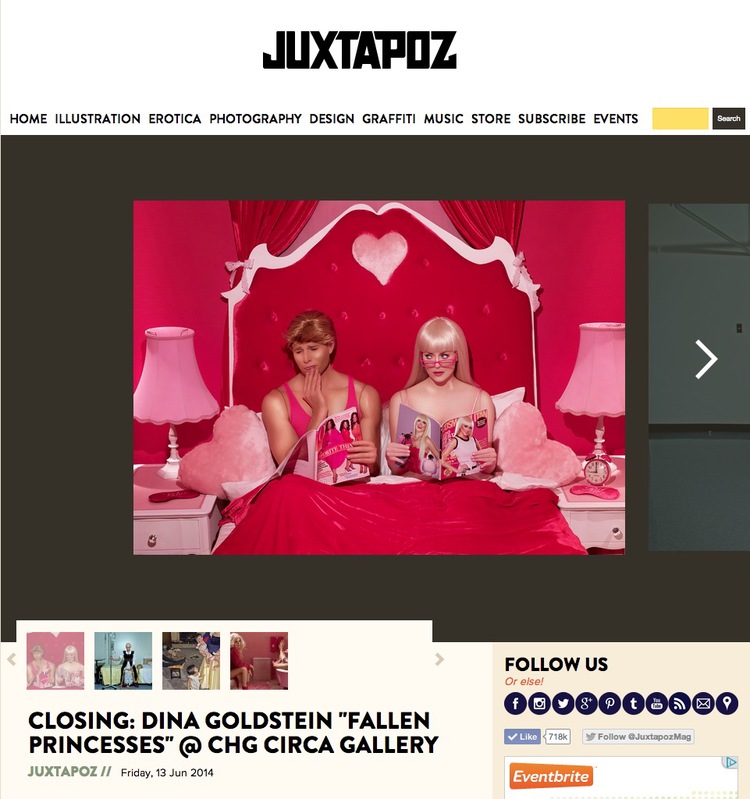 ---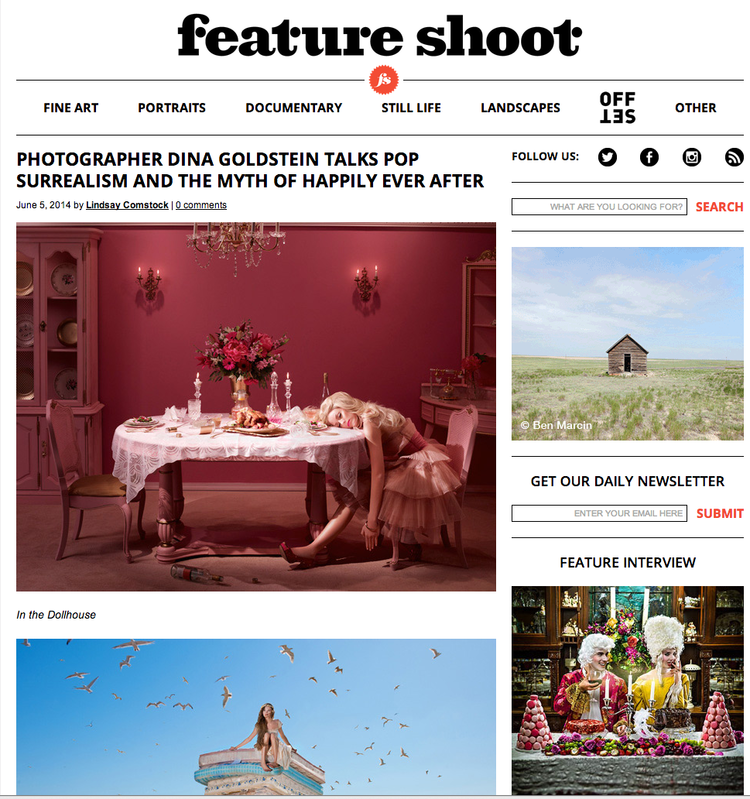 ---
NEW ON INSTAGRAM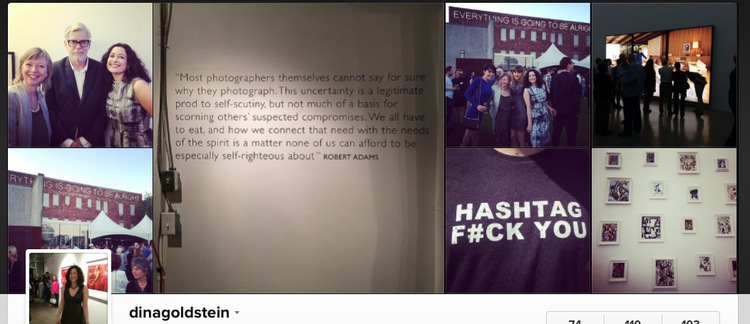 ---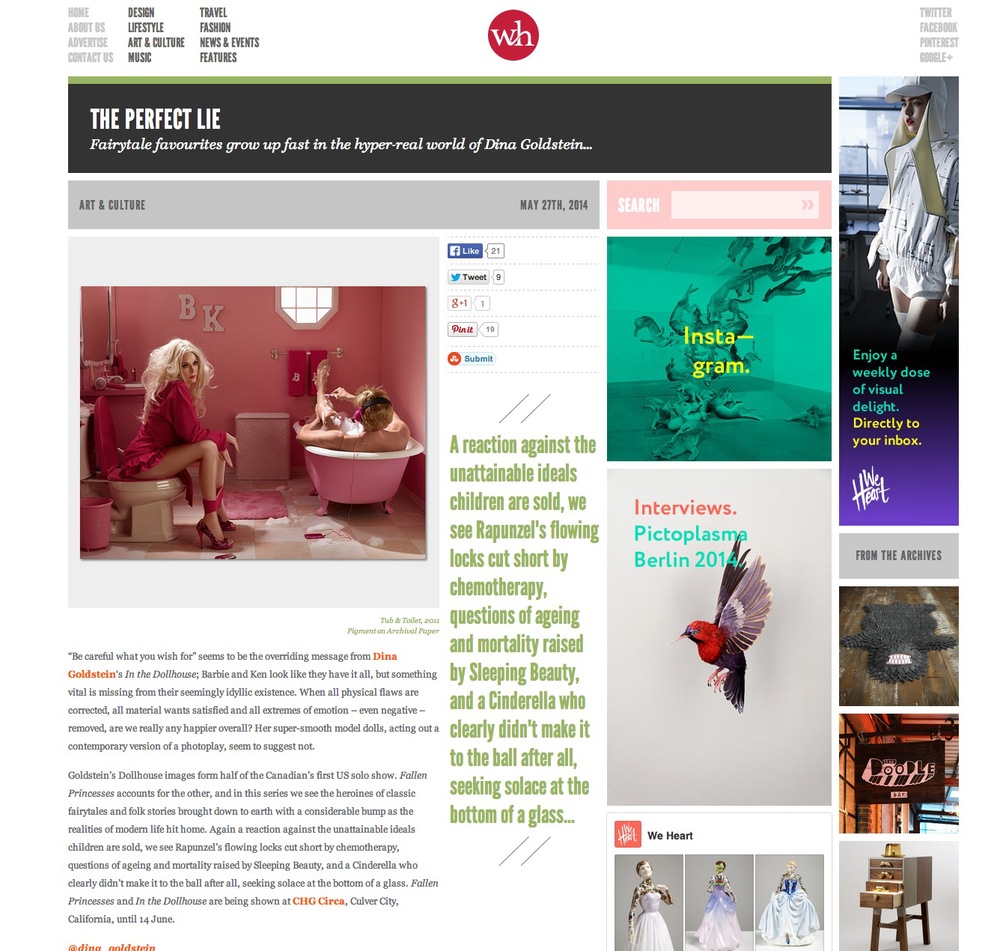 ---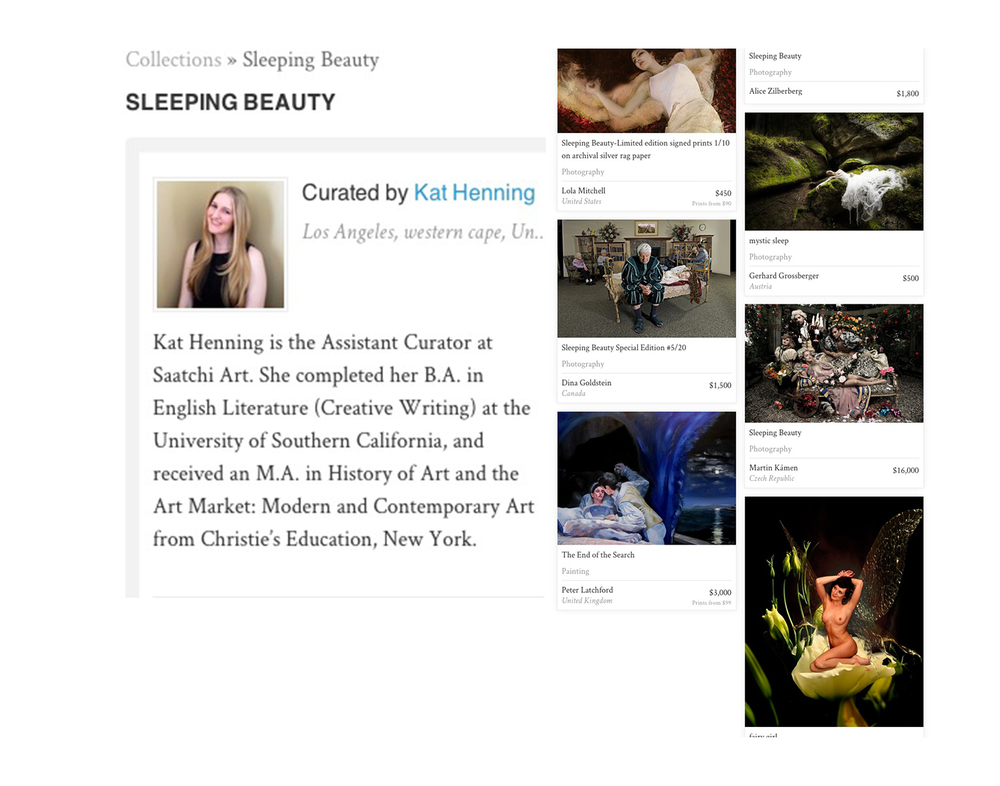 SAACHI ONLINE CURATED COLLECTION :: SLEEPING BEAUTY
---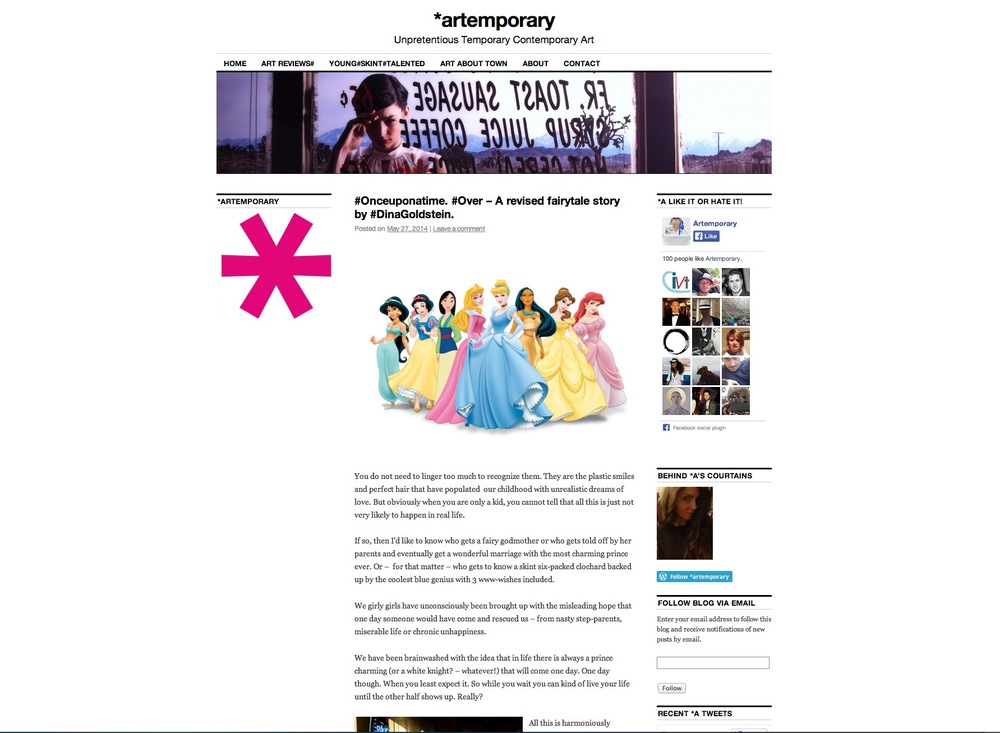 ---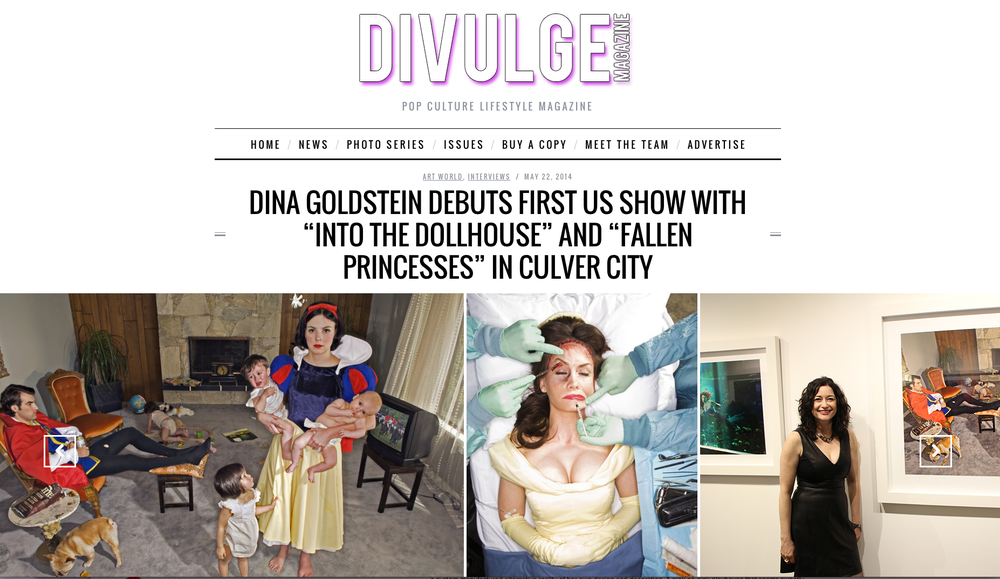 ---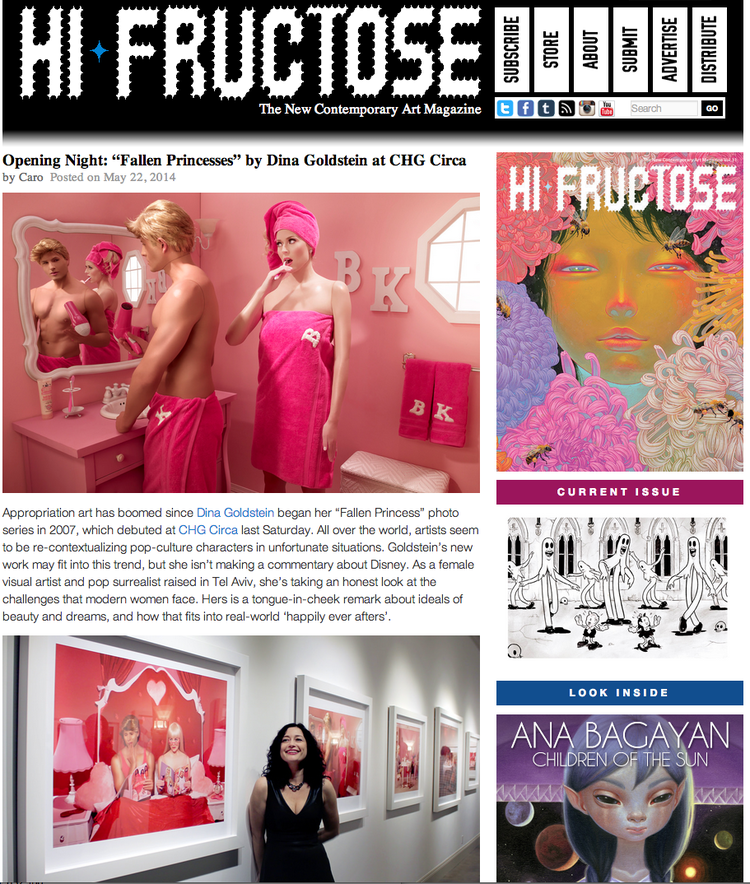 ---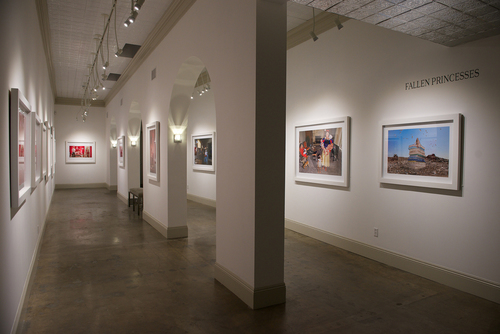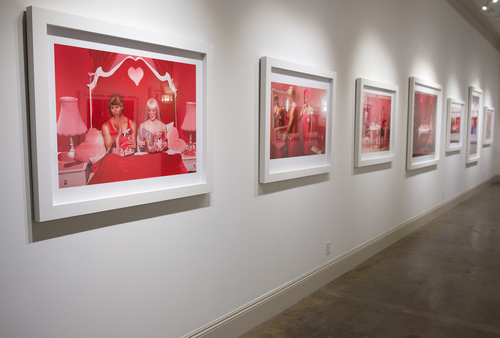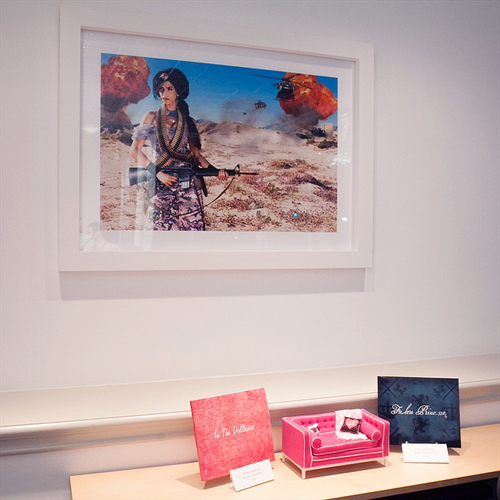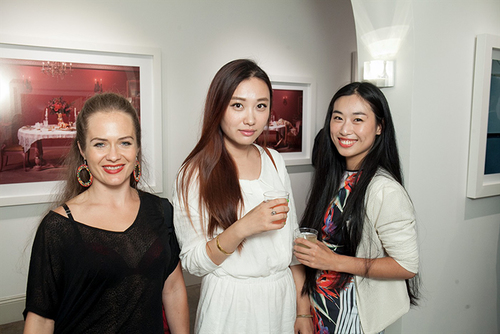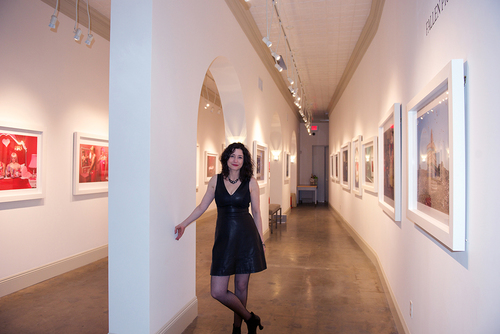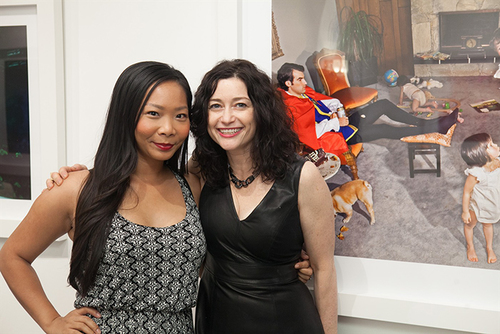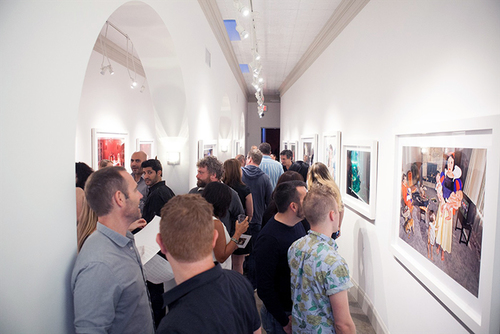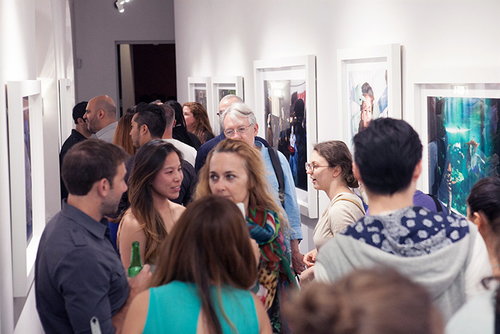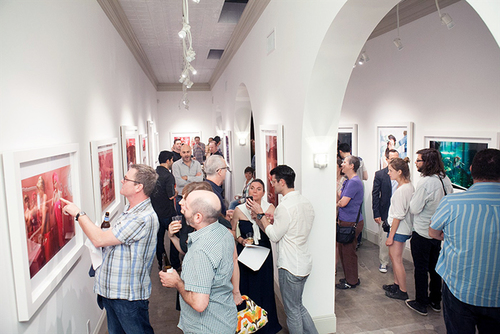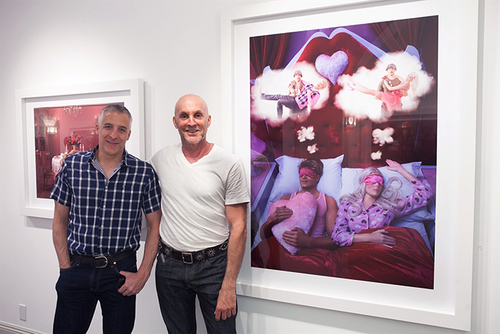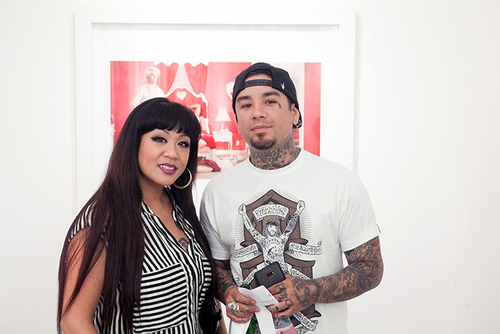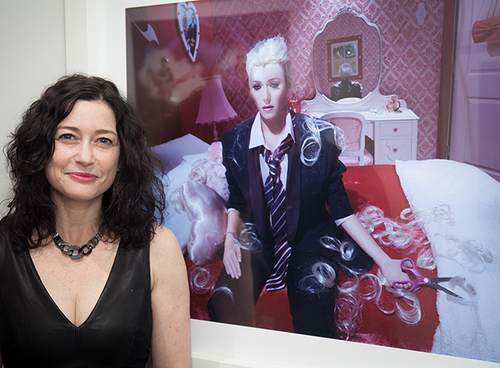 ---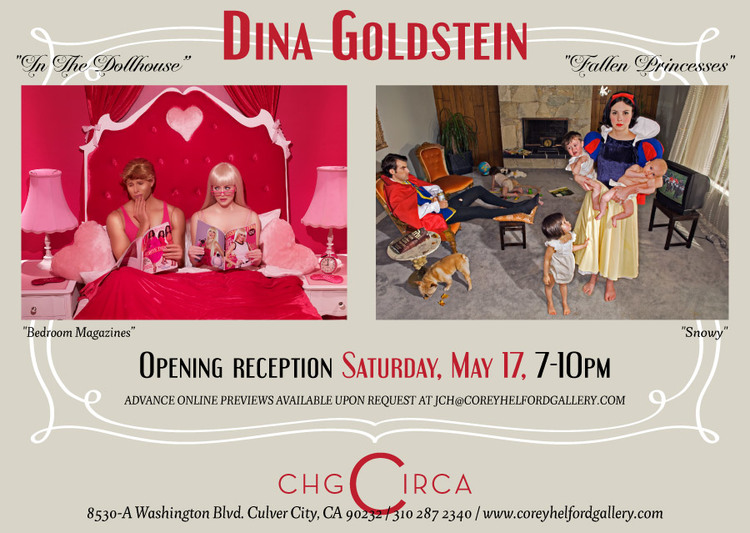 ---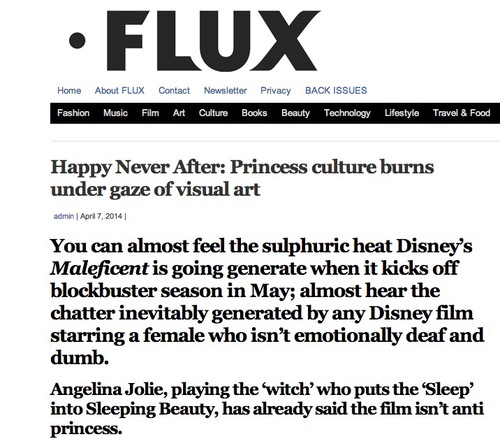 ---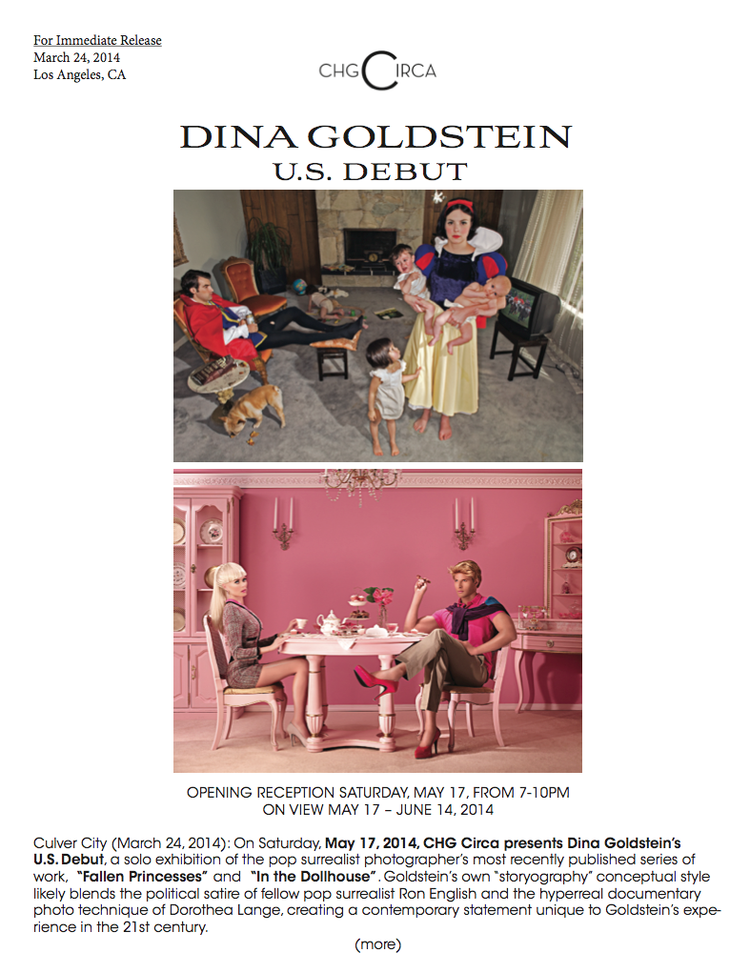 ---
Recently, Paris's Musée d'Orsay Orangie included Dina Goldstein's 'Haircut'  in their catalogue Frida Kahlo / Diego Rivera Art in Fusion, recognizing the tribute to Kahlo's "Self-Portrait with Cropped Hair" in a Dollhouse portrait of Barbie.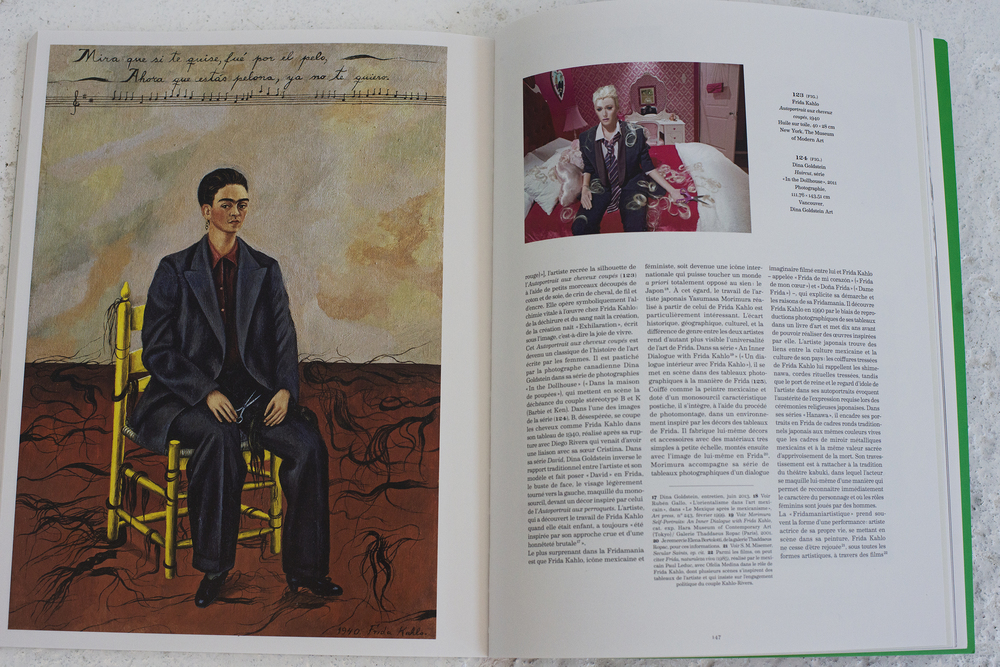 Frida Kahlo L'Art En Fusion Diego Rivera 2013
---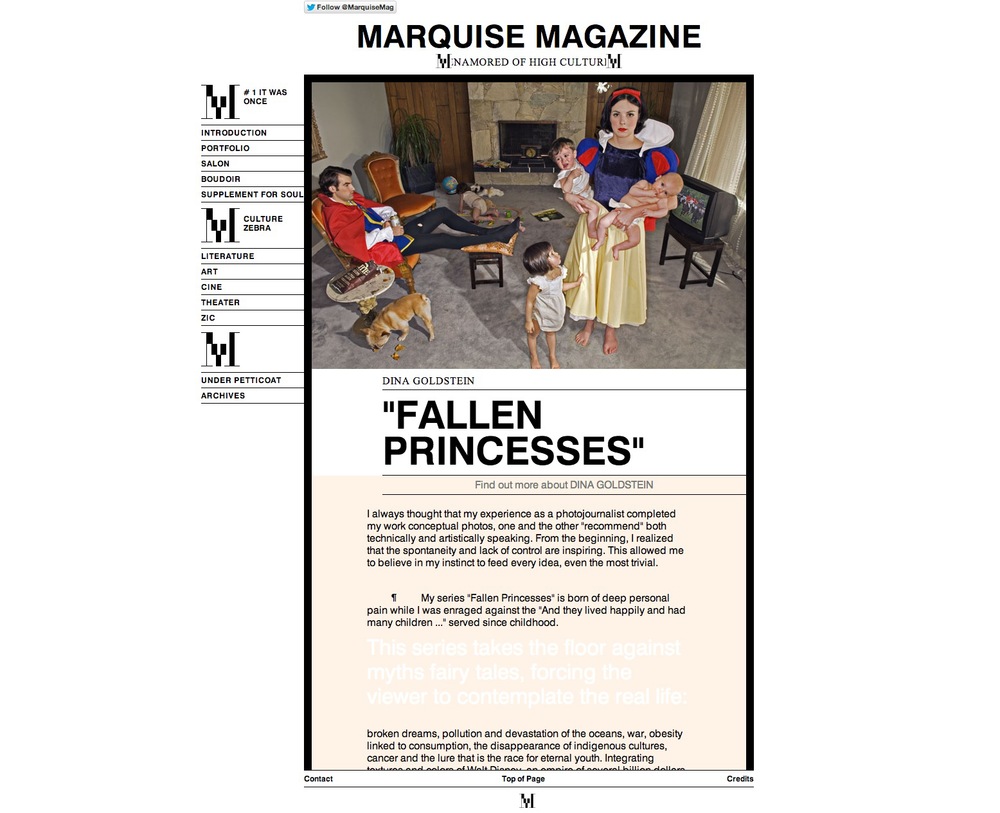 Marquise Magazine – France http://www.marquise-magazine.com/#/portfolio
---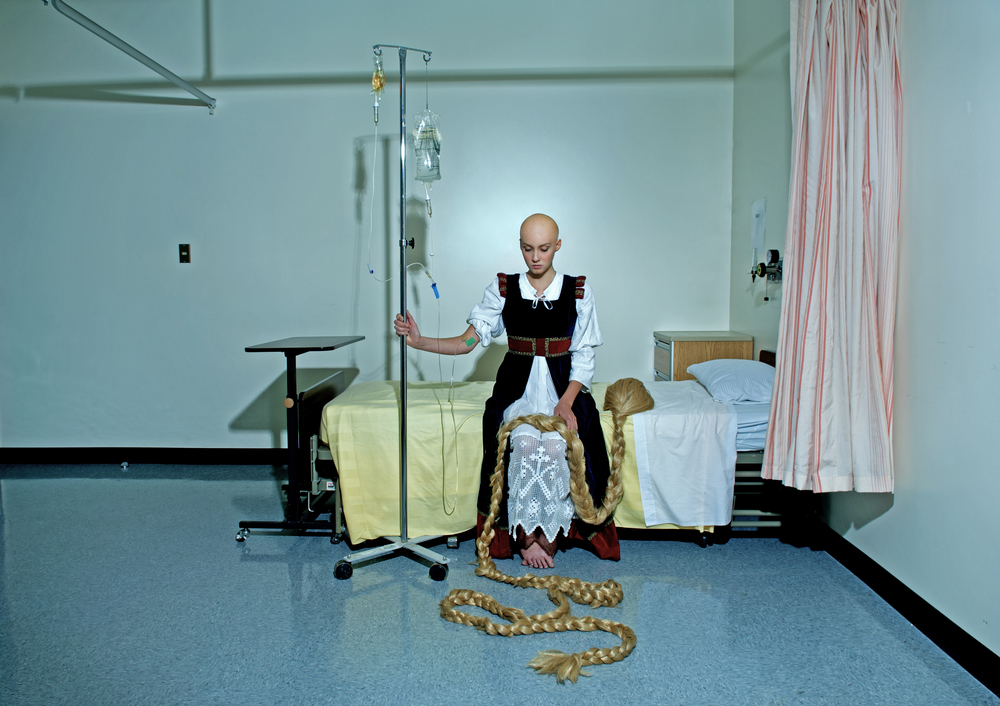 Early detection is the key #getamammogram
---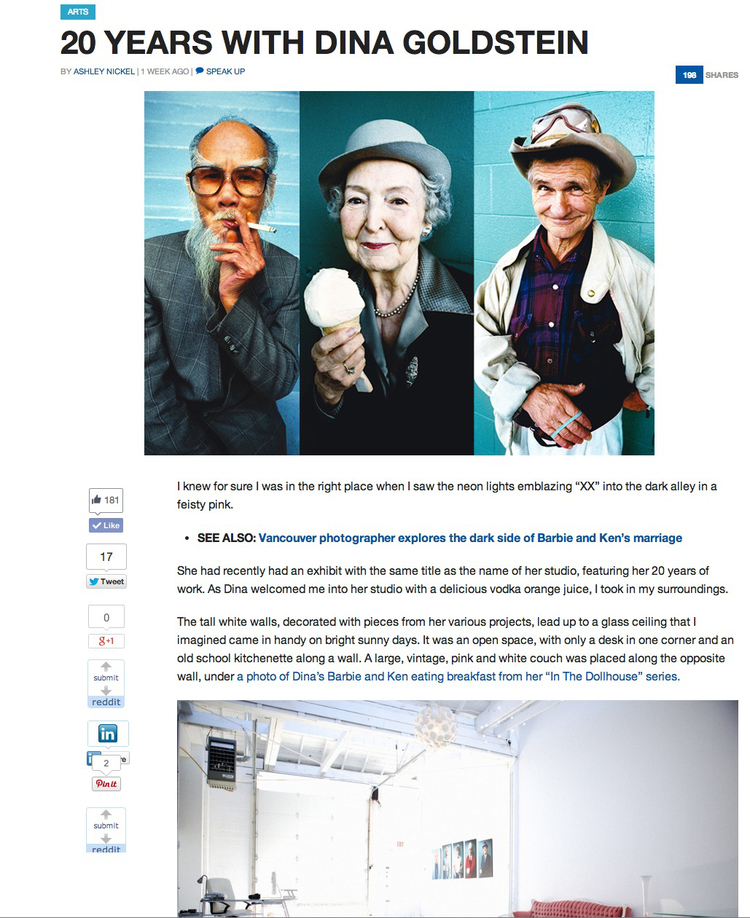 ---
Wonderful Festival invite from RENCONTRES INTERNATIONALES DE LA PHOTOGRAPHIE EN GASPÉSIE
---
LA show confirmed for May – More details to come soon
---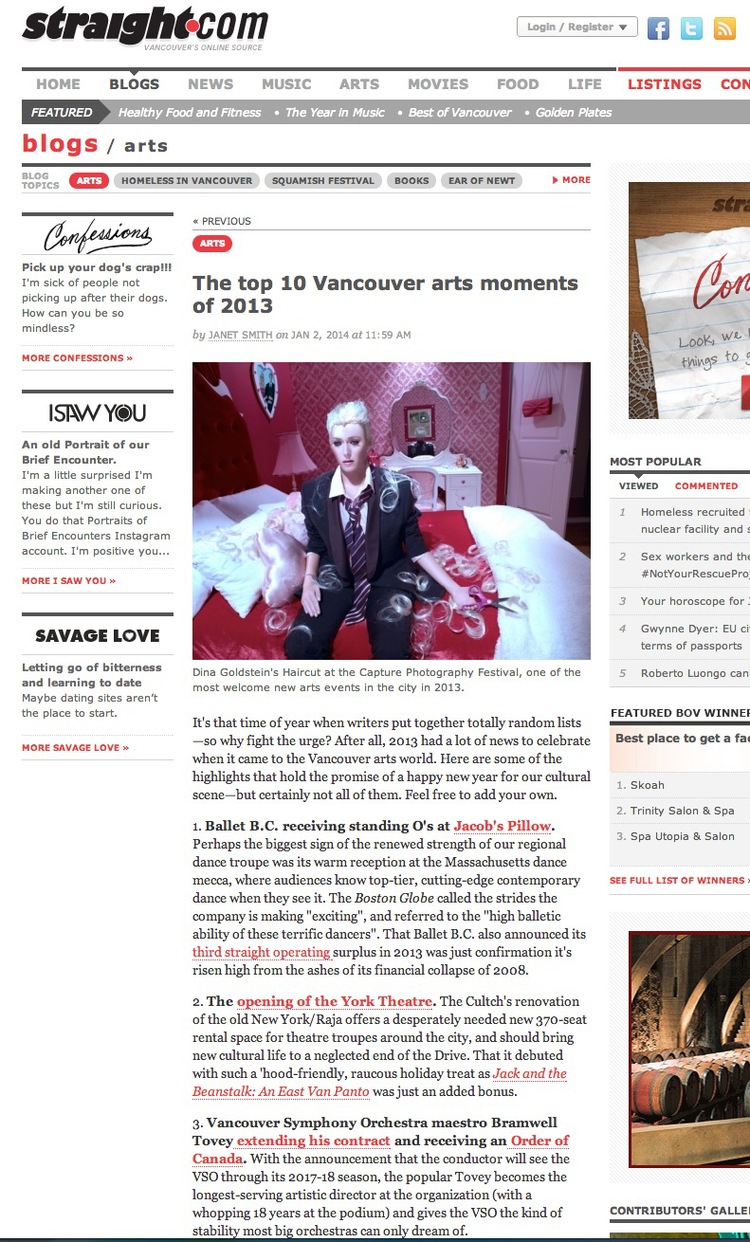 Georgia Straight top 10 Vancouver arts events.
---
Richard Goodall Exhibition, Manchester, UK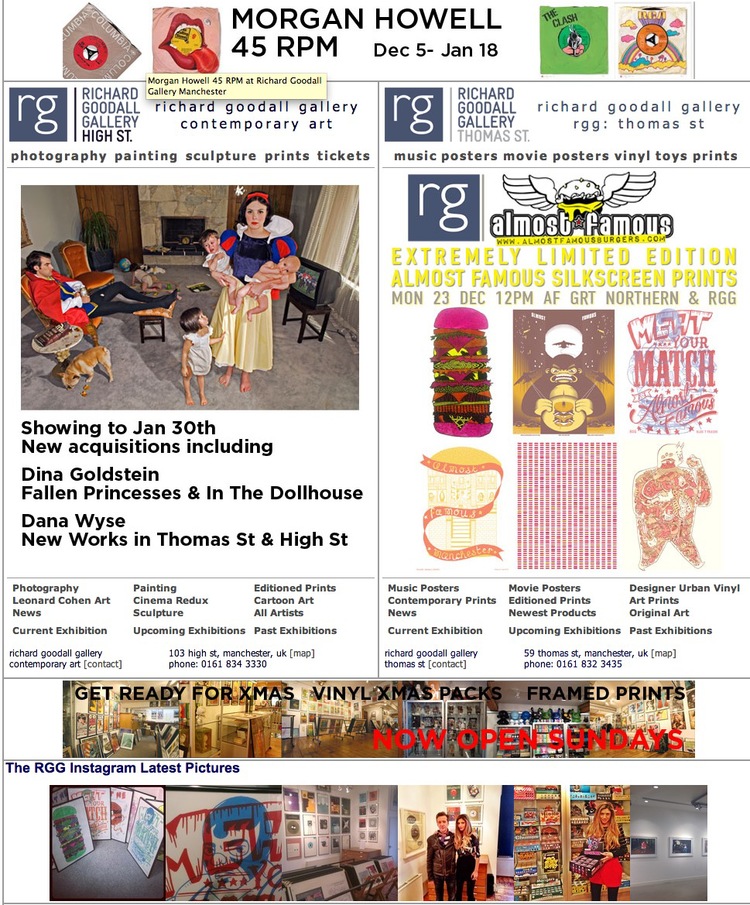 ---
Thrilled to share the newly updated fallenprincesses.com with you just in time for the holidays.
Check out the new candid galleries, essays, letters and much more.
Enjoy!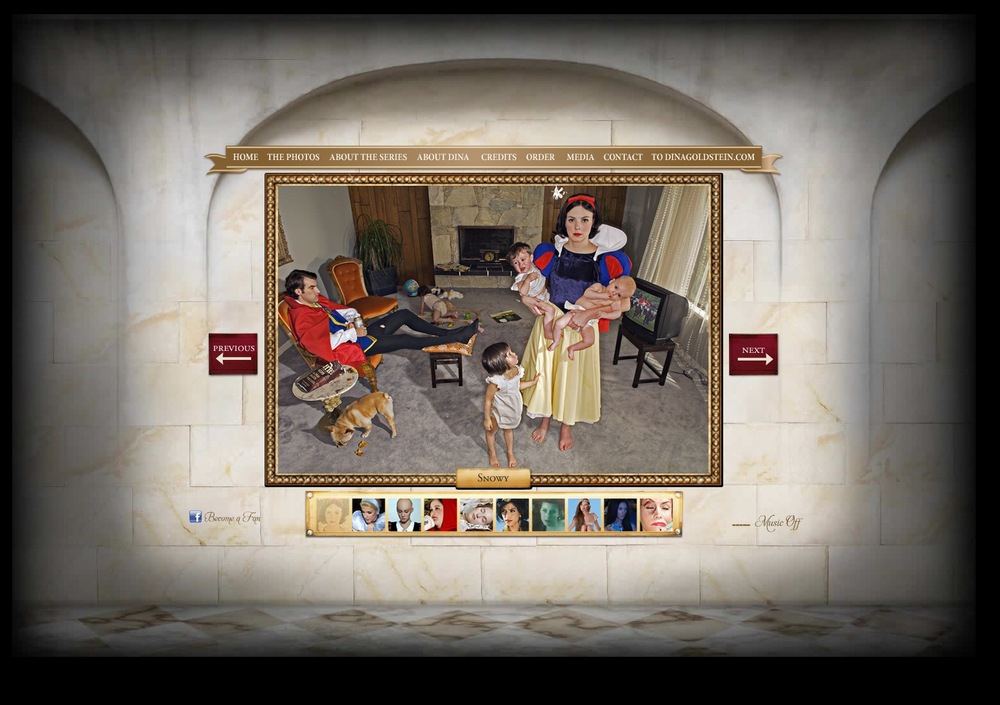 ---
Very happy to be part of the first VANCOUVER CAPTURE PHOTO FESTIVAL.And to be showing IN THE DOLLHOUSE at THE KIMOTO GALLERY.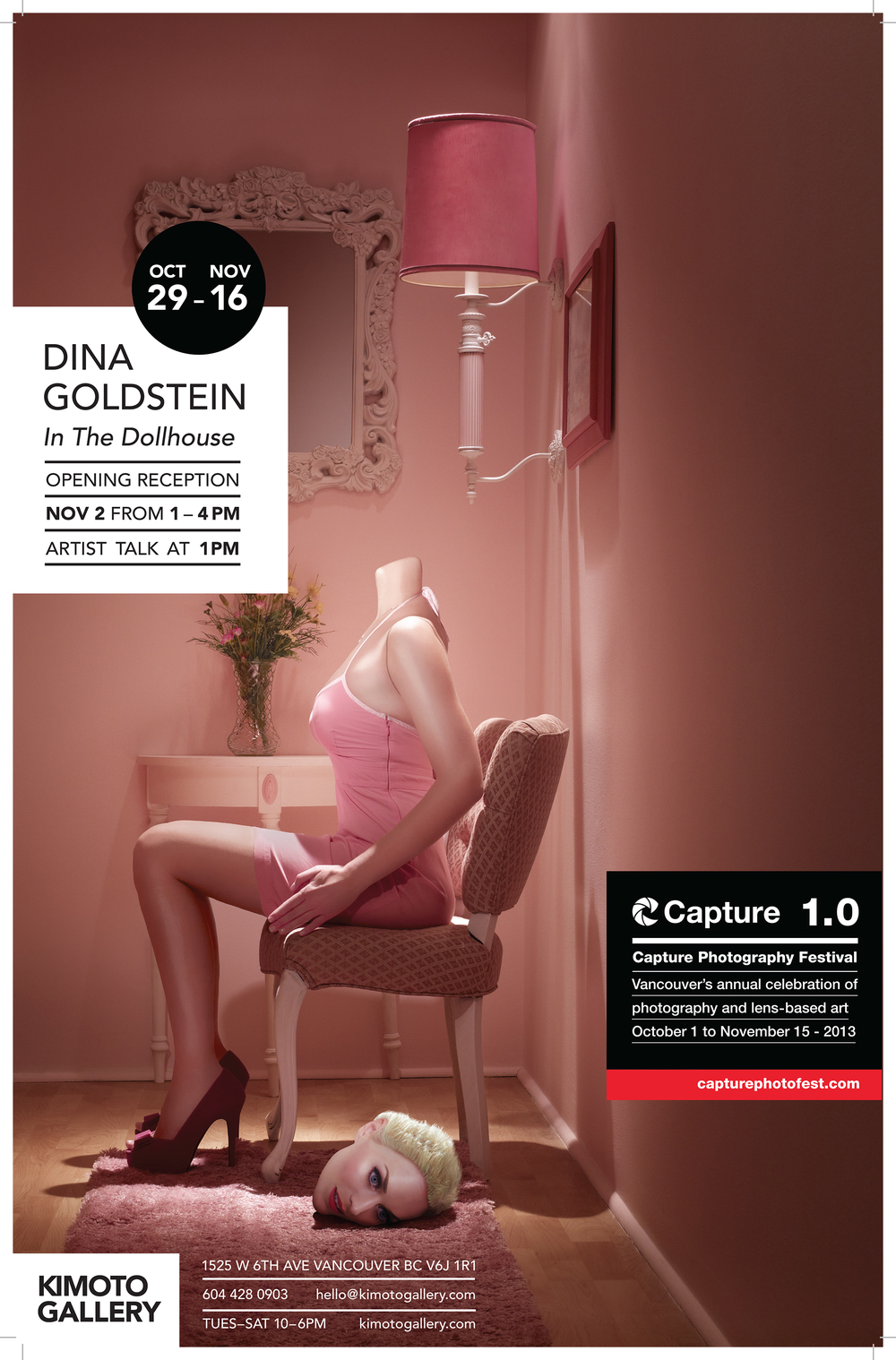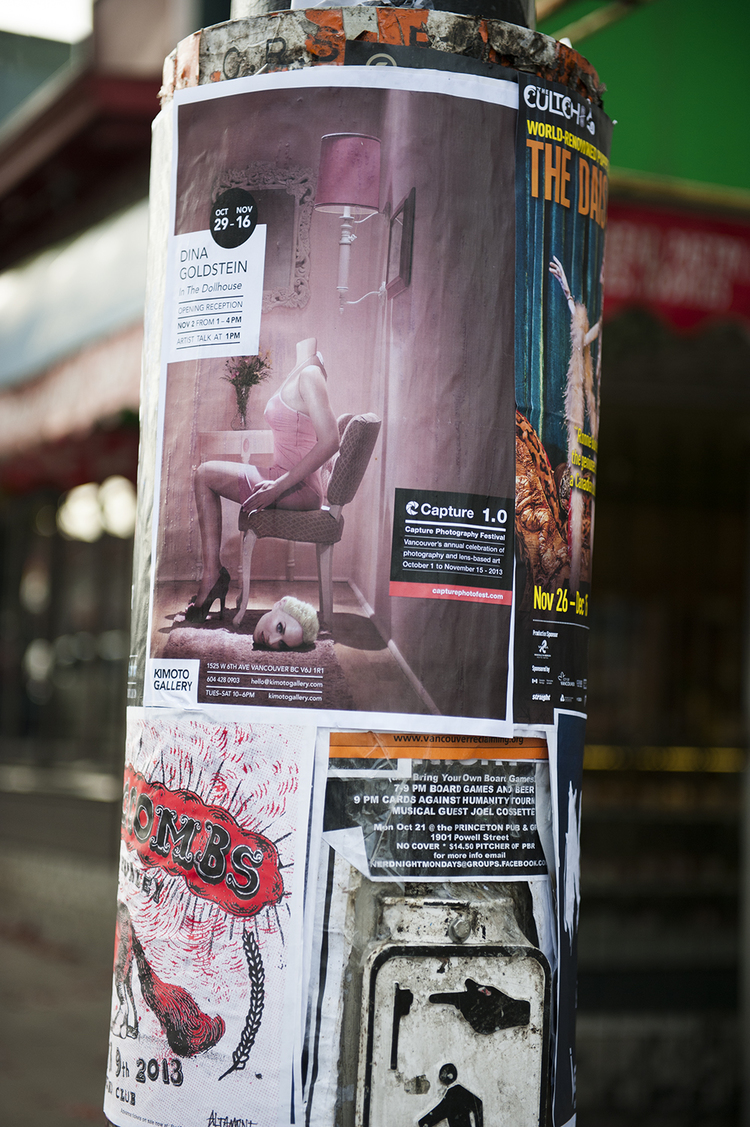 ---
A wonderful spread in PHOTOGRAPHIE / Germany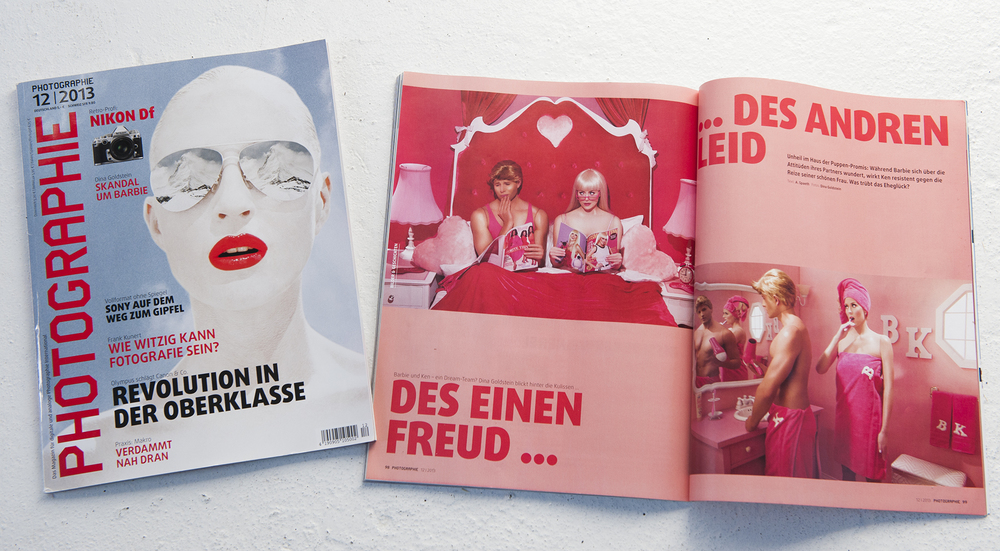 ---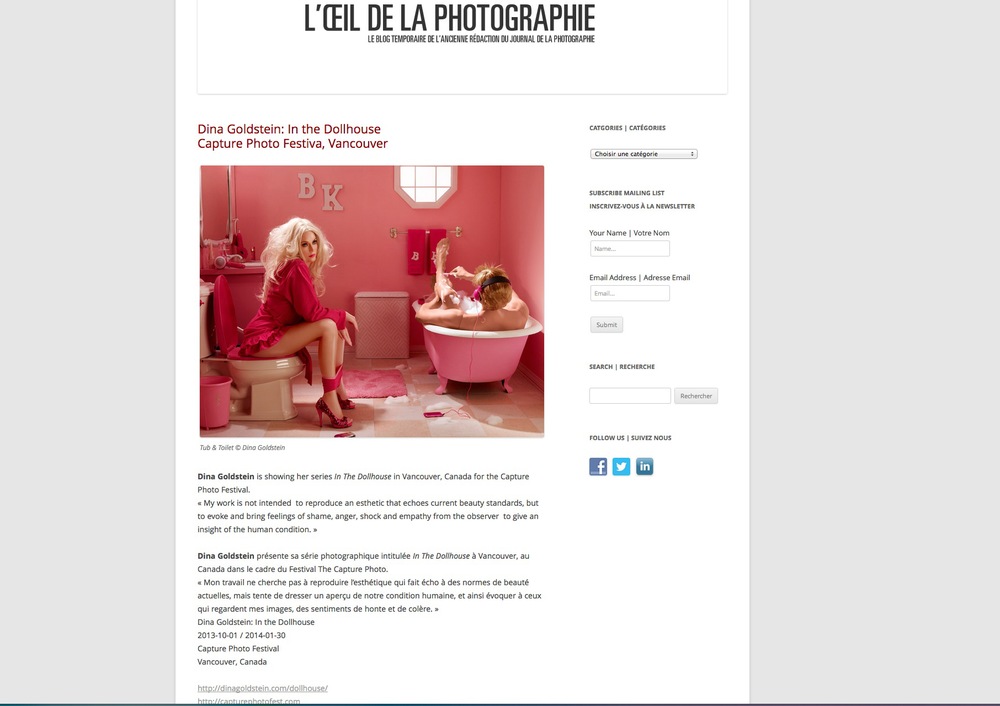 ---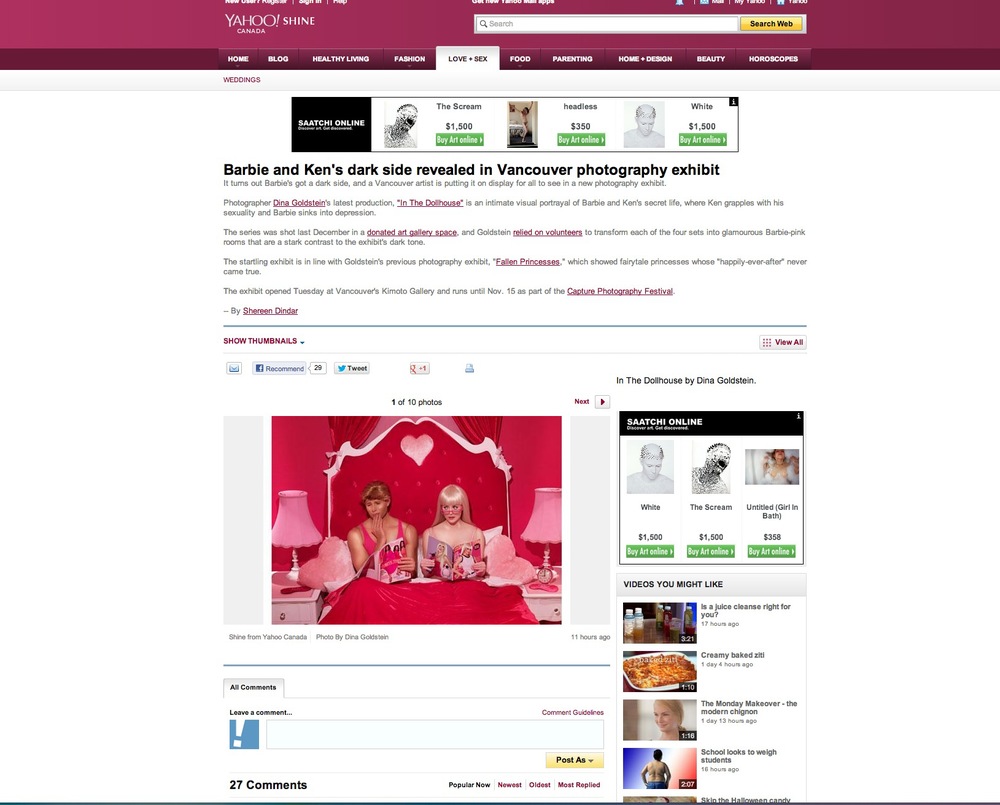 ---
I photographed the first of the Princesses, Cinder in 2007. With a very limited budget I managed to collect a very talented cast and crew, and with volunteer help I continued to create the next 9 pieces.  I realized the project in 2010. I first exhibited the Fallen Princesses in 2009.  The show did not include Pocahauntas, which I had to completed later… I just had my second baby, Zoe (2009) so I took a bit of a break. During that time I shared them on JPG.com and shortly after that they were distributed on the internet . The initial response to the series was overwhelming and exciting. I received hundreds of emails and letters (they used to send letters back then). People poured out their hearts and shared intimate stories with me.  I was very touched. I was featured in over 300 online publications and 100 Printed magazines and newspapers. I also reluctantly made several TV and documentary appearances. The work has been exhibited in public galleries and museums internationally. In 2010 I was approached by a well known director to create a Fallen Princesses TV series. …. That didn't end up happening.  However many other Fairytale based films and shows were later produced. It was 
Zeitgeist
. In 2010 I published the Fallen Princesses book which is a compilation of essays, interviews, letters, online discussion and secrets about the project. I also created a Box Set that includes a signed book and an 8X10 print / 100 editions in total. In 2011 I debuted my second large scale project 'In The Dollhouse', it too was popular online. My next project 'Gods of Suburbia' is in the works. Fallen Princesses remains a bit of a phenomenon and has a large, dedicated, and passionate following.
FACEBOOK PAGE
The project went 'viral' again in 2011 and made it's Facebook share premier. Which brings me to the most current wave of Fallen Princesses mania. Please take a look at some of these links.  More interviews will be added in the next few days. Currently I'm enjoying my new studio near the funky Commercial Drive Area. I'm connecting with collectors and galleries, developing promising relationships. I'm celebrating 20 years as a photographer this year and will participate in
Capture Photography Festival
with both a retrospective exhibition 'XX' and 'In The Dollhouse'. And of course I'm spending some incredibly beautiful Vancouver summer days with my family. Jonas, Jordan and Zoe..and Taco the dog.
---
---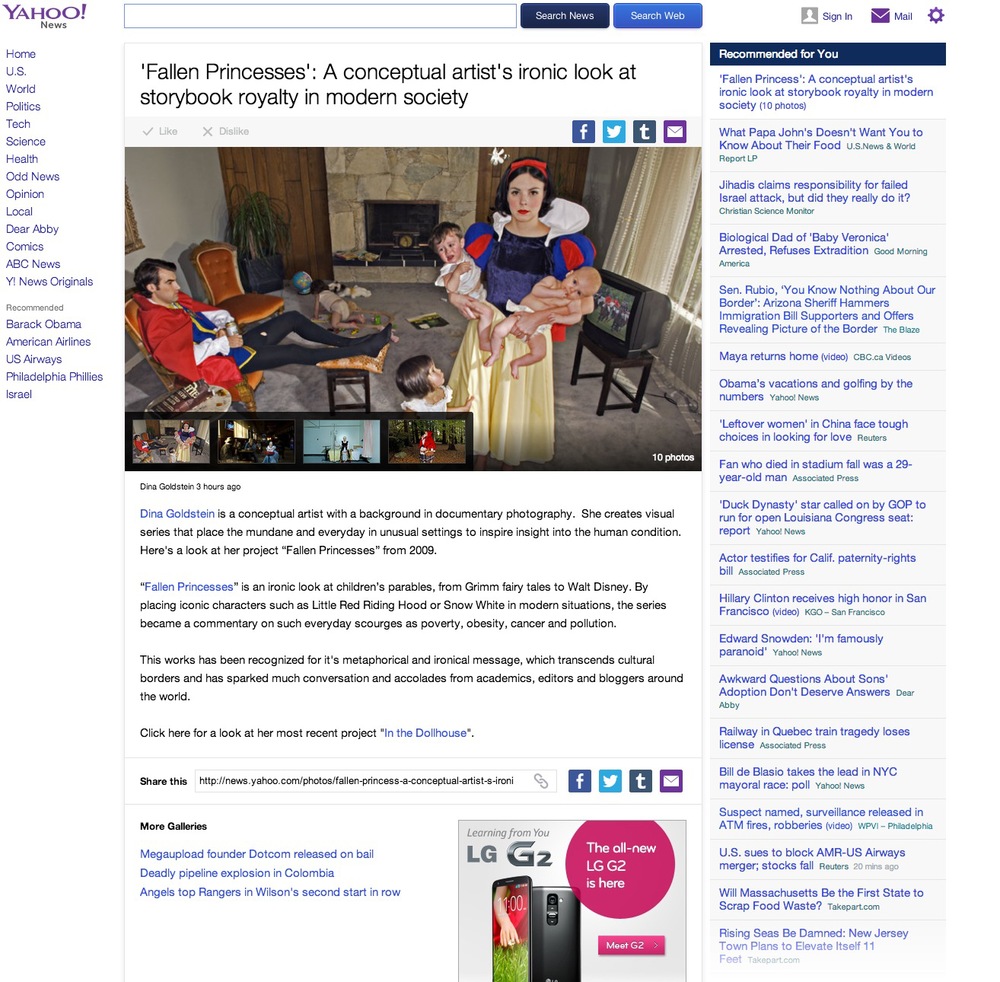 ---
---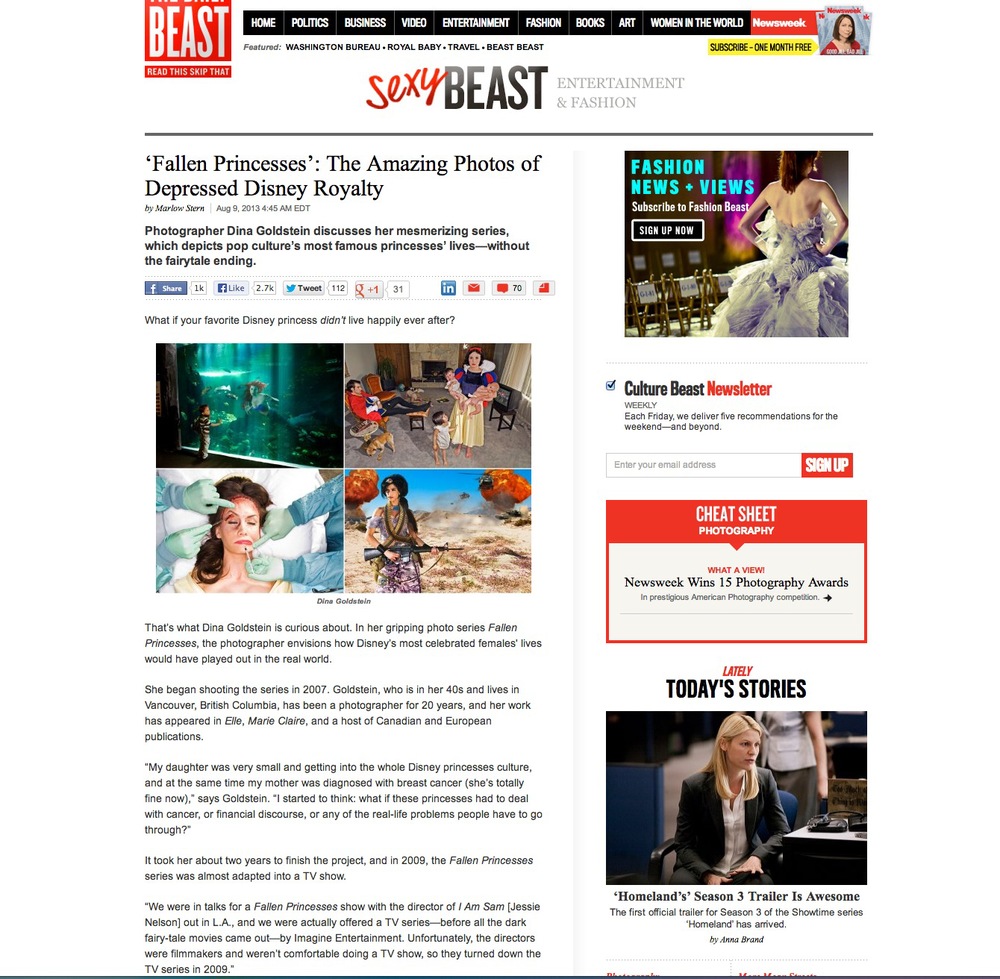 ---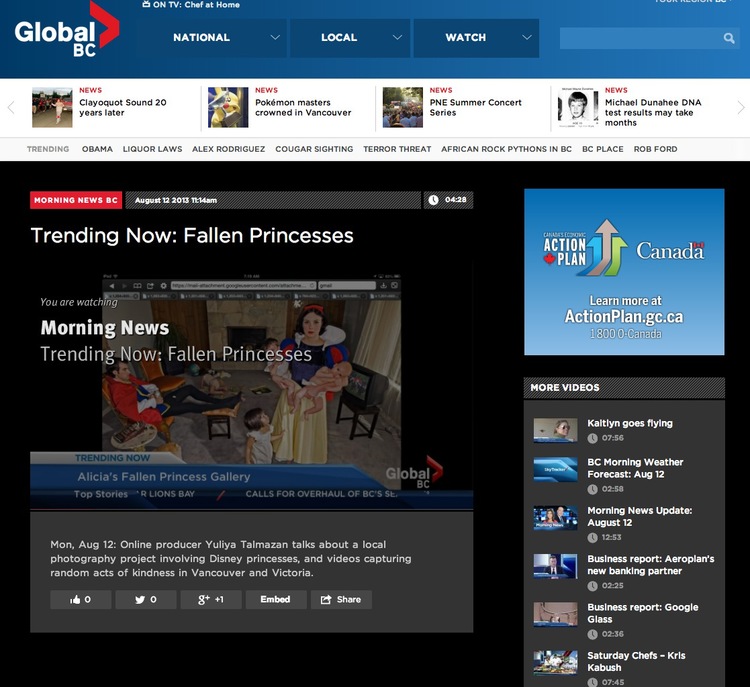 ---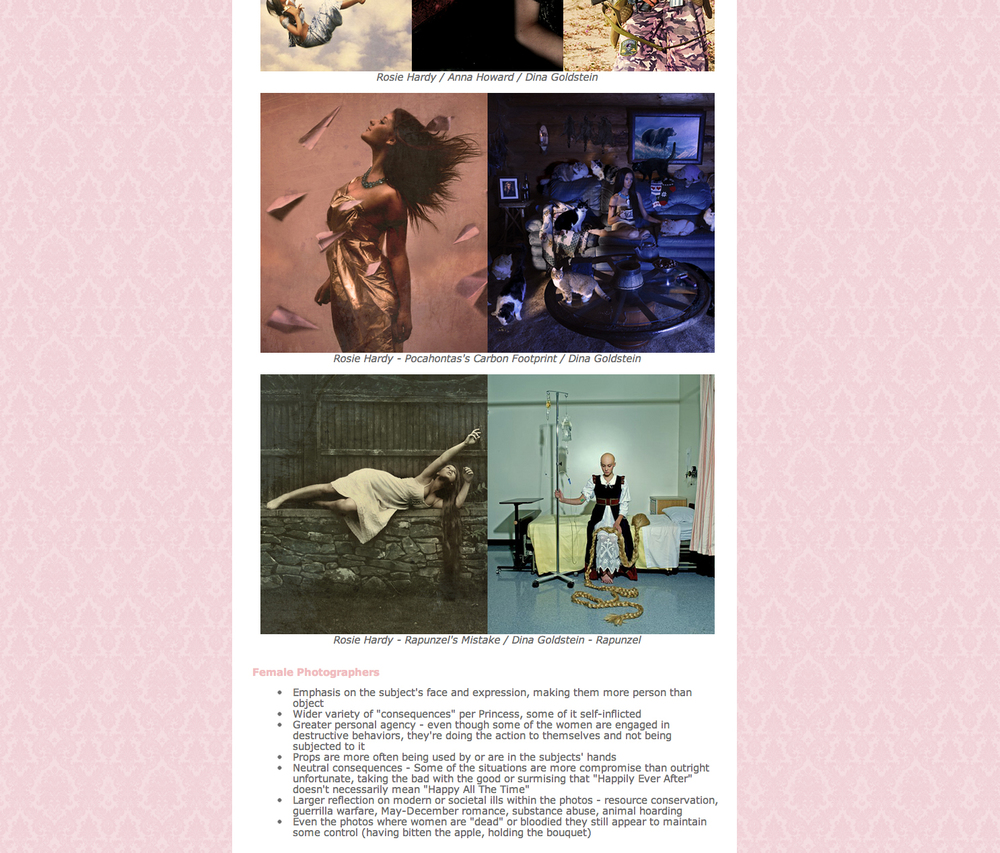 ---
Interesting commentary CTV am Interview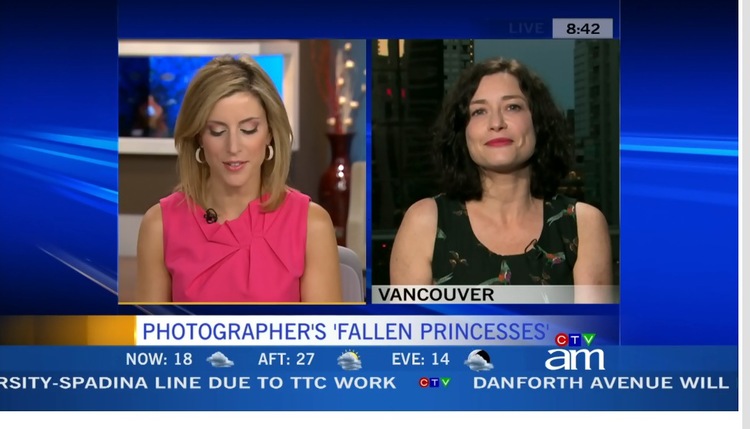 ---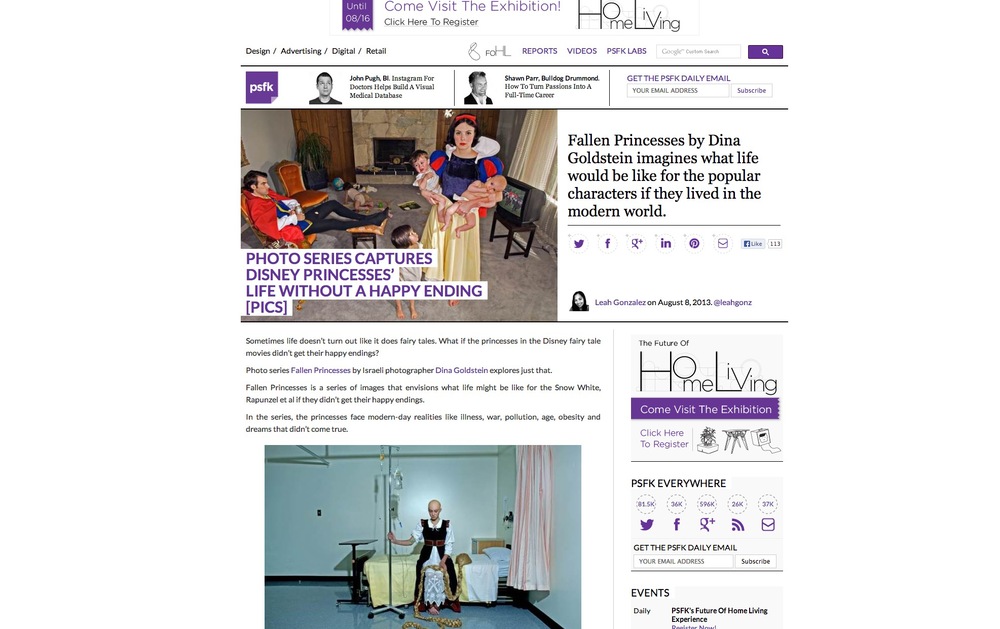 ---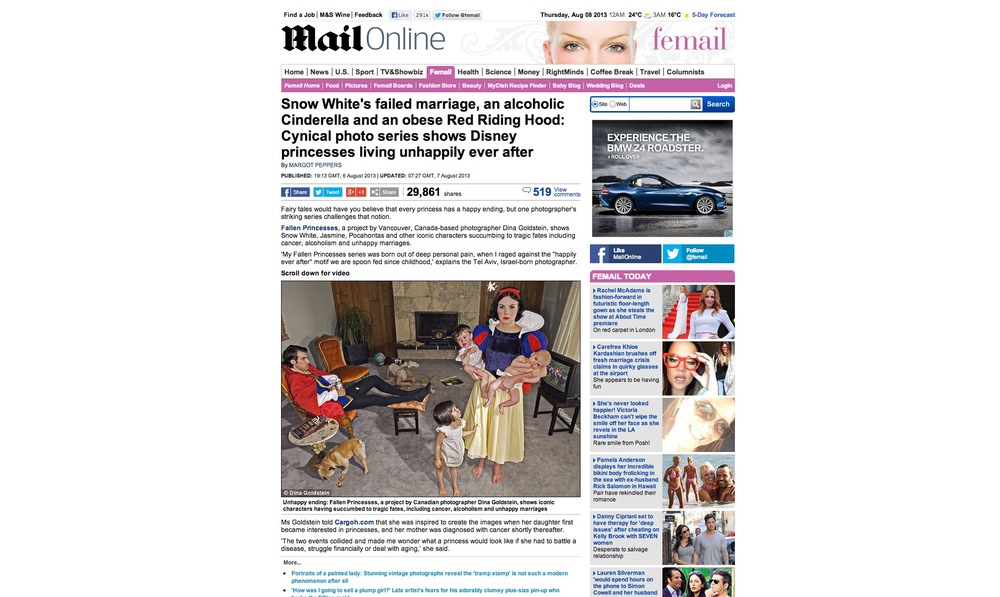 ---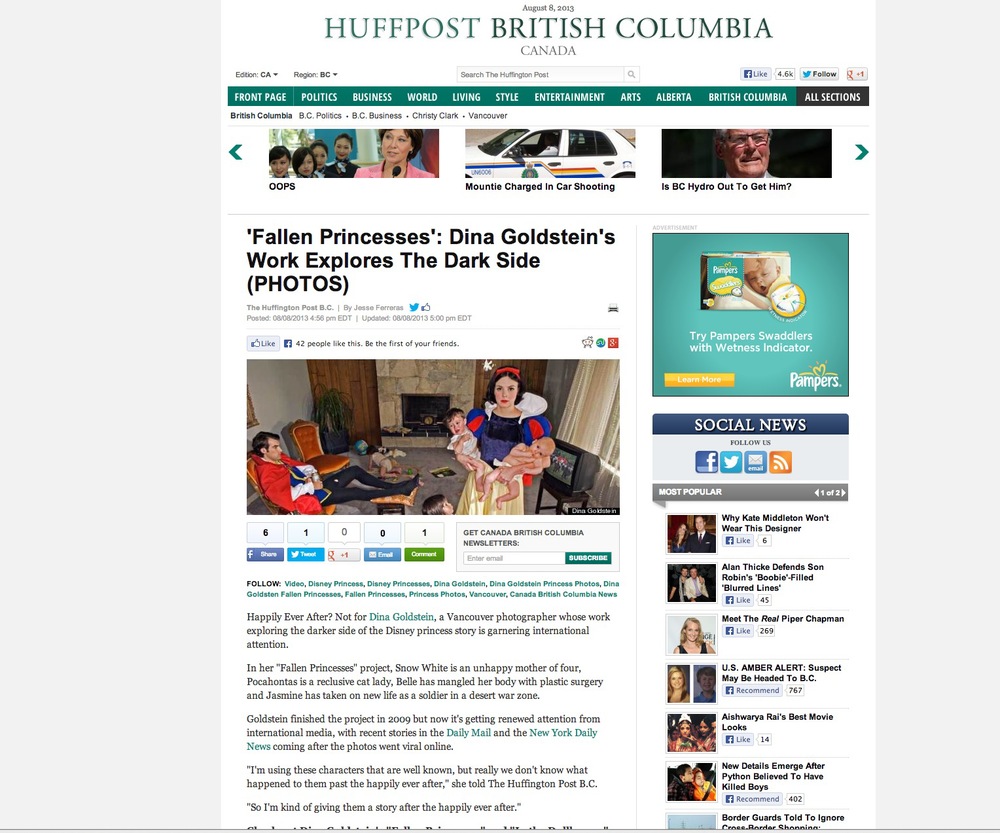 ---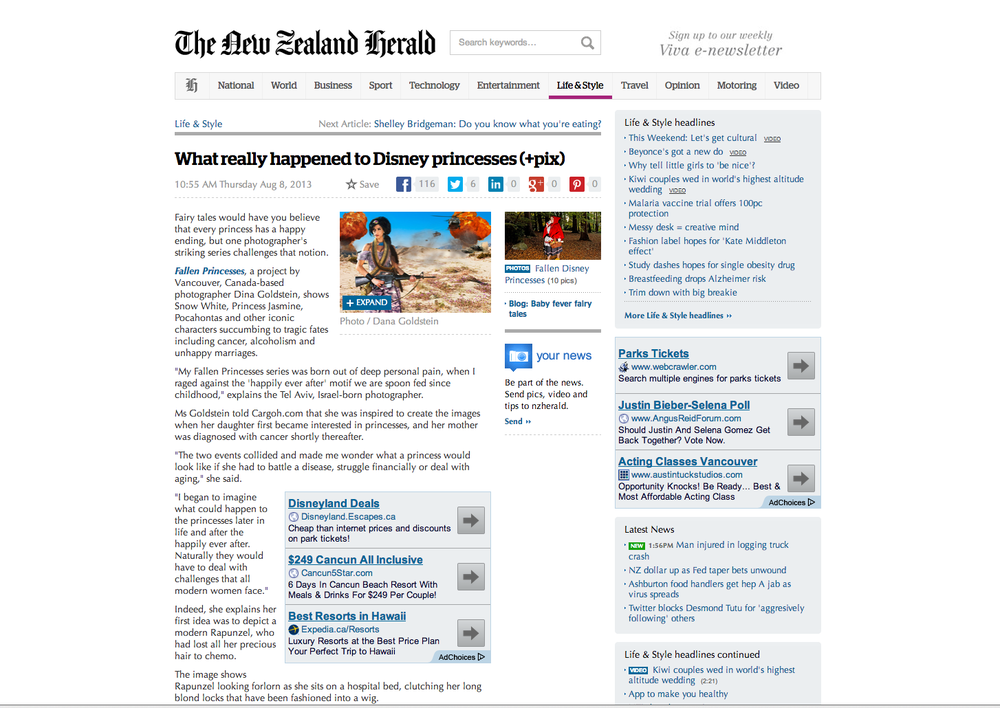 ---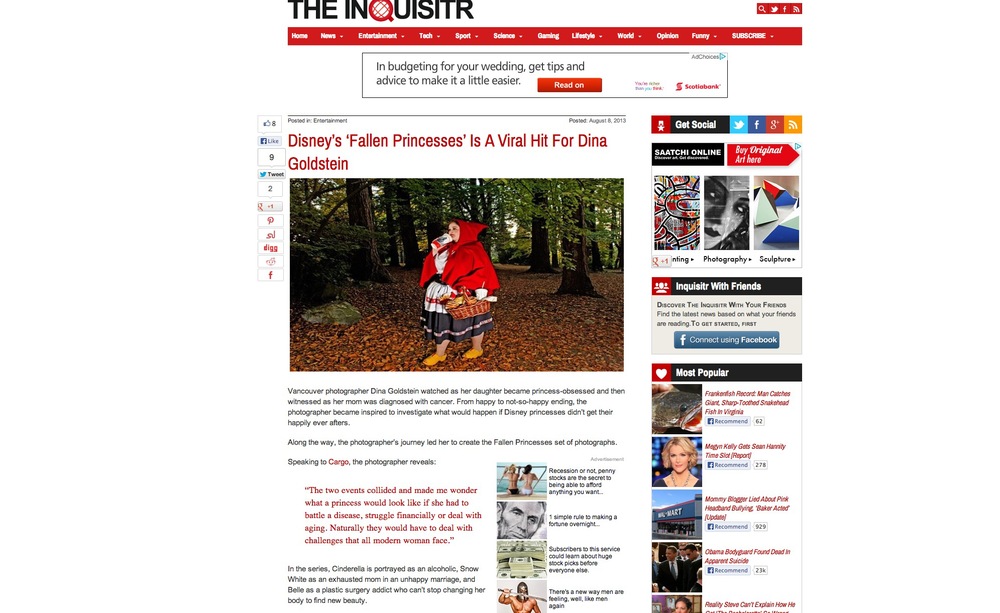 ---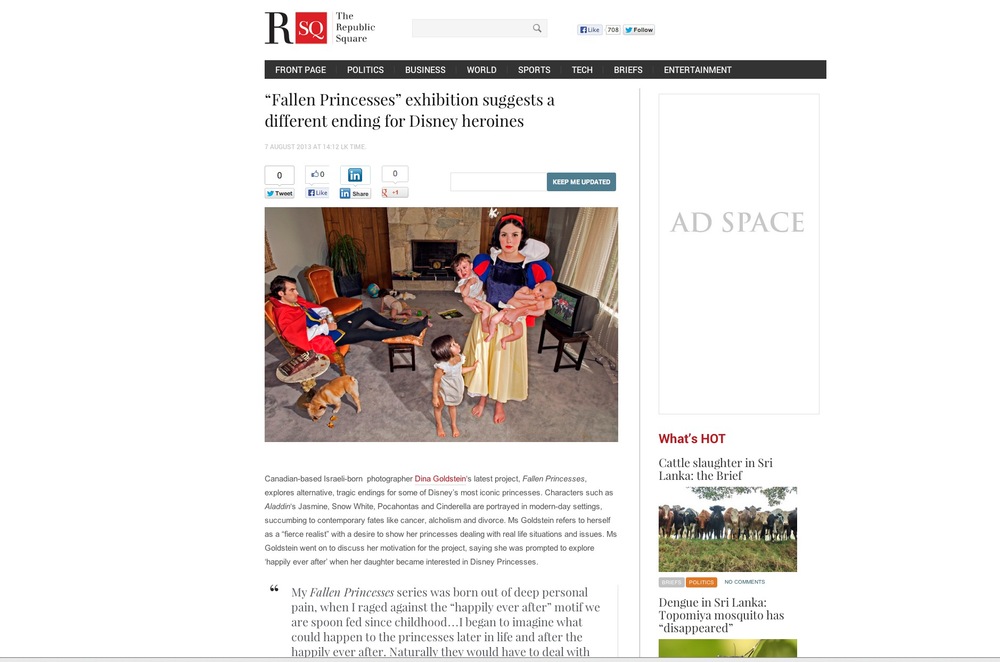 ---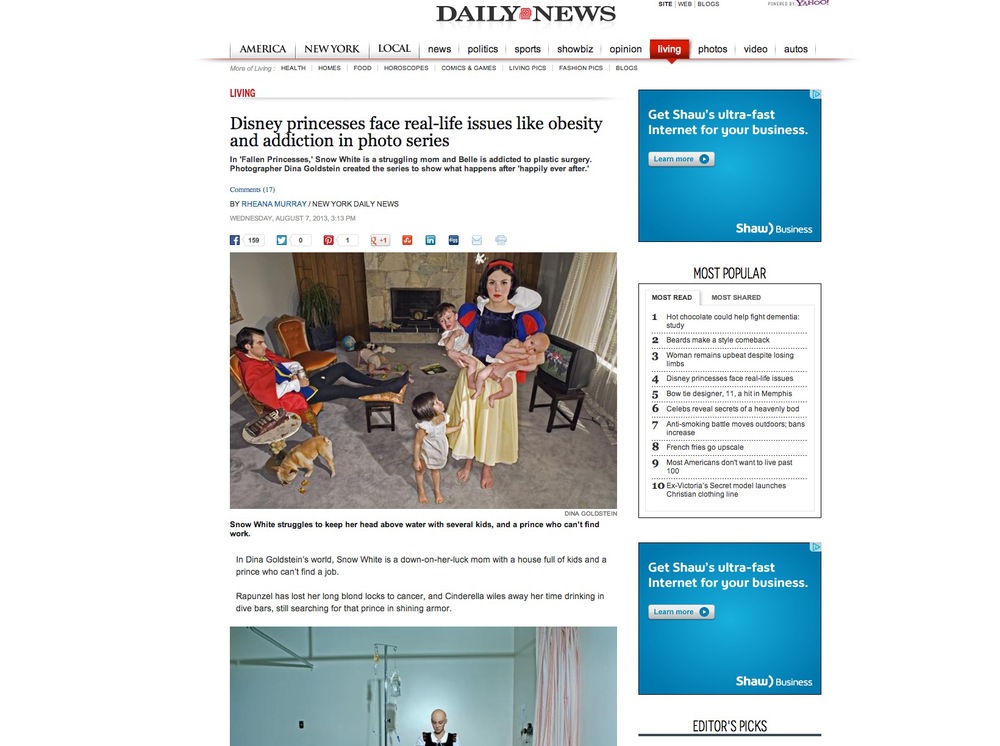 ---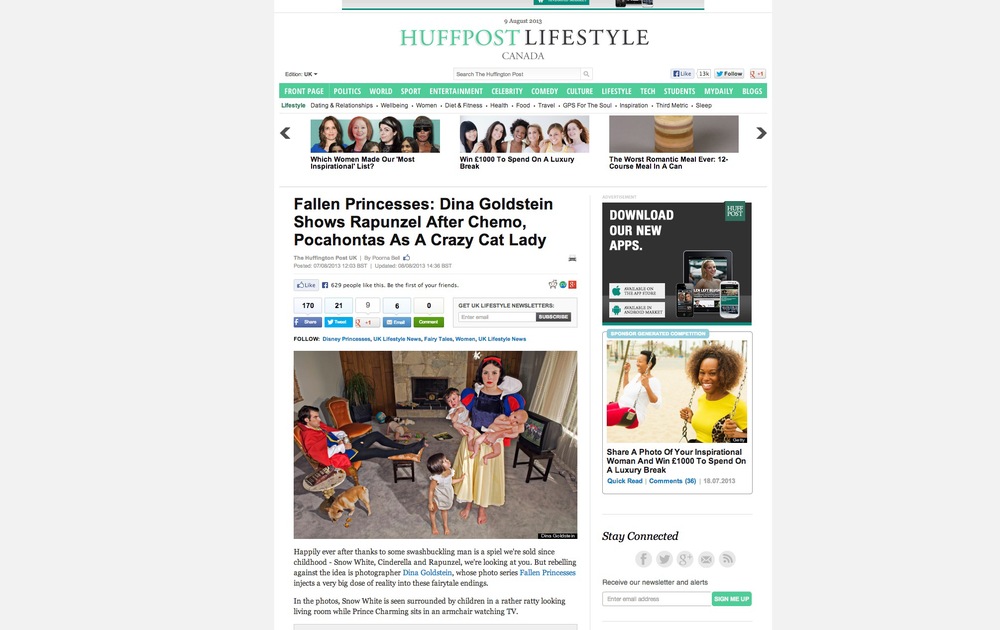 ---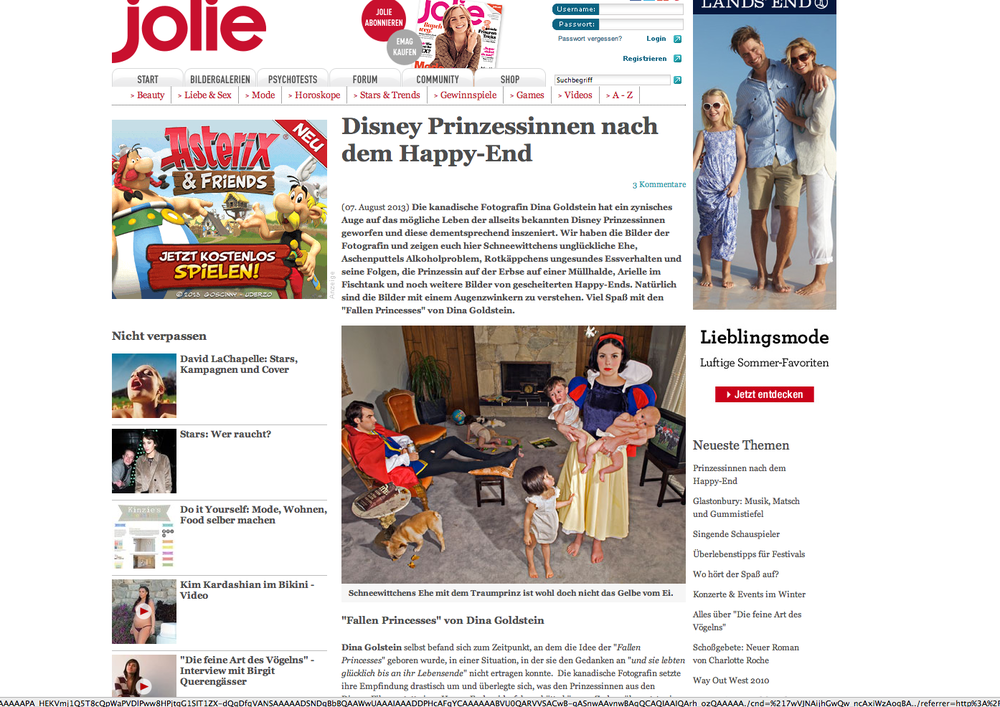 ---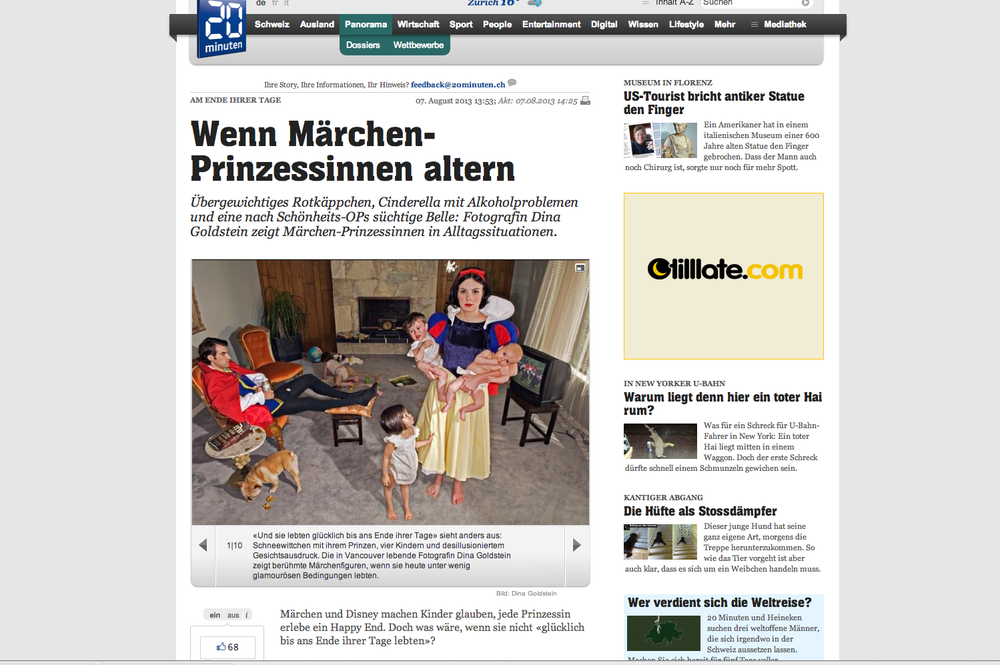 ---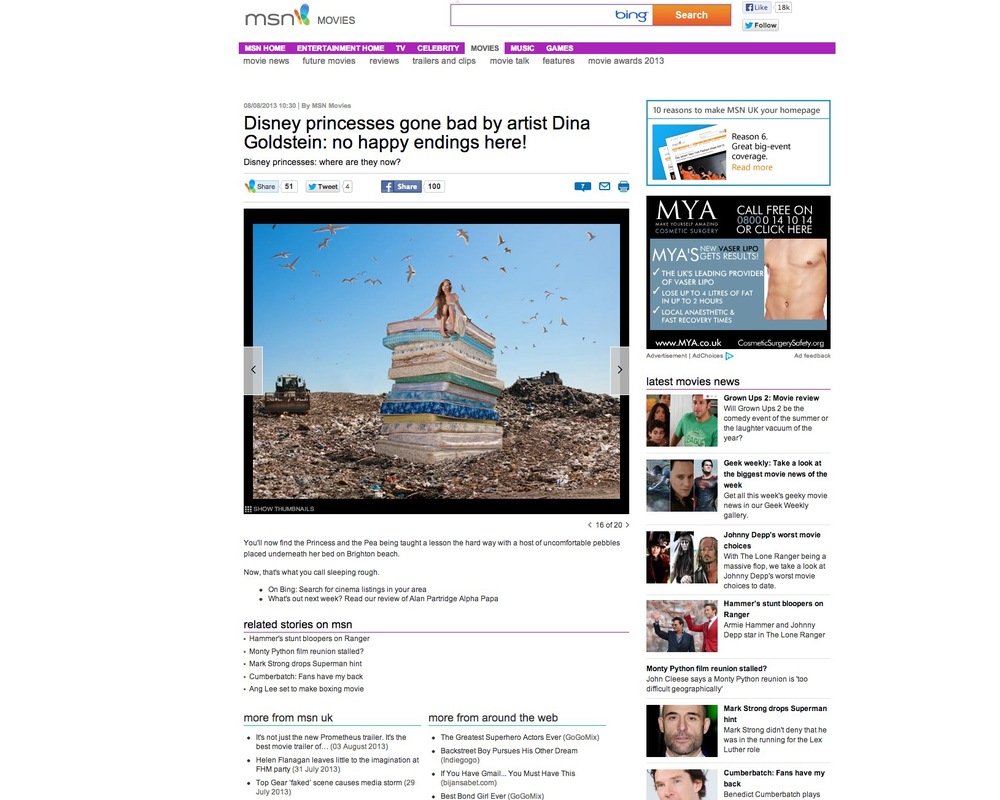 ---
Fallen Princesses RTL Interview
from
dina goldstein
on
Vimeo
.
---