DINA GOLDSTEIN b. 1969 Tel Aviv, Israel
Dina Goldstein is a contemporary photographer with a background in editorial and documentary photography. Dina constructs complex narratives that utilize fictional and archetypal characters to define and contextualize pop culture today. For Dina photography is intended not to produce an aesthetic that echoes current beauty standards, but to evoke and wrest feelings of shame, anger, shock and empathy from the observer, as to inspire insight into the human condition. Goldstein independently produces large-scale allegorical photographic tableaux series that are philosophical, satirical, and visually stunning.
Dina celebrates 25 years of Photography in 2018.
The Fallen Princesses, 2007-2009 series was born out of deep personal pain, inspiring Dina to critically examine the "happily ever after" motif that we are spoon fed since childhood. The series creates metaphor out of the myths of fairy tales, forcing the viewer to contemplate real life: failed dreams, addiction, obesity, Cancer, the extinction of indigenous culture, pollution, war and the fallacy of chasing eternal youth. By embracing the textures and colors created by Walt Disney, which built a multi-billion dollar empire exploiting these fairy tales, Fallen Princesses exposes the consumerism that has negated the value of these ancient parables. The series was first exhibited in 2009, and gained much attention in the press and online. Today the Fallen Princesses are shown internationally and continue to go 'viral'.
In The Dollhouse, 2012 is a 10-part sequential narrative that takes place within an adult-sized dollhouse belonging to Barbie and Ken, the idealized American couple and plastic icons of Western Culture. More than any other childhood construct, Barbie represents the concept that beauty is the apex trait, and is necessary to attain power and happiness. Her co-star Ken, who has been trapped in an imposed marriage for over three decades, discovers his authentic self and finally expresses his individuality. Barbie's fate is grim, as she breaks down and confronts her own value and fleeting relevance. In The Dollhouse exhibits in large scale and is included in the Bogota PhotoMuseo collection.
In 2013 Dina opened her studio 'XX', with a retrospective to celebrate 20 years of photography. For this exhibition Dina selected 20 pivotal pieces that built and developed her early career.
Dina Goldstein's next undertaking was Gods Of Suburbia, 2014 where she received a Canada Council grant to help support this massive initiative, which was an exploration of established and fringe religions. Contemplative and complex, the project took two years to complete. Gods Of Suburbia places deities — drawn from polytheistic to Abrahamic traditions — in everyday situations by offering an iconoclastic interpretation of how ancient belief systems fit into modernity's three pillars: technology, science and secularism. The surreal incongruities that were created challenges viewers to contemplate the relevance of ancient ethics and morals in a society characterized by materialism and consumerism. Gods Of Subu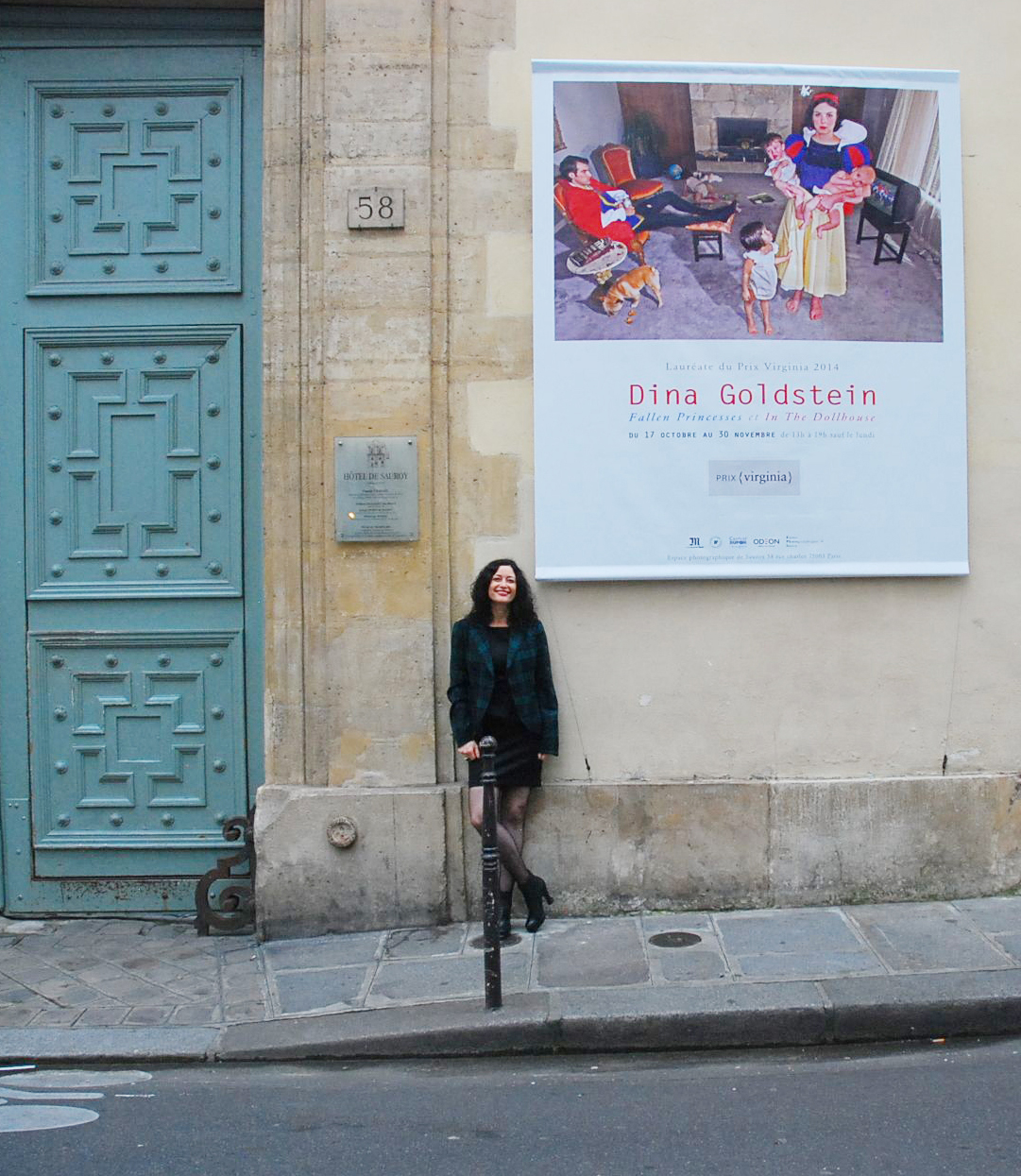 rbia is exhibited as analog transparency mounts on plexi, combined with custom-built light panels.
Modern Girl, 2016 This new work extrapolates upon Dina Goldstein's past themes of identity within Western culture. Inspired by Chinese tradition and the evolution of international commercialism, Dina re-imagines the adored and iconic advertising posters of 1930s Shanghai, China.  Live models replace the girls, still sexy but far more demure than their American counterparts, the 'pin up girls'.  This era saw the emergence of the Asian women as individuals, who began to break away from Confucius tradition that demanded total filial piety alongside crippling beauty practices like foot binding. However, while an expression of gender emancipation, the posters sowed the seeds of a new form of exploitation: the use of the female form to sell consumer products. The shift to this popular image of the modern woman signaled the commoditization of the everyday and de-radicalization of modernity. The accompanying imagined products relay satirical critique of our current societal realities. The Modern Girl exhibition opened November 2016 in Paris, France.
Snapshots From The Garden Of Eden, 2017 is Goldstein's most recent work and was commissioned by the Contemporary Jewish Museum Of San Francisco for the exhibit Jewish Folktales Retold: Artist as Maggid, September 28, 2017 – January 28, 2018. The series features 11 large-scale Black and White tableau images with representing characters and passages from Leaves From The Garden Of Eden.
Dina has won numerous major awards. Recently she made the 2016 Sony Awards Short List, has been recognized by the 2016 Arte Laguna, Photographic Selection that won her a residency to India in 2012, and most notably, took first place in 2014 at the Prix Virginia, an international prize for women photographers, based in Paris.
Dina Goldstein exhibits her works internationally in commercial, public galleries and museums. Dina is frequently invited to show and discuss her work at photography festivals and universities. Her work has been the subject of academic essays and dissertations and has been written up extensively in media around the globe. Her projects are studied and taught in art schools, photography programs, gender courses. The Fallen Princesses are included in Elementary School text books, as teaching tools and the subjects of discourse within the classroom.
Dina lives in East Vancouver with her husband Jonas, two young daughters, and their aging dog Taco.
2016 CBC ARTS PROFILE – EXHIBITIONISTS
Dina Goldstein's using her photography to start a provocative conversation.